1st ODI: Krunal, Prasidh shine in India's win against England
India's bench proves itself again as debutants Krunal, Krishna star in 66-run win
The scoreboard, in time to come, will never tell the story in all its entirety. It will tell us that India won the first of three One-dayers against England in Pune by a comfortable 66 runs, took a 1-0 lead in the series and waited for two more matches to be played at the same venue before the long England tour of India finally came to an end.
It won't tell you how expertly Shikhar Dhawan and Rohit Sharma negotiated the moving ball in the first 10 overs. It won't tell you how brilliantly Kohli batted for his half-century. It won't tell you how India's bowlers bounced back after taking a pounding in the first 10 overs at the hands of Jonny Bairstow and Jason Roy.
SCORECARD
Above all, though, it was a day that yielded fresh reward for India in the form of two debutants, Krunal Pandya and Prasidh Krishna.
India lost another toss and England elected to field first, preferring to chase under lights. India's massive 356-run chase against them in 2017 must've been playing on the mind. Shikhar Dhawan's 98, Virat Kohli's 56, KL Rahul's unbeaten 62 (43 balls) and debutant Krunal's unbeaten 58 (31 balls) helped India post a competitive 317-5 in 50 overs.
01:551st ODI: India beat England by 66 runs, go 1-0 up England got off to a brilliant start chasing the target, but none barring openers Jason Roy (46 off 35) and Jonny Bairstow (94 off 66) really got going against the very impressive Prasidh and Shardul Thakur.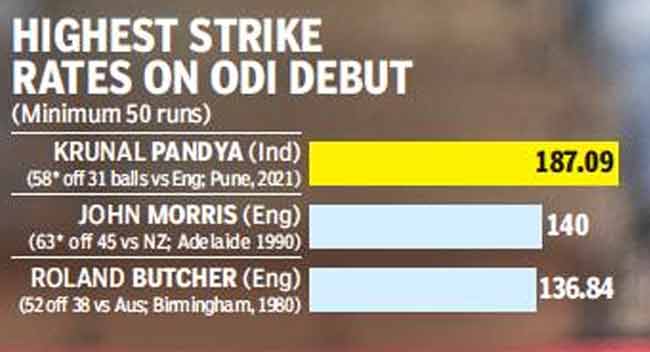 Alongside Pandya K, it was pacer Prasidh Krishna's debut too and the 25-year-old from Karnataka came up with a brilliant 4-54 in 8.1 overs, the best figures by an Indian bowler on debut. Eoin Morgan and Moeen Ali were the only two other batsmen to cross 20 runs as England's batting went from bad to worse in 22 overs.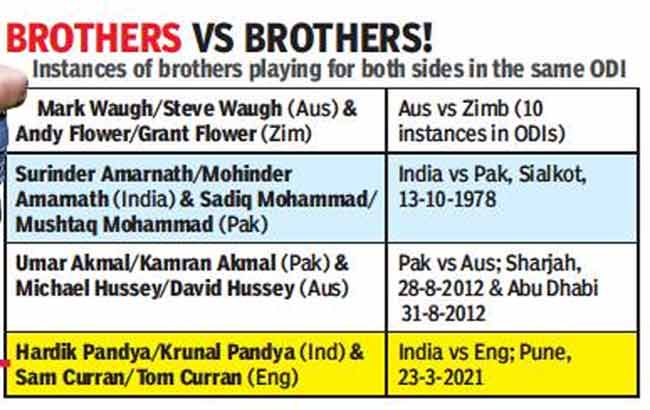 Both Dhawan and Bairstow fell short of what should've been deserving centuries. Dhawan held one end for India while Bairstow led England's aggressive charge at the beginning.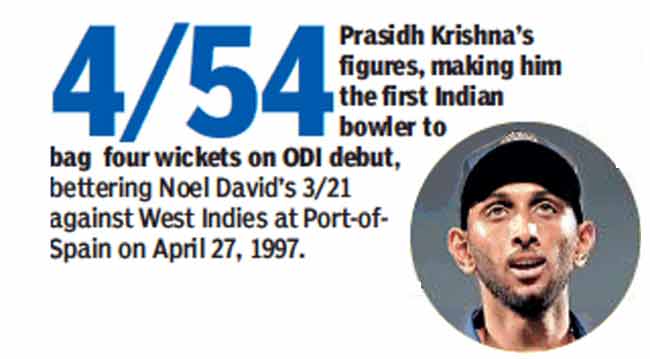 However, it was Krunal's 112-run partnership with Rahul, his 26-ball half-century and especially the explosive strokeplay towards the end, Krishna's fresh energy in his debut game and strong temperament and Thakur's guile and constant change of pace that did England in. Bhuvneshwar Kumar too was mighty impressive with his expertise in moving the ball.
1/11
In Pics: Debutants Prasidh and Krunal shine as India beat England by 66 runs in first ODI
Show Captions
Debutant Prasidh Krishna and fellow seamer Shardul Thakur combined to derail England's chase and bowl India to a 66-run victory in the one-day series opener in Pune on Tuesday. (Reuters Photo)
While the win or loss in the opening loss should not overtly delight the winning team, nor should it make the losing team despondent, they would worry about the injuries that have started cropping up. Sam Billings sprained his collar-bone joint. Eoin Morgan split the webbing in his right hand and Sharma and Shreyas picked up injuries too.