3rd Test: WTC final spot at stake as India face England
Imposing stadium, unknown pitch, pink ball, twilight collapse, WTC final spot: there's plenty to think about as cricket returns to Motera
AHMEDABAD: On the banks of the Sabarmati, spread over around 63 acres, lies a unique cricketing infrastructure more imposing than any other in the world – including the gigantic Melbourne Cricket Ground (MCG) – that will play host to the second-ever day and night Test match India have ever hosted.
It'll also mark the return of cricket at the Sardar Patel Stadium after a five-and-a-half-year hiatus, with the stadium having undergone a complete makeover.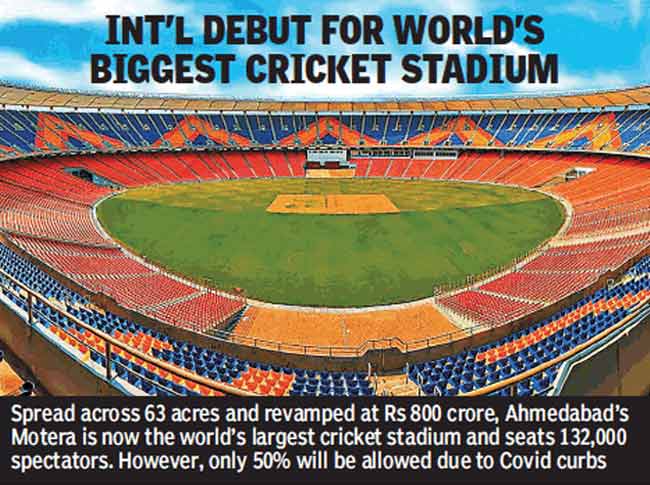 The venue, seeped in serious cricketing history, presents the Indian team with an opportunity to rid themselves of the nightmares of their last day-and-night Test and go 2-1 up in this ongoing series for the first time, and remain on course for the first-ever World Test Championship final scheduled for later this year.
The newly laid out bucket seats in the stadium shine so bright under the glare of the heavy floodlights here that it can time and again get a bit tricky for cricketers plying their trade for the first time. Almost everything inside this 1.32 lakh-capacity ground remains pretty-much untouched. Even at 50% crowd capacity, the stands are bound to expose more empty seats to the viewing eye than the filled ones, given the huge facility.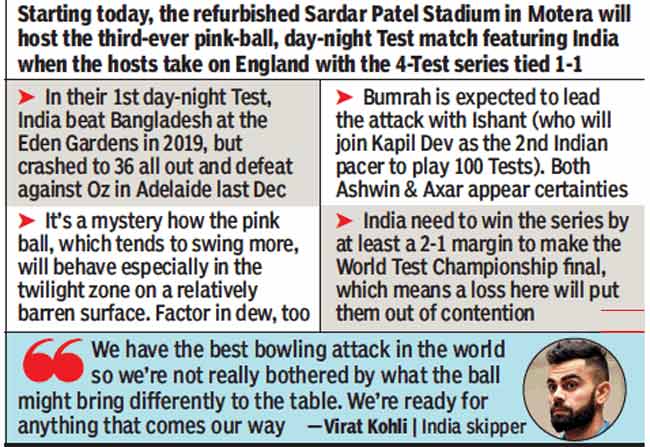 Pillarless, it offers a 360-degree view of proceedings, wider sight-screens that batsmen are already raving about, a symmetrical boundary for the bowlers to set their fields conveniently and everything else that a modern-day cricket setting would hope for. There's some rich history too. Sunil Gavaskar's 10,000th run came here and so did Kapil Dev's 432nd wicket, overtaking Sir Richard Hadlee. This is also the venue where India won one of its most important matches in the 2011 World Cup, defeating Australia in the quarterfinals. Later, at the same venue, they beat England in the first Test of the 2012 series by nine wickets.
There's plenty for Virat Kohli and his team to seek inspiration from as cricket re-emerges from oblivion, back to relative normalcy, at least in this part of the country. It's a day-and-night game. If India have a 36 all out to forget, England have an equally disastrous 58 all out to stop thinking about. As Kohli says, neither team will be thinking about the past.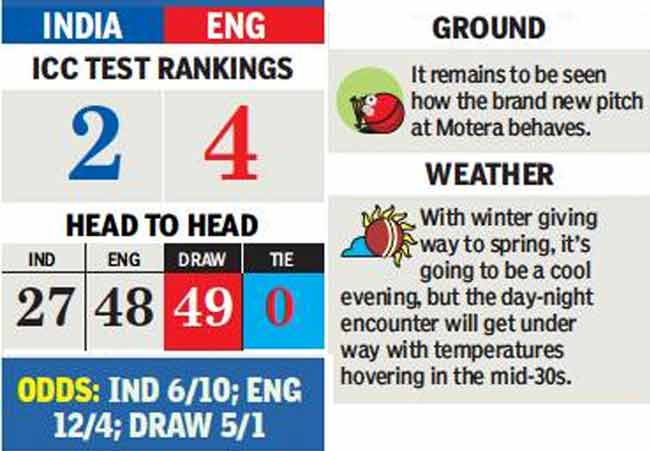 In England's case, their surprisingly rigid rotation system has garnered its share of attention. Moeen Ali, who did an impressive job in the second Test to grab the attention of IPL franchise owners, has returned home while Jonny Bairstow and Mark Wood have joined the squad. One will have to wait and see if Wood replaces Stuart Broad to join James Anderson and Jofra Archer, but Bairstow replacing Dan Lawrence at the top of the order looks like a real possibility right now.
India, on the other hand, face a convenient problem of plenty as Kohli goes about contemplating whether he should scale the eleven back to two spinners or continue with three. Do they continue with Kuldeep Yadav or replace him with a seamer? That is the only question the hosts have to answer. The rest of the players pick themselves, as home boy Jasprit Bumrah returns to claim his rightful place in the XI alongside Ishant Sharma, who will play his 100th Test.

The pitch will, indeed, take turn. The only question is how soon. And therefore, the final answer to whether India should go in with an extra batsman in Hardik Pandya, an extra pacer in Mohammed Siraj or Umesh Yadav, or continue with Kuldeep is a call the team management has to take.