4th T20I: India hold their nerve in dramatic last over to level series against England
On Thursday night, Suryakumar Yadav was a man in a hurry. Even before opener Rohit Sharma could make his way back to the dugout, the 30-year-old, with a spring in his step, was on his way to take guard at the crease. In sync with the format, Yadav, who replaced an injured Ishan Kishan in the line-up, was quickly into his stride in his maiden T20 international.
Jofra Archer (4/33) welcomed him with a short ball which was hooked over fine leg for a maximum. And that was only the teaser for an innings highlighted by courage and character from a man who had been waiting in the wings for a while to earn his India stripes.
SCORECARD
Yadav, who goes by the nickname 'Sky', lived up to it during his fiery 31-ball-57 (6×4; 3×6). He played a key role along with Shardul Thakur (3/42) and Hardik Pandya (2/16) in India's tense eight-run win against England in the fourth T20 international in Ahmedabad. With the result, the series is now level at 2-all.
01:184th T20I: India beat England by 8 runs to level series On a batting beauty, India posted a competitive but gettable 185/8. England, who rode on cameos from Jason Roy (40; 27; 6×4, 1×6) and Ben Stokes (46; 23; 4×4; 3×6) were kept in the chase until the last two balls by Archer (18*) but Thakur, after conceding two wides, dismissed Chris Jordan to swing the match back in India's favour.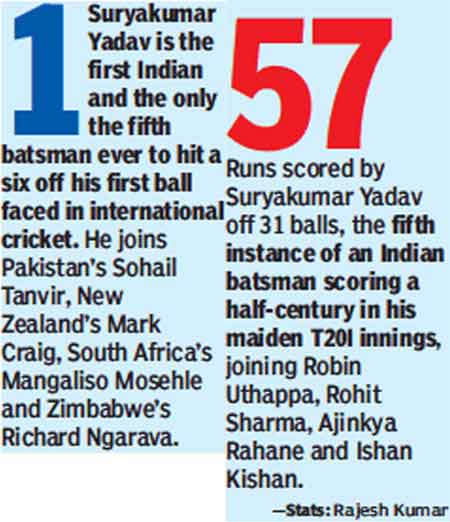 India began to scent victory when Thakur and Pandya turned game changers in the death overs. In the 17th over, Thakur sent back Stokes and Eion Morgan off consecutive deliveries. Pandya followed it up with a stirring exhibition of bowling, conceding just six runs and sending back Sam Curran to finish with 2 for 16.
1/10
In Pics: India survive final-over scare to level series against England
Show Captions
India survived final-over drama to beat England by eight runs in the fourth Twenty20 International and level the five-match series 2-2 in Ahmedabad on Thursday. (Getty Images)
Rahul Chahar, in place of Yuzvendra Chahal, returned 2/35.

Earlier, Yadav played an innings which was near flawless in conception and impeccably in execution. Against the pacers, like Chris Jordan, Yadav used the pace to his advantage to find the gaps to the boundary, while spinner Adil Rashid's deliveries like the one he tossed up in the seventh over was sent soaring over extra cover.
Yadav got ample support from Shreyas Iyer, who scored a valuable 18-ball-37 (5×4; 1×6) and Rishabh Pant chipped in with a handy 30.

FOCUS ON 'SOFT SIGNAL' AFTER YADAV IS GIVEN OUT TO CONTENTIOUS CATCH
Umpire KN Anathapadmanabhan's 'soft signal' of 'out' for the catch in the outfield which led to Suryakumar Yadav's dismissal sparked controversy on Thursday, with former players and even captain Virat Kohli questioning the wisdom behind the rule. After Dawid Malan appeared to have fluffed a low catch at fine leg, Anathapadmanabhan referred to TV umpire Virender Sharma and soft signalled the batsman out, meaning there had to be 'conclusive proof' to overturn the decision.
Although Malan appeared to have grassed the ball before scooping it with his fingertips, the replay, according to Sharma, was inconclusive and after a long wait, Yadav was given out, with Kohli staring in disbelief at the giant screen. Former players and commentators questioned how the on-field umpire, who didn't have a clear view, could 'soft signal' the batsman out on such a catch.