'89 to 599 in 14 days': Andhra sees upward trajectory of Covid hospitalisations again
VISAKHAPATNAM: Despite the steady Covid-19 case positivity rate and manageable infection numbers, daily hospital admissions are gradually increasing in Andhra Pradesh.
While there were only 89 new admissions on July 2, it increased to 599 on July 15. During the same period, the daily discharges decreased from 893 on July 2 to 547 on July 15. This is particularly evident in districts with a growing demand for oxygen and ICU beds once again.
After a steep drop in the daily Covid-19 case numbers from its presumed peak in the second week of May, the daily caseload has settled around 3,000 for the last several weeks. Things have improved in the last 45 days on all parameters—be it case positivity rate, oxygen supply, R number, bed availability, etc.
But the curve does not seem to be plateauing anytime soon as it happened during the first wave, and the evolution and ebbing of the second wave looks to be more complex with a fluctuation in the confirmed cases. From the peak of 1.8 about two months ago, the Covid-19 reproduction rate currently hovers around 0.8-0.9%.
The prolonged second wave has now triggered a concern, hinting at a probable second peak during the second wave itself before the onset of the third wave. However, the same unclear trajectory has become an excuse for some people to lower their guard, including unmasking and not following social distancing norms.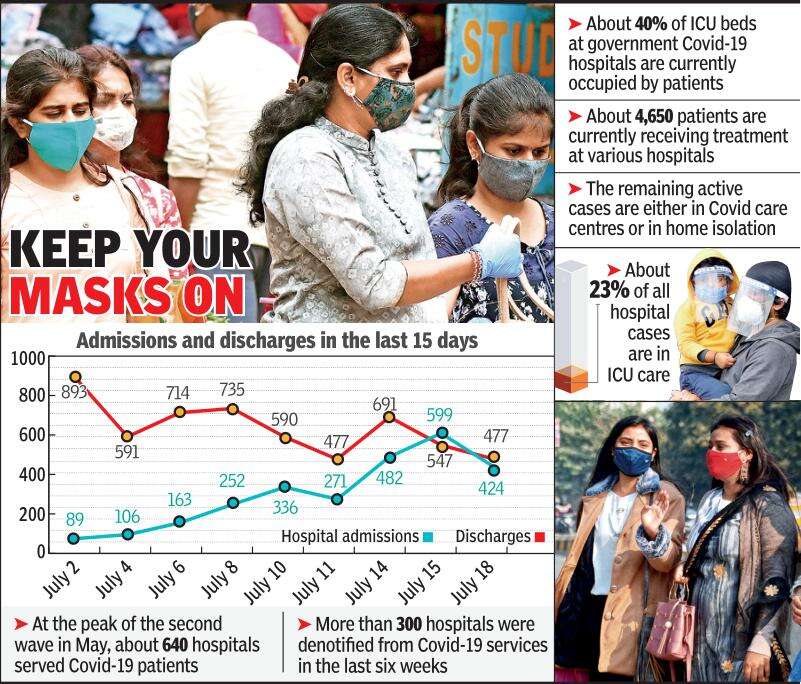 Variations in regional distribution of Covid-19 cases continued even in the second wave with districts such as East Godavari, West Godavari and Chittoor being affected the most for reasons unknown even to officials. East Godavari continued to lead the table with 2.73 lakh cumulative cases, followed by Chittoor with 2.27 lakh cases.
Even though the state is taking extensive measures to accelerate the Covid-19 vaccination drive, only some 42 lakh people are fully vaccinated as of date, while about 1.03 crore people have got their first dose.
State Covid-19 nodal officer Dr K Rambabu cautioned the public to adhere to all Covid-19 precautions as a daily caseload of 2,000 to 3,000 is no small number.
"During the first wave, the daily cases quickly dropped to the 100-500 range after hitting the peak within a short span. Compared to the UK, we were two to two-and-a-half months behind both in the first and second waves. It has been almost one-and-a-half months since the third wave emerged in the UK. The increased economic activity, prolonged second wave, and the increase in daily cases in some Indian states are all alarming signs. We have to prepare for the third wave," said Dr Rambabu.