'Ab ki baar, 100 paar': Will India breach the 100-medal mark in Hangzhou?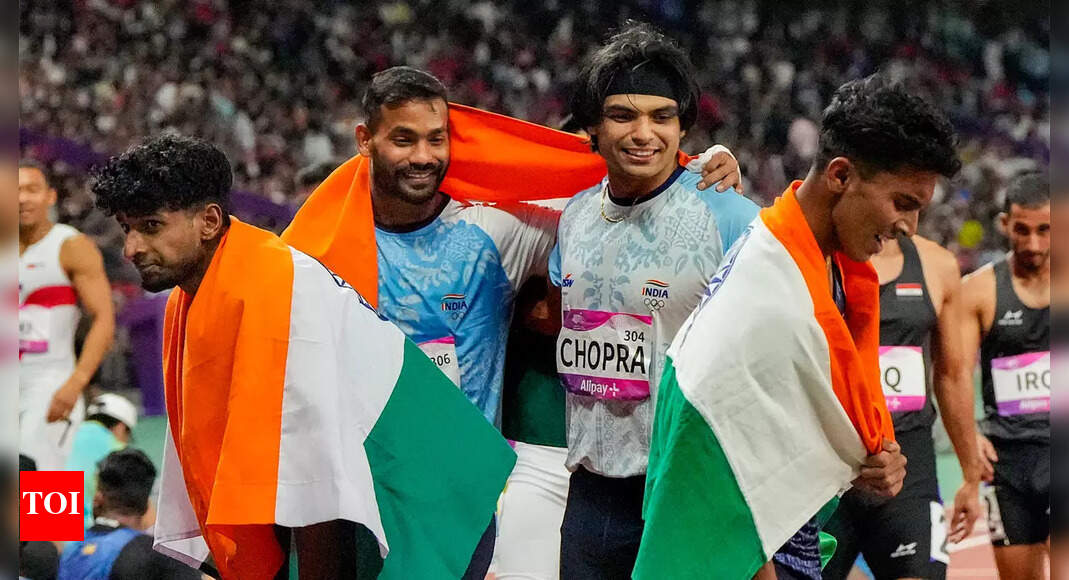 NEW DELHI: India went to Hangzhou with a 653 member strong contingent for the ongoing 19th edition of the Asian Games in China, their biggest contingent ever, with an ambitious goal of making it the best ever Games for the country.
They achieved their primary goal on Wednesday, when they breached the 70-medal mark and finished Day 11 of the competition with a staggering total tally of 81 medals.With it, they shattered the previous best medal haul of 70, achieved in the last edition in Jakarta in 2018.
India have also shattered their previous record of 16 gold medals, their best gold haul ever achieved in Jakarta, and now have 18 yellow medals in their kitty so far. Apart from the 18 gold, India have won 31 silver and 32 bronze so far (till end of competition on Wednesday, Oct 4) with three competition days left at the Games for Team India.The other big goal for India is their Games' motto of this edition – 'Ab ki baar, 100 paar', which loosely translates to 'this time we will get more than 100 medals.'
With 81 medals, the goal looks tentatively close for the impressive Indian contingent at the moment. But how realistic is this ambitious goal at this stage of the Games?
The TOI Sports Desk takes a look at the remaining events in Hangzhou to check what are India's prospects of winning medals in them to achieve the big target of 100-plus medals.
Asian Games: Tejaswin Shankar wins India's first decathlon medal since 1974
Medal prospects in the last four days of competition:
October 5 (Five potential medals)
Squash
Mixed doubles final: India vs Malaysia
Men's singles final: Sourav Ghosal vs Eain Yow NG of Malaysia
Both the medals in squash on Thursday are sure shots as both are in the final. So, we can count in two to India's final total.
Wrestling
Women's Freestyle 53kg: Antim Panghal
Women's Freestyle 50kg: Pooja Gehlot
Men's Greco-Roman 130kg – Naveen
Freestyle wrestling is a strong suit for Indians and the event is starting on Thursday. Team India has already won a bronze on the first day of wrestling competition on Wednesday in Greco-Roman. Three medals look realistically possible for India on Day 2 of the wrestling competition.
October 6 (Four potential medals)
Archery – Recurve Men's/Women's Team (1)
Both the men's and women's recurve teams will start the day in the quarter-final stage and need to win three matches for a medal. India can hopefully get at least one medal from the two medal-contending teams for India, if not two.
Hockey – Men's team
The Indian men's hockey team looks good for gold this time round, with a silver medal already assured thanks to their win vs South Korea that took them into the final.
Wrestling
Women's Freestyle 76kg: Kiran
Men's Freestyle 65kg: Bajrang Punia
Olympic medallist Bajrang Punia and Kiran are very strong contenders for medals in freestyle wrestling. There could be more from the other wrestlers too. But we can realistically count two medals from the wrestlers on day three of wrestling action.
October 7 (13 potential medals)
The final biggest medal rush for India will come on Saturday, when India will be contending for more than 10 medals.
Archery
Compound Women's Individual Gold medal match: Jyothi Surekha Vennam
Compound Men's Individual Gold medal match: Abhishek Verma vs Ojas Pravin Deotale
In archery India are assured two silvers and one gold, with the Compound Men's Individual Gold medal match being an all-India affair.
Badminton – Men's Doubles | Women's/Men's Singles
Indian shuttlers are still in contention for three medals as they reached quarter-finals in women's singles (PV Sindhu), men's doubles (Chirag/Satwik) and men's singles (HS Prannoy). The fans can still expect a medal if not two from them.
Cricket – Men's Team
They are the overwhelming favourites to win the gold in the competition. So, Team India can count on a medal from the sport for sure.
Chess
Men's Team (2nd after 6 of the 9 rounds)
Women's Team (2nd after 6 of the 9 rounds)
India missed out on the medal in the individual events in chess, but are looking good to compensate for that in the team events. Both the men's and women's teams are in second position after the end of six rounds. Three more rounds are left in the competition and both teams look set for podium finishes.
Hockey – Women's
The women's hockey team is looking good to go all the way in the Games. So, the contingent can again lock in a medal from them for sure.
Kabaddi – Men's & Women's
Both the men's and women's teams are favourites to win gold in kabaddi. Even if it's not gold, we can lock-in two medals from the sport.
Wrestling
Men's Freestyle 86kg: Deepak Punia
Men's freestyle 125kg: Sumit
Final day of wrestling action, and India can count in at least two medals from their wrestlers.
October 8
No India events on the closing day of the Games.
Looking at the overall medal prospects, India still can win as many as 22 more medals in the next three days which will take their tally past the 100-mark. It will be nothing short of an exceptional achievement for the contingent. Out of these 22 medal prospects, ten are already/almost assured. So 91 medals is a done thing but will India muster about 10 more to cross the magical 100 mark? The question is keeping the sports fans in the country going through various permutations and combinations in their heads at the moment.
It's going to be touch and go for Team India's ambitious goal of 100-plus medals. But one thing is already assured, it's a truly impressive show from the contingent already as they have made it the best ever Asian Games outing for India.