ACT: Clinical India tame Japan for a place in the final against Malaysia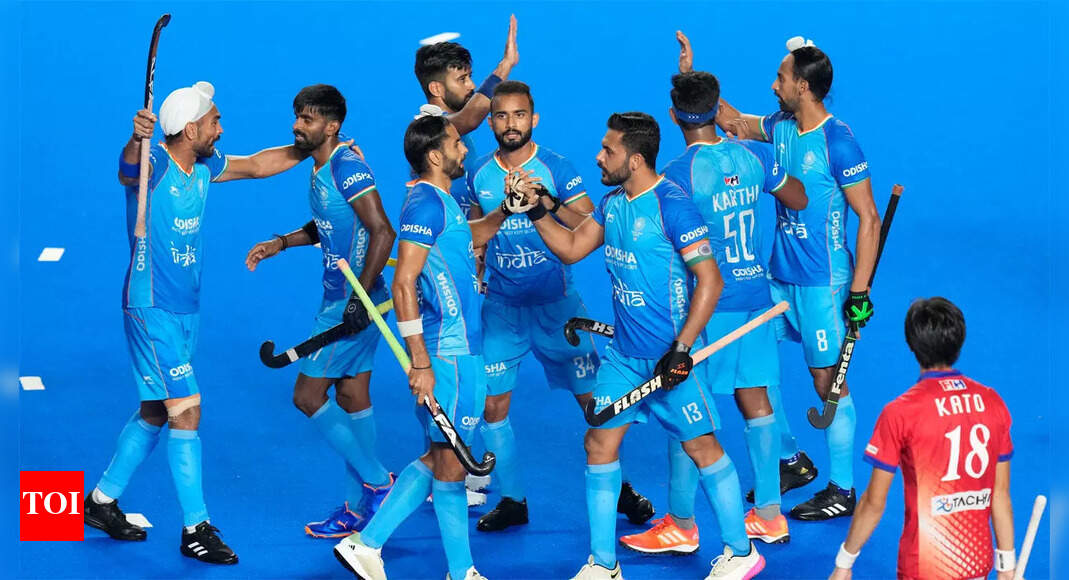 CHENNAI: When Karthi Selvam scored the fifth goal, which proved to be the final nail in the Japanese coffin, the 9000-strong crowd at the Mayor Radhakrishnan Stadium unanimously cheered "Karthi…Karthi" to show their love for the local hero. By then, a clinical Indian display, led by some remarkable playmaking by Manpreet Singh, had stamped the verdict, which finally read 5-0 in India's comprehensive win over Japan in the semifinal of the Men's Asian Champions Trophy here on Friday.
It was one-way traffic once Akashdeep Singh broke the deadlock in the 19th minute, after a goal-less first quarter that saw the teams more focused on defence and not give away an early lead.
But veteran striker Akashdeep's goal kind of opened the floodgates and India scored twice more before half-time, courtesy tournament's top-score and India captain Harmanpreet Singh (23rd minute) off a penalty corner, followed by Mandeep Singh in the 30th minute.
As It Happened
The credit for India's third goal and the fourth, scored by Sumit — a deft reverse-stick lob to beat Japanese goalkeeper Takashi Yoshikawa in the 39th minute — must equally go to Manpreet for the way the former skipper set up his team-mates.
Selvam scoring the fifth and final goal in the 51st minute was the perfect way it could have ended for Chennai, who are having a taste of international hockey after a gap of a decade and a half.
It was also the perfect memory for India's veteran goalkeeper and former captain PR Sreejesh, who played his 300th match and was also felicitated before the start of the match by a host of dignitaries, including India's table tennis icon Achanta Sharath Kamal.
India will now take on Malaysia for the title on Saturday.
The Malaysians entered their maiden men's ACT final with a 6-2 hammering of defending champions South Korea, after having won five bronze medals in the previous editions of the tournament.