ACT: Japan clinch third place with 5-3 victory over Korea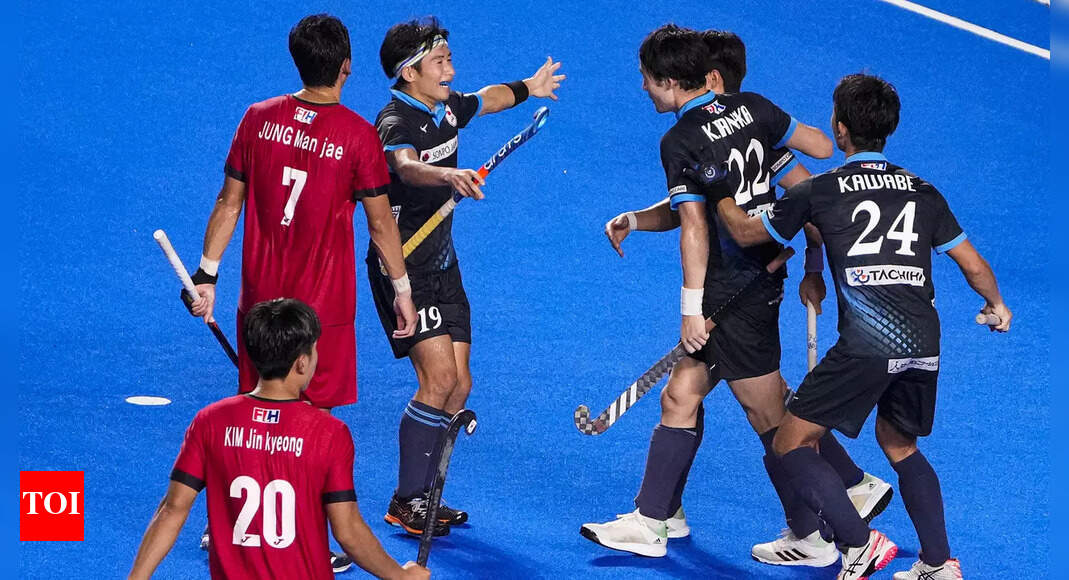 NEW DELHI: Japan signed off the 2023 Asian Champions Trophy campaign on a high, defeating defending champions South Korea 5-3 in the third-place playoff on Saturday.
Ryoma Ooka (3rd), Ryosei Kato (9th), Kentaro Fukuda (28th), Shota Yamada (53rd), and Ken Nagayoshi (58th) scored to help the Japanese conclude on a high note.
Korean goal scorers were Jonghyun Jang (15th and 33rd) and Cheoleon Park (26th).
As it happened: Korea vs Japan
The Japanese started the first quarter on a high note, as they were on the offensive. Ryoma Ooka smashed a field goal through a highly laden Korean defence just three minutes into the game.
Japan's confidence was evident in the games from the outset, as it managed to breach Korea's defence six minutes later.
This time, it included some clumsy interplay inside the box between Kosei Kawabe and Kentaro Fukuda before Ryosei Kato knocked in from close range to double his side's lead.
Nonetheless, the Koreans were not going down without a fight. It was a penalty corner for them in the 15th, which skipper Jonghyun Jang successfully converted to get one back.
The score at the end of the first quarter was 2-1 in favour of the Japanese.
The Japanese team put in more effort in the following quarter, as it received four PCs and Ken Nagayoshi received a green card in the 18th.
Korea eventually equalised in the 26th minute after Cheoleon Park's shot deflected off Woo Cheon Ji's stick when the latter was trying a reversal stick.
Nonetheless, the Koeans' comeback lasted only two minutes, as Kentaro Fukuda restored Japan's advantage with the simplest of assists from Kosei Kawabe for the former to tap in.
Japan led 3-2 going into the halftime break.
Japan got a PC immediately after resuming, but did not make the most of it. Three minutes later, it was Korea's turn via a PC, and Jang equalised.
It was followed by a silent period before a PC for the Japanese was saved by the Korean custodian as the third quarter ended 3-3.
The fourth quarter likewise started slowly before a Japanese attempt from Kato was saved by the goalie.
The Japanese took the lead again in the 53rd minute as the ball lifted in the air off Kosei Kawabe's stick, only to be slammed in by Shota Yamada after the TV umpire denied a video referral for a hazardous shot.
Japan extended the lead after three minutes, with Nagayoshi throwing the Korean goalie to the wrong side during a penalty stroke. It occurred to be the final action of the meeting, and the Japanese won 5-3.
(With inputs from PTI)