Akhtar got a reality check from Indian fans ahead of India-Pakistan clash
NEW DELHI: Former Pakistan pace legend Shoaib Akhtar, who often makes headlines for his frank opinions, grabbed the space again but this time for all the wrong reasons.
Akhtar received backlash on social media for his post on the ODI World Cup match between India and Pakistan which he later deleted as it triggered an anger among Indian fans.
Akhtar shared a photo from his playing days and captioned it with the message: "Tomorrow, history will repeat itself."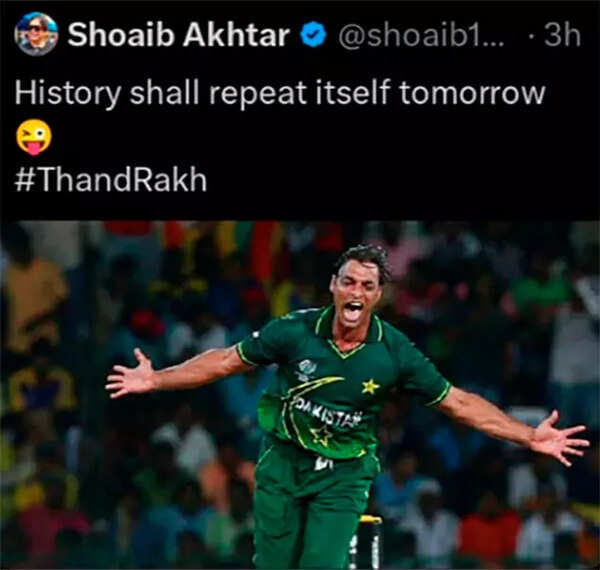 But this did not go well with the Indian fans and wasted no time to hand Akhtar a reality check about India's impressive record against Pakistan in ODI World Cups.
India emerged victorious in all seven matches they played against Pakistan in the ODI World Cup so far.
Shoaib then posted a picture of himself dismissing Sachin Tendulkar during a famous Kolkata Test in 1999 and wrote a caption, "Kal agar asa kuch kerna hai, toh #ThandRakh."
India will start as overwhelming favourites against arch-rivals Pakistan in the World Cup match on Saturday that has a compelling socio-political context, implications of which transcend beyond the 22-yards.
On paper, India is a far superior side and with a batting line-up filled with alpha-male characters, it will all depend on how well left-arm pacer Shaheen Shah Afridi's first spell pans out as the cross-border neighbours might not be short on intent but certainly in terms of ammunition.