Amritpal hits country roads, shakes off police pursuers
CHANDIGARH: Fugitive Khalistan sympathiser and self-styled preacher Amritpal Singh dodged Punjab Police's dragnet for the second successive day on Sunday, changing vehicles more than once and knocking down several bike riders along the way as his convoy sped through narrow country lanes in a bid to throw off teams tracking the Mercedes in which he had been last spotted.
Also See: Amritpal Singh Arrest Live Updates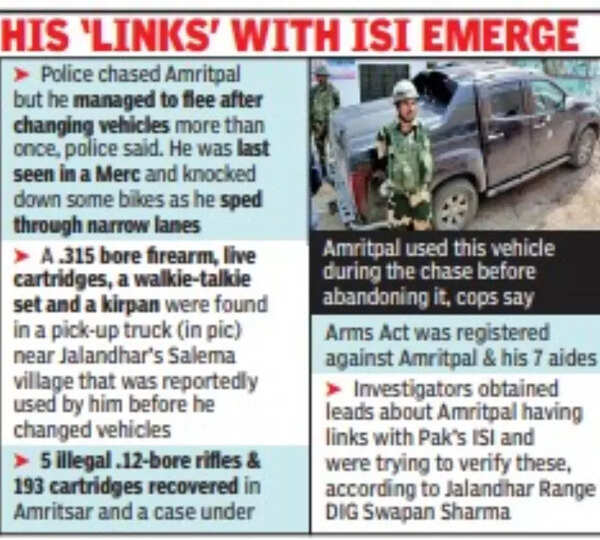 Waris Punjab De chief Amritpal and three others, including an uncle known to be his shadow, are believed to have switched to the Mercedes after abandoning an Isuzu pickup truck found by Jalandhar Rural police close to Salema village, near Mehatpur in the same district. The left the key on the truck's roof.
1/10
Making of Amritpal Singh: Head of Waris Punjab De
Jalandhar (Rural) SSP Swarandeep Singh said a .315-bore weapon, 57 live cartridges, a walkie-talkie set and a kirpan were found in the pickup truck. The vehicle's owner, identified as Manpreet Singh of Anokharwal village in Nawanshahr district, was arrested later. In Amritsar, interrogation of the seven associates of Amritpal arrested last Tuesday led cops to another cache of weapons and ammunition comprising five .12 bore rifles and 193 cartridges. Amritpal Singh escaped after intense car chase: Jalandhar CP
Another 34 Waris Punjab De members and protesters allegedly attempting to disturb peace were arrested Sunday, taking number of arrests so far to 112. Amid search for Amritpal Singh, lawyer claims Waris Punjab De chief is already in Punjab Police custody
Search teams earlier in the day found two abandoned Ford Endeavour SUVs suspected to be part of Amritpal's convoy. Jalandhar Rural police registered a fresh case against the absconding Khalistan sympathiser and his associates in connection with the seizure. Manhunt for Amritpal Singh: Punjab Police recover two cars
Jalandhar DIG Swapan Sharma said investigators had received leads about Amritpal having links with Pakistan's ISI and were trying to verify these.
Sharma said police had already confirmed that his fleeing convoy knocked down "four to five" two-wheelers while racing down a lane. "Three people were injured at different spots, but there could be more. We have videos of specific incidents."
Jalandhar police commissioner Kuldeep Singh Chahal said one of the teams going after Amritpal chased his car for 20 to 25km Saturday before he managed to escape.
DIG Sharma said that although Amritpal was still on the run, the police operation so far had been successful in terms of "breaking his will and his network, including arresting his associates". Amritpal's financier arrested from Gurugram, Security beefed up in Punjab as searches continue to nab Amritpal
"Our objective was not to use any force and ensure public safety. No physical harm was caused to anybody," he said.
The police are investigating people who provided all the vehicles used by Amritpal. The Mercedes he was seen in belongs to a person whose brother was killed in an encounter with the police, the DIG said.
Amritsar (Rural) SSP Satinder Singh said the seven arrested associates of Amritpal — identified as Ajaypal Singh, Gurvir Singh, Baljinder Singh, Harminder Singh, Gurpal Singh, Sapreet Singh and Amandeep Singh — were produced in the Baba Bakala court Sunday and remanded in police custody till March 23.
A case under the Arms Act was registered against Amritpal and the arrested men in connection with the seizure of illegal weapons, including a .32 bore revolver found on Harminder.
Moga SSP J Elenchezhian said Amritpal's associate Bhagwant Singh, aka Pradhan Mantri Bajeke, was among those taken into custody along with the Delhi farm agitation's infamous "water cannon man" Navdeep Singh Jalbehra.
Unconfirmed reports said Amritpal had been planning to set up an armed group called Anandpur Khalsa Force (AKF), going by markings of "AKF" on some of the weapons seized in Amritsar. The police released photographs of jackets with AKF written on them along with photos of the seized weapons.
Amritpal's parents claimed Sunday they did not believe that their son was on the run.