Asian Games: India reign supreme over arch-rivals Pakistan, twice in a day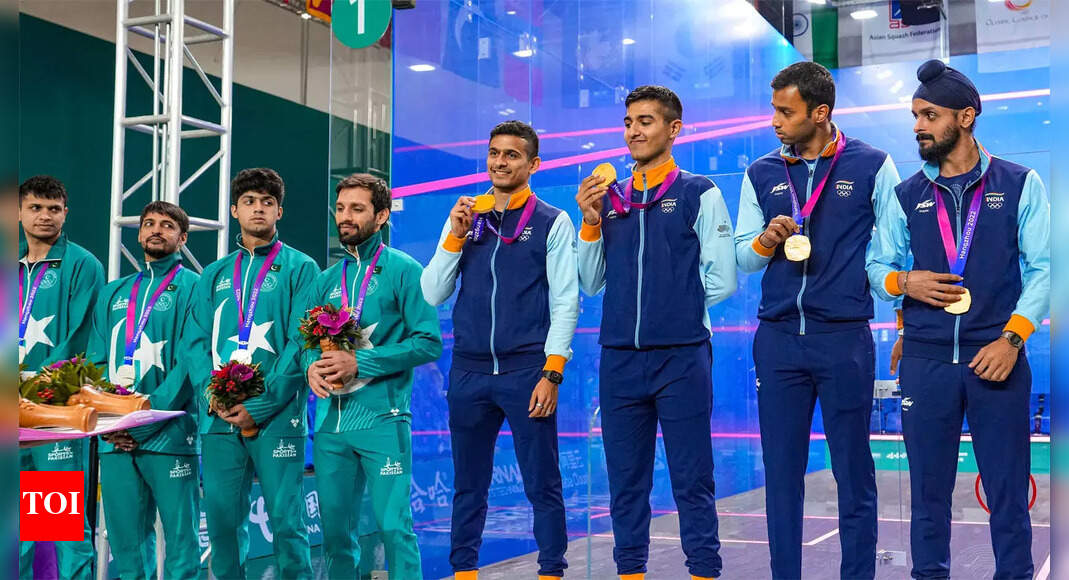 NEW DELHI: A nerve-wracking gold medal win in men's squash event was followed by a brutal, one-sided thrashing on the hockey field as India bossed neighbouring Pakistan, twice on Day 7 of the Hangzhou Asian Games.
After the men's squash team registered an epic 2-1 win in the final to clinch the Asiad gold after 8 years, Harmanpreet Singh and co. took Pakistan for a ride in a 10-2 win, recording India's biggest-ever win over the arch-rivals in a the Pool A match.
Saurav Ghosal: The 'unofficial' captain who leads India to glory
With the thrashing, Indian hockey team also qualified for the semis in the men's hockey competition.
Earlier in the day, Abhay Singh won the battle of attrition against Noor Zaman for the biggest prize of his career as top seeds India regained the squash gold.
Indian men's team was expected to step on the top of podium after eight years with its main challenge coming from Malaysia and Pakistan. The Saurav Ghosal-led side managed to see off both the opponents on their way to glory.
The win in the final against Pakistan came after the loss to the arch-rivals in the league stage.
Zaman, ranked 113, had got the better of world number 69 Abhay in that contest earlier this week and for the major part of the match on Saturday, it looked going in Pakistan's favour again.
With the final locked at 1-1 after Ghosal and Nasir Iqbal won their respective singles, the gold was going to be decided in the match between 25-year-old Abhay and teenager Zaman.
Zaman led 9-7 in the fourth game and had two match balls at 10-8 in the deciding game but the Indian somehow managed to turn it around for a memorable win. The final scoreline read 11-7, 9-11, 8-11, 11-9, 12-10.
Happy to be standing on the podium: Joshna Chinappa
In the evening, skipper Harmanpreet led from the front as he himself found the net four times as a rampaging India brushed aside Pakistan of the hockey field.
Harmanpreet scored in the 11th, 17th, 33rd and 34th minutes while Varun Kumar (41st and 54th) struck twice. Mandeep Singh (8th), Sumit (30th), Samsher Singh (46th) and Lalit Kumar Upadhyay (49th) were the other goal getters.
Pakistan reduced the margin through Muhammad Khan (38th) and Abdul Rana (45th) as India toyed their opponents for large part of the match.
The contest was the 180th match between the two teams and the 8-goal margin win was the biggest-ever in the history of India-Pakistan hockey.
India's earlier biggest victory margin was 7-1 against Pakistan registered in 2017.
Pakistan's 7-1 win in the final of 1982 Asian Games in New Delhi was their biggest win against India.
India, thus, exacted revenge of that humiliating loss 41 years ago though Saturday's match.
India collected 12 points from four consecutive wins to stay on top of the pool. India will play Bangladesh on October 2 in their last Pool A match.
(With inputs from PTI)
Watch Asian Games 2023: India beat Pakistan to win gold medal in men's team squash event