Assam's Only Woman Assistant at Crematoriums, Dhritimala Deka Chosen for Prestigious State Award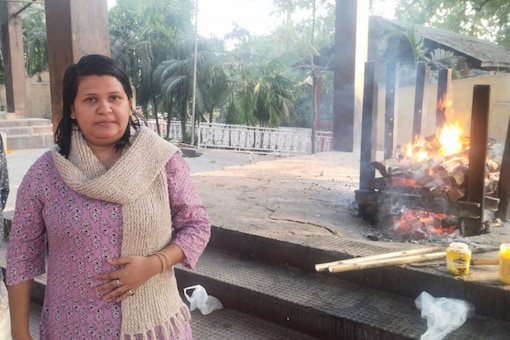 A mother of two, Dhritimala Deka is an accomplished entrepreneur dealing with the robotics laboratory in government schools. (Image: News18)
Dhritimala Deka has been chosen for the Axom Gaurav award. She has helped with close to 300 funerals
It was late in the afternoon when Dhritimala Deka, who was resting at her home in Guwahati's Shilpukhuri, got a call: she had been chosen for the prestigious Axom Gaurav award. Deka, the only woman in the state who assists with cremations, has helped with over 300 funerals.
"I had to pinch myself to believe that I have been selected for Axom Gaurav. My work has made the state and its people proud. Personally, I never worked for any acclaim or admiration, I have been doing this as a self-healing process," Deka said.
It was recently during the funeral of Assam's matinee idol Nipon Goswami and renowned painter Nilpobon Baruah that Deka was spotted near their pyres as a 'shoshan bandhu' at Nabagrah Crematorium in Guwahati. She helped arrange the pyres and led the entire cremation ritual as well as assisted the bereaved families.
"It was in 2010 when I started going to the crematorium, which is close to our house, to make all the arrangements for the ceremony and pyres as well. My father, who used to do this earlier, is my driving force. But it was on February 16, 2016, when a close relative died, I saw a child performing all the rituals. This moved me and made me more resolute in my mission," Deka said.
A mother of two, Deka is an accomplished entrepreneur dealing with the robotics laboratory in government schools. In her own words, she has assisted close to 300 cremations. Her family and neighbours have always been supportive and appreciative of her work.
"It was in 2019 that I went to the crematorium at midnight and stayed there till 4 pm the next day attending seven cremations. Nowadays, this is a routine. I make it a point that I am available for the cremation of women as the rituals require some privacy. I look after everything, right from arranging the pyre to providing the priest to performing the rituals. It takes around 45 minutes to get the pyre ready. My father used to do the same and I am carrying the good work forward," she said.
According to Hindu customs and traditions, women are not allowed to perform the last rites of their parents. It is believed that if a girl or woman lights a pyre, the person will not be able to attain 'moksha' meaning freedom from the cycle of rebirth. In fact, girls and women are not even allowed to attend the funeral of their own parents.
Deka, however, has broken this stereotype through her sheer passion and determination. Asked how long she will continue with her work, she said, "I shall keep doing this till the day I am on a pyre."
On Wednesday, Assam chief minister Himanta Biswa Sarma announced the state awards for 2023. The state's highest civilian award 'Asom Baibhav' was conferred to Dr Tapan Saikia, a renowned doctor, for his work in the field of healthcare (cancer care) and public service, raising awareness and early detection of cancer in Assam and other northeastern states. At present, Dr Saikia is the director of oncology sciences at Jaslok Hospital and Research Centre, Mumbai.
Read all the Latest India News here