Assembly elections: It's BJP vs Congress as stage set for voting in MP, Chhattisgarh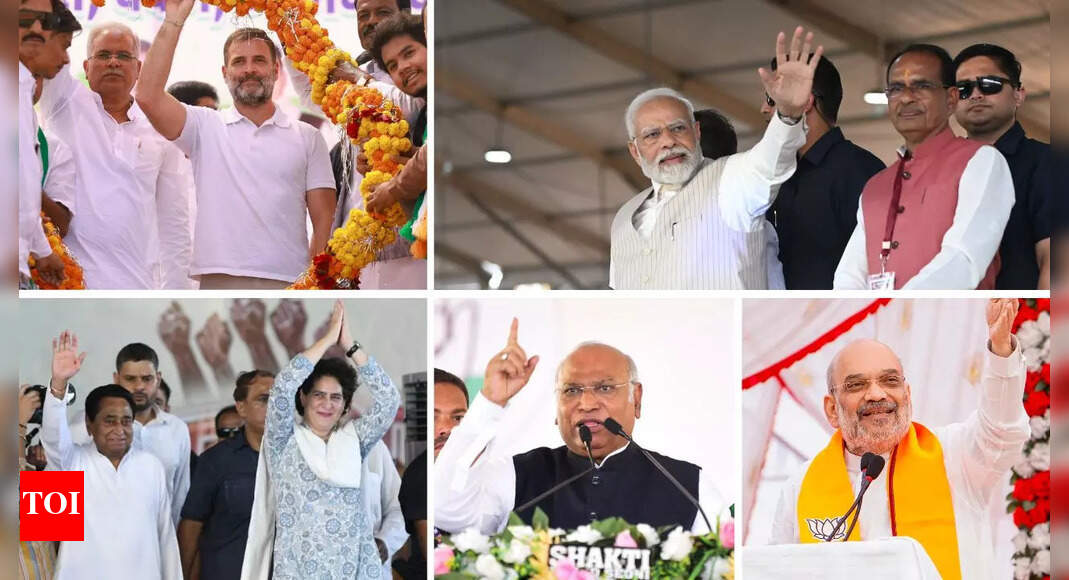 NEW DELHI: The second leg of the high-octane five-state assembly elections will kick off on Friday with Madhya Pradesh and Chhattisgarh going to polls.
All 230 seats in Madhya Pradesh will be going to polls in a single phase on November 17. Meanwhile, Chhattisgarh will hold the second phase of its two-phase elections in the remaining 70 out of 90 constituences.
With BJP and Congress dominating the electoral narrative in both the states, the November 17 elections will be a classic clash of the titans as both the parties vie to wrest power from each other.
Chhattisgarh Votes: Congress vs BJP: Can Bhupesh Baghel retain power or will Mahadev betting app case cast a shadow?
In Madhya Pradesh, the Congress is hoping to topple the Shivraj Chouhan-led BJP government, which has been in power for almost 20 years now except the two years when the grand old party briefly assumed office post-2018 elections.
In Chhattisgarh, the Congress is trying to hold its fort under the leadership of chief minister Bhupesh Baghel, who is the grand old party's poster boy in the state.
High-decibel campaigning in MP
Both the states witnessed intense campaigning by both BJP and Congress as the parties went all out to woo the voters.
Electioneering saw PM Modi, Shah, BJP president JP Nadda, Union minister Rajnath Singh, MP Chief Minister Shivraj Singh Chouhan, among others, touring the state and addressing election meetings to drum up support for saffron party nominees in all the 230 seats.
Congress president Kharge, his predecessor Rahul Gandhi, party general secretary Priyanka Gandhi-Vadra, MPCC chief Kamal Nath, former chief minister Digvijaya Singh, among others, addressed public rallies to garner support for their 230 candidates.
Samajwadi Party's Akhilesh Yadav also held a few rallies to drum up support for his party in MP.
PM Modi, Shah and other BJP leaders accused the previous Congress governments in the state and at the Centre for allegedly indulging in corruption and loot of public money, and also spoke about the upcoming Ram Temple in Ayodhya.
The BJP did not miss a chance to emphasise that it has pulled MP out of 'BIMARU' (laggard) category when power cuts, pathetic road conditions and water scarcity were the order of the day and cautioned people that if the Congress returns to power it will ruin the state again.
The BJP is banking heavily on the Prime Minister's charisma and popularity to retain power. The saffron party campaign's was woven around slogans and chants of "MP Ke Mann Mein Modi" and "Modi Ke Mann Mein MP."
The Congress electioneering focused on promise of a caste survey and welfare of Other Backward Classes (OBCs) who constitute around 48 per cent of the state's population.
Priyanka Gandhi opened her party's campaign for MP on June 12 by launching a blistering attack on Bthe JP saying that 225 "scams" had taken place in the 220 months of BJP rule in the MP. She claimed only 21 government jobs were provided in the state by the BJP government in the last three years.
The Congress campaign targeted the BJP government over unemployment, price rise and alleged that 50 per cent "commission raj" was prevailing in the state.
Fissures in INDIA bloc
The elections in MP also brought to fore some tensions in the opposition's INDIA bloc ahead of next year's general election.
SP chief Akilesh Yadav accused the Congress of betraying him by not conceding six seats to his party as promised. The SP has fielded 71 candidates in MP.
Another INDIA constituent, Aam Aadmi Party (AAP), has also fielded candidates in the state after failing to arrive at a pre-poll tie-up.
Both SP and AAP took potshots at Congress during the campaigning.
Another key INDIA member, Janata Dal (U), is contesting polls in 10 constituencies.
Meanwhile, the Mayawati-led BSP has fielded 183 candidates, while its ally Gondwana Gantantran Party, a tribal outfit, has given tickets to more than 45 nominees. BSP is not part of the INDIA alliance.
Modi vs Baghel in Chhattisgarh
In Chhattisgarh, it was a PM Modi vs Bhupesh Baghel show during the campaigning for the remaining 70 seats.
The BJP's campaign was virtually spearheaded by PM Modi who addressed four well-attended rallies and targeted the Baghel-led government over corruption, particularly the alleged Mahadev betting app scam and recruitment scandal, and Naxalism.
Union ministers Amit Shah, Rajnath Singh and Smriti Irani, BJP president JP Nadda, and Assam CM Himanta Biswa Sarma extensively campaigned for the saffron party, all targeting Baghel over the alleged betting app scam and "religious" conversion, and accused the ruling Congress of indulging in appeasement politics.
BJP leaders claimed that the Congress had been battered in the first phase of polls and would be wiped out in the second.
Congress president Mallikarjun Kharge, senior leaders like Rahul Gandhi and Priyanka Gandhi and CM Baghel led the campaign for the ruling party and mounted a counter-offensive claiming that their party is concerned about the interest of the poor while the BJP-led Centre only works for the welfare of the rich.
Congress based its campaign on a slew of welfare schemes rolled out by the Baghel government for farmers, women, tribals and Dalits.
It accused the Centre of "handing over" resources to "industrialist friends". It tried to woo farmers with a promise of loan waiver, also made by it in 2018, and Other Backward Castes (OBCs) with the promise of caste census.
Notably, Baghel on Sunday announced that if his party retains power in the state, women in the state would get annual financial assistance of Rs 15,000.
The announcement, which came just ahead of the second phase of Chhattisgarh elections on November 17, is being seen as a counter to the opposition BJP's promise in its poll manifesto of giving Rs 12,000 per year to married women, which, according to political observers, could work in the favour of the saffron party.
Elections in numbers
The political fate of as many as 2,533 candidates in Madhya Pradesh and 958 candidates in Chhattisgarh will be decided by the voters on Friday.
In MP, as many as 5,60,60,925 voters — 2,88,25,607 males, 2,72,33,945 females and 1,373 third gender persons — are eligible to exercise their franchise on Friday when single phase voting opens from 7 am to 6 pm at 2,049 polling stations in the state.
In 2018, the Congress came back to power after winning 114 seats and emerging as the single largest party. It formed the government with the help of BSP, SP and independent MLAs under the leadership of Kamal Nath.
However, a rebellion by Jyotiraditya Scindia led to the collapse of the Kamal Nath government and paved way for Chouhan's return. The BJP further cemented its grip on power after the 2020 bypolls.
In Chhattisgarh's second phase, an estimated 1,63,14,479 voters, including 81,41,624 male, 81,72,171 female and 684 third-gender are eligible to cast their vote. As many as 18,833 polling booths have been set up for this phase.
The time of polling in all 70 constituencies is from 8 am to 5 pm, except nine polling booths in the Maoist-affected Bindranawagarh seat in Rajim district, where voting will be held from 7 am to 3 pm.
The polling booths in Bindranawagarh seat where voting will be held from 7 am to 3 pm are Kamarbhaudi, Amamora, Odh, Bade Gobra, Ganwargaon, Gariba, Nagesh, Sahbinkachhar and Kodomali.
In 2018, the Congress wrested power from the Raman Singh-led BJP government in Chhattisgarh after winning 68 out of the 90 seats in the state.
After Friday's elections, voting will take place in Rajasthan on November 25 and Telangana on November 30. The results for all the five states will be declared on December 3.
(With inputs from PTI)