BCCI AGM: Members have serious questions for Sourav Ganguly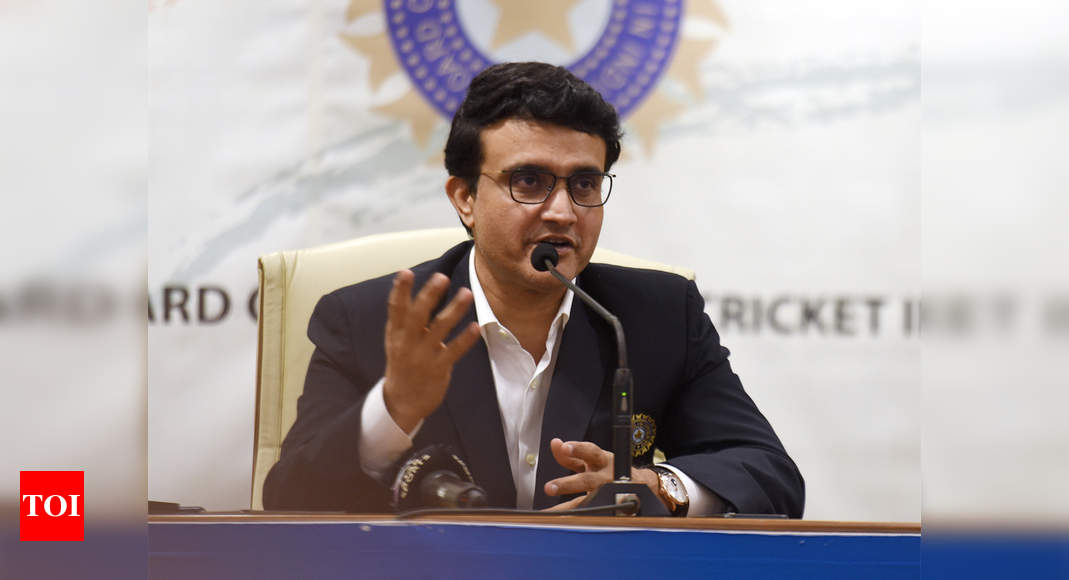 MUMBAI: 'Ambush' will remain the keyword at the 89th Annual General Meeting (AGM) of the BCCI this week. The members of the cricket board, clearly 'unhappy' with the manner in which president Sourav Ganguly has gone about signing up with brands while occupying an honorary chair – and more importantly signed up with brands that are direct rivals of BCCI's own sponsors – are worried about the perils of 'ambush marketing' that the industry is busy whispering.
TOI understands that the members themselves will look to carry out their own "proverbial ambush", questioning Ganguly about these 'multiple conflicts' when the AGM gets underway.
There's a clear line of thought right now where Ganguly's multiple conflicts are concerned: A) How many brands has Ganguly signed up after becoming president of the BCCI – which is an honorary role – as opposed to the brands he was associated with before October 2019? B) Of those brands, how many are direct rivals of BCCI's own sponsors? C) How does it augur for the Board when the president of the BCCI has been seen asking fans to embrace a fantasy league? D) Even though the fantasy leagues are an accepted platform, are there proprietary issues that BCCI needs to look at more objectively? E) Does the constitution allow an office-bearer of the BCCI to earn from the cricket ecosystem and BCCI's own partners or their rivals while occupying an honorary position?
Senior BCCI members point out examples and raise questions
TOI spoke to at least a dozen senior members of the Board who want this issue to be discussed and be brought to the attention of all concerned. They are raising multiple questions, citing numerous examples.
* Dream11 bought the title rights to IPL and the BCCI president signed up with MyCircle11 – Dream11's direct rival. Now, the partner may not have raised an official complaint but is such a move on the part of BCCI's own president auguring well?
* The president signed with a direct rival of Team India's jersey sponsor Byju's some time ago. Recently, he signed up with another edu-tech company. 'Byju's has not filed an official complaint but are we waiting for them to write to us?'
* The Adani Group is a potential bidder for an IPL franchise when the next tender is floated. Ganguly is an ambassador for an edible oil product of the same company.
* As president, how can he sign up with a company that runs an IPL franchise? JSW Cement brought Ganguly on board in June this year. The company is a 50% owner in the Delhi Capitals franchise.
* As a member of the BCCI Apex Council, he has sought to sit in almost every IPL Governing Council meeting as a special invitee. Technically, isn't that a conflict of interest?
"The list just doesn't end. And what's worse is that these conflicts are blatant. He needs to explain what all this is about. Because if he wants to make money, he could've easily done it without occupying the BCCI chair. After all, he's a former India captain," members say.
Ganguly was first offered the role of the IPL governing council Chairman in October 2019, when the members had taken control of the BCCI from the COA. It was in that meeting that Ganguly put his foot down and said he wanted to take over as the BCCI president.
"It was seen as a progressive step back then. Everybody thought Ganguly coming on board as president would add value to the set-up, especially at a time when new aspirations had to be carved out. But it seems like all he's interested in is signing brands. Why does he need the BCCI chair then?" members are further asking.
BCCI members aren't just complaining because their president has opened a can of worms when it comes to conflict. Their bigger worry stems from the damage, that they believe, has further been done to the BCCI's image at a time when improving that very image should've been the focus.
"Why was the BCCI in all sorts of trouble with the courts or the media? Because it was unable to resolve complaints of conflict that had become blatant. Therefore, when the members returned in 2019, the onus should've been on improving that image. Far from that, the president is neck-deep in the same mess," members say.
These are issues that will be brought up at the AGM on December 24. The members will also expect the ombudsman and the ethics officer of BCCI to carefully study the entire subject and make suitable recommendations.
"At the end of the day, the BCCI has been guilty of its own wrongdoings in the past, ones that have mostly stemmed out of arrogance and a sense of authority. For all the good things it has done in the past, all of it got overshadowed because of these handful of mistakes. It's time to correct them and ensure they're not repeated," a relatively new and young BCCI member representative told TOI.