Biden calls Pakistan 'most dangerous nation' in the world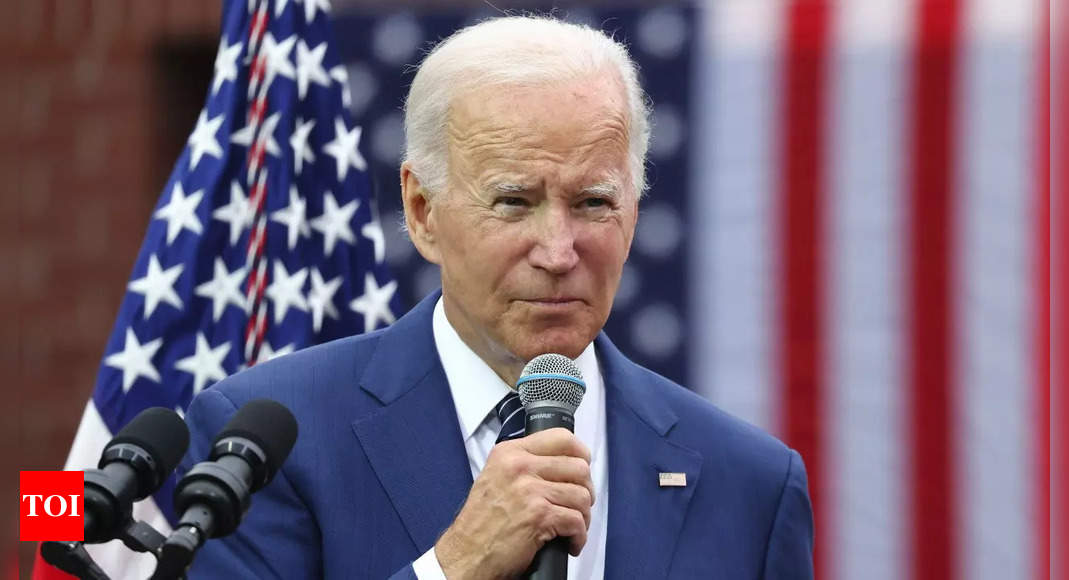 NEW DELHI: US President Joe Biden has called Pakistan "one of the most dangerous nations in the world," citing its arsenal of nuclear weapons and a seemingly opaque command and control mechanism.
"And what I think is maybe one of the most dangerous nations in the world: Pakistan. Nuclear weapons without any cohesion," said Biden, as quoted in a White House press release of his remarks at a Democratic party event.
Biden's "no cohesion" remark is exemplified by the current political turmoil in Pakistan- the power struggle and the all-powerful army's stranglehold on governance and administration.
Outgoing Pakistan army chief General Bajwa's assertions that the armed forces will stay out of politics has found few takers.
Biden's remarks also come shortly after Washington okayed a $450 million sustainment package for Pakistan's F-16 fleet. This reversed the Trump administration's decision in 2018 to suspend such assistance to Islamabad. US pushed ahead with the package despite India voicing strong reservations.
Pakistan's angry reaction
Biden's remarks have elicited a sharp reaction from Pakistan, with foreign minister Bilawal Bhutto Zardari saying that the US Ambassador in Islamabad will be summoned for a demarche.
However he expressed hope that summoning the US ambassador will not negatively impact relations with the country.
While expressing surprise at Biden's comments, Zardari attributed them to "misunderstanding created by a lack of engagement."
Zardari added that he has already discussed the matter with Prime Minister Sharif.
Pakistan's nukes a global worry
The safety of Pakistan's nuclear weapons has been a major concern for the global community. Apprehensions have often been voiced about the possibility of pilferage or those falling into terrorist hands.
The country has a notorious track record on nuclear matters, borne out by the racket run by nuclear scientist AQ Khan.
Khan successfully manoeuvered and hoodwinked international glare, liaised with "rogue" states and ran a proliferation racket to give shape to Pakistan's nuclear arsenal.
The United States by the Pressler Amendment of 1990 banned most economic and military assistance to Pakistan unless the US president certified on an annual basis that "Pakistan does not possess a nuclear explosive device and that the proposed United States assistance program will reduce significantly the risk that Pakistan will possess a nuclear explosive device."
However Pakistan emerged as a nuclear power in 1998, only a few days after India, with the Chagai testings of four nuclear devices, forcing a recalibration of many an equation.
Biden on China and Xi
At the same event, Joe Biden also spoke about an array of global matters, including China and what view President Xi might take on certain matters of importance.
"This is a guy who understands what he wants but has an enormous, enormous array of problems. How do we handle that?" he said of Xi.
"Did anybody think we'd be in a situation where China is trying to figure out its role relative to Russia and relative to India and relative to Pakistan?," he added.
Biden on Russia and Putin
Biden also spoke about his readings of the Ukraine situation and the Russian president's "calculations."
"One thing that Putin decided — counted on was us splitting Nato. And look what's happening in the eastern front of Nato. Look what Poland is doing now. And Poland is sticking there. But how about Hungary? Look what's happened recently in Spain and Italy," he said.
"Did any of you ever think you'd have a Russian leader, since the Cuban Missile Crisis, threatening the use of tactical nuclear weapons?" he further said.