BJP's Nishikant claims 'friends' of Mahua doing her 'cheerharan'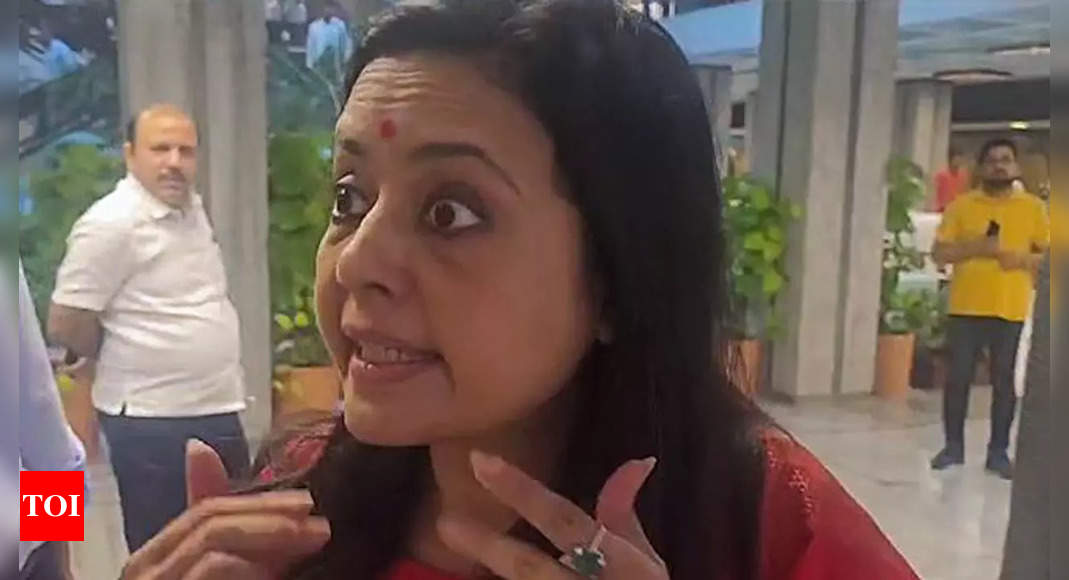 NEW DELHI: BJP MP Nishikant Dubey on Friday accused opposition MPs , who were the members of the Lok Sabha Ethics Panel, of doing "cheerharan" of Trinamool MP Mahua Moitra. Mahua is battling allegations of accepting bribes for asking questions in Parliament and faces expulsion from Lok Sabha after being indicted by the Ethics Committee.
"I feel it is the 'friends' of Mahua Moitra of the opposition bloc INDIA who are actually doing her "cheerharan," the BJP MP said when asked about the allegations that were made by the Trinamool MP against Ethics Panel chairperson Vinod Sonkar after the first meeting of the cash-for-query case.
Cash-for-query case: Lok Sabha Ethics Committee recommends expulsion of TMC MP Mahua Moitra
Nishikant Dubey, who had lodged the complaint against the Trinamool MP with Lok Sabha Speaker Om Birla, alleged that it was BSP leader Danish Ali who tried to attribute objectionable questions to the panel chairman by putting words in his mouth.
"The personal questions that are being reported in the media were actually asked by Danish Ali. He addressed the chairman and asked these questions in a bid to portray as if they were asked by the panel head. So, Mahua Moitra should question Danish Ali and not others," the BJP MP claimed.
"When the report is made public, everything will be clear. What questions were asked to each of us and what was our response will be known verbatim to all," he added.
The Lok Sabha Ethics Committee on Thursday indicted Mahua Moitra in the 'cash-for-query' case for sharing her log-in credentials with businessman Darshan Hiranandani and recommended her expulsion from Lok Sabha.
According to panel chairman Vinod Sonkar, six members of the committee supported the report, including Congress MP Preneet Kaur, while four members opposed it.
The five opposition MPs on the panel submitted dissent notes against the adoption of a report by the Lok Sabha Ethics Committee recommending the expulsion of Mahua Moitra from the House alleging that it was "erroneous" and framed "purely for political reasons."
In their dissent notes, the opposition members alleged that the inquiry process is a "farce" and a "proverbial kangaroo court".
After storming out of the first meeting of the panel, Mahua had, in a letter to Lok Sabha Speaker Om Birla, alleged that she was asked humiliating personal questions.
"I write to you in great anguish today to update you on the unethical, sordid, and prejudiced behaviour meted out to me at the hearing of the Ethics Committee by the Chairman. I have been subjected to the proverbial "Vastraharan" by him in the presence of all members of the Committee," the TMC MP had written in the letter.
'Ethics panel report submitted to Speaker Birla's office'
Meanwhile, Lok Sabha's Ethics Committee chairman Vinod Sonkar has submitted the 'cash-for-query' allegation report to the office of Speaker Om Birla, sources said on Friday.
According to sources, Birla is in Kota and is likely to return to the national capital after Diwali (Nov 12), following which he is expected to take action on the report.
(With inputs from agencies)
Watch 'Cash-For-Query' case: Nishikant Dubey targets Mahua Moitra again over her 'cheerharan' comment