Can Shreyas Iyer take Delhi Capitals to their maiden IPL title?
NEW DELHI: Delhi Capitals' fans have had quite a bit to cheer about this season, especially in the first half. Delhi won 5 of their first 7 matches.
However, just at the time when it looked like the Capitals would march into the playoffs for a second consecutive season, their downward slide began. Delhi lost 4 of their next 7 games.
A CAPTAIN'S CHALLENGE
A team's performance, whether positive or negative, is also a reflection in many ways of how efficiently the captain is executing the drawn up strategies on the field via his players.
T20 cricket is a particularly unforgiving format. It requires the captain to be extremely alert to the ever changing dynamics of the match and think quickly on his feet to make sure the opposition is not in a position to dictate terms for long periods of time. And in that context Shreyas Iyer has perhaps had a mixed bag of a season so far, going by Delhi's win-loss record in the league stage this year (8 wins, 6 losses).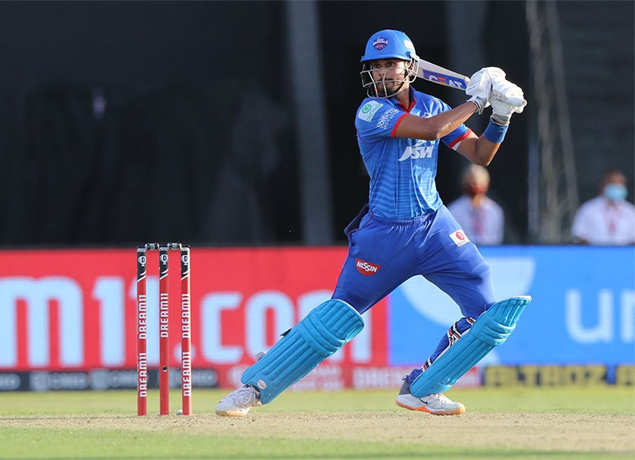 (BCCI/IPL Photo)
IYER AND DELHI CAPTAINCY
Iyer took over the Delhi captaincy midway through the 2018 season, when Gautam Gambhir suddenly decided to step down as skipper. Last season, in 2019, Delhi reached the playoffs after six years, finishing third after the league stage (behind MI and CSK only on NRR, at 18 points). They defeated Sunrisers Hyderabad by 2 wickets in the Eliminator, but lost to MS Dhoni's Chennai Super Kings by 6 wickets in Qualifier 2.
This time DC finished second in the points tally after the league stage (16 points) and made their way to Qualifier 1, where they suffered a 57-run thrashing at the hands of Mumbai Indians, who are hands down the biggest favourites to win the title.
'Super Sunday' (November 8) will give DC one more chance to put one hand on the trophy when they face an upbeat Sunrisers Hyderabad in Qualifier 2.
Iyer has a huge opportunity to do what previous captains like Virender Sehwag, Gautam Gambhir, Kevin Pietersen and others failed to do – lead Delhi to their maiden IPL title.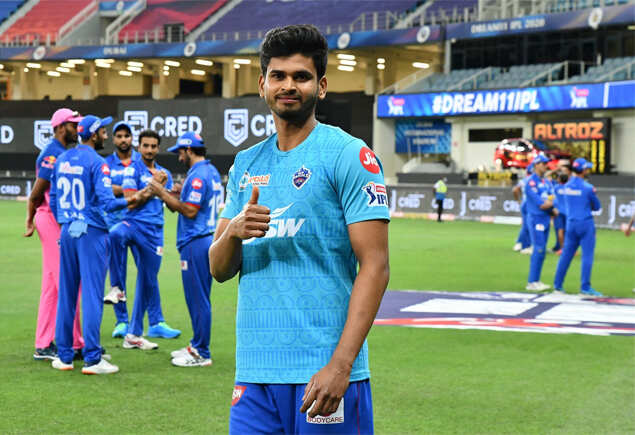 (BCCI/IPL Photo)
There's no doubt that with Ricky Ponting as head coach and Iyer as captain, Delhi have done well. While Iyer is one of the key batsmen in the team and one of the more talented ones in Indian cricket overall currently (giving Team India a steady option at Number 4 in ODIs), he is learning more and more about captaincy on the job. He is in fact the youngest IPL captain currently at 25 years of age.
The loss to Mumbai in Qualifier 1 would act as a learning experience for the Capitals. That's how Ponting, Iyer and the Delhi team management would like to look at it going into Qualifier 2 on Sunday.
Former England cricketer Monty Panesar is someone who is quite impressed with Iyer's captaincy.
"Mumbai Indians played brilliantly (in Qualifier 1). They are a strong team, but I think DC have surprised everyone with their performances. I would credit the maturity of Shreyas Iyer as a Delhi captain. People expected him to lead the team well under Ricky Ponting. He has captained and led the team nicely. BCCI must be thinking after Virat Kohli, whenever he is going to give up the captaincy, who is going to take over? Iyer is definitely a captain for the future of Team India", Monty told TimesofIndia.com.
"Iyer has got every chance to take Delhi to the title win. Gambhir and Sehwag (previous Delhi captains in the IPL) didn't have fast bowling. DC have got two fine spinners – R Ashwin and Axar Patel. They have the best pacers of the tournament – Kagiso Rabada and Anrich Nortje. DC's strength is their bowling. They can restrict a team to a low total. They need a good bowling day. If they do, they will win. T20 is a funny format. If Delhi would play like Delhi, I mean the way they have been in the tournament, you can expect them to go into the finals. Conditions are changing. Rabada and Nortje are there in their pace departments. I think DC should go through (to the final)," Monty further said.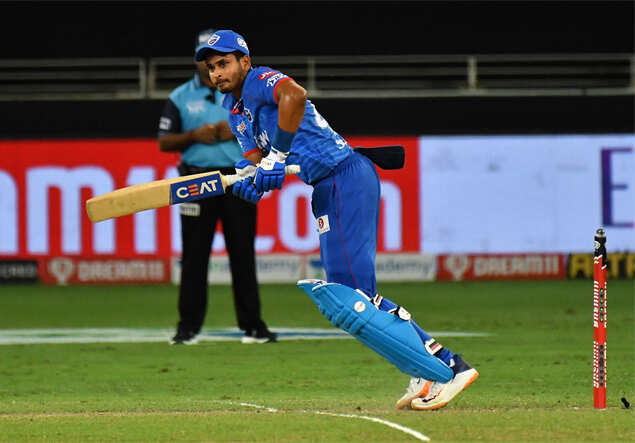 (BCCI/IPL Photo)
While some have felt that Iyer's field placements, especially in crunch situations, could have been better, another question mark has been hovering over under-bowling someone like Marcus Stoinis. So far in the tournament, in the 15 matches he has played, Stoinis has bowled 24.4 overs, taking 9 wickets.
In Qualifier 1 Stoinis bowled just one over and gave 5 runs, claiming the wicket of Krunal Pandya.
"It's a bonus if you bowl two overs. If they give him one or two overs, that should be enough. They banked on Rabada and Nortje who can actually pull (things) back in the last overs. Their strength has been in the 15 to 20 overs (period). That's when they win the game. Stoinis bowled really well. He is the third seamer who can support Rabada and Nortje well. Iyer should have given him more overs," Panesar told TimesofIndia.com.
IYER'S DUAL CHALLENGE – CAPTAIN AND KEY BATSMAN
Being one of the key batsmen of a team, along with being the captain is a very taxing job. Just ask KL Rahul, who still has the orange cap for most runs this season, but whose team Kings XI Punjab finished 6th on the points table.
Iyer made his IPL debut in 2015 and since then he has been a part of the Delhi outfit. In his maiden IPL season, Iyer finished as the highest run-getter for Delhi with 439 runs in 14 matches at an average of 33.76. In 2017, the youngster accumulated 338 runs in 12 matches at an average of 33.80. In 2018, Iyer managed to cross the 400-run mark (411 runs) in 14 matches at an average of 37.36, including an unbeaten 93-run knock, which was his highest score of the season.
After being named as captain in 2018, Iyer grabbed the dual responsibilities with both hands. In 2019, he took Delhi to the playoffs and also scored 463 runs in 16 matches at an average of 30.86.
In the current season, the top order batsman has scored 433 runs in 15 matches so far at an average of 30.92. He is the second-highest run-getter for Delhi after Shikhar Dhawan (525 runs) in the tournament so far.
Apart from Iyer and Dhawan though, the Delhi batting hasn't really been firing on all cylinders and this has by default put pressure on Iyer.
"It (the dual role) has helped him to play more mature and responsible innings. I would emphasise on the fact that when you get a good group of people together, it actually helps to take the game to another level. It is for everyone. DC is a young team with probably the best bowling department, especially in the death overs. Delhi should capitalise on this now. The only missing link is Prithvi Shaw. His game hasn't been too great," Panesar opined.
CAN DELHI BREAK THEIR TITLE JINX THIS TIME?
Former Delhi Capitals batsman Unmukt Chand feels the team needs to be in the right frame of mind and use their trump cards wisely if they are to win the title.
On being asked about Iyer's captaincy, Unmukt said: "Iyer has been captaining since last year, he knows the team in and out. Apart from his captaincy, he is doing really well with the bat. The best part is that the management is supporting him. This is the way forward."
"DC have impact players. They have Shikhar and other guys too. Shikhar makes a difference on a given day. He is an experienced player. You need to be in the right frame of mind. Because T20 is all about clicking on that particular day. The team is doing really well. It is a good side. All I want to say, everyone needs to click at this point in time. That is very important. They need some consistent performances. Definitely, they can win the title," Unmukt, who has played 21 IPL matches and scored 300 runs at an average of 15.00, told TimesofIndia.com.
On Sunday in Abu Dhabi (Qualifier 2) Delhi and Iyer will have to put on their best, most complete show against a resurgent and dogged SRH side if they want to regain momentum and enter the final to inch closer to that elusive IPL title. Even if they succeed, they will have to once again face the mighty Mumbai Indians in the title clash and it will take every ounce of effort and skill for them to vanquish Rohit and co.
As far as Iyer the captain is concerned, he has a long way to go and many things to learn. But he is on the right track and Panesar once again reiterated how Iyer might have a leadership role in Indian cricket in the future.
"He (Iyer) is a young guy with a mature head on his shoulders. He has a perfect mentor in Ricky Ponting. Ponting's mentorship and Iyer's captaincy have played big roles in Delhi's success. After Virat Kohli, I think Iyer will become the captain of India. He is leading from the front. I am so impressed by his leadership qualities." Panesar told TimesofIndia.com.