Chandrayaan-3: Once again, co-traveller Pragyan captures Vikram lander on lunar surface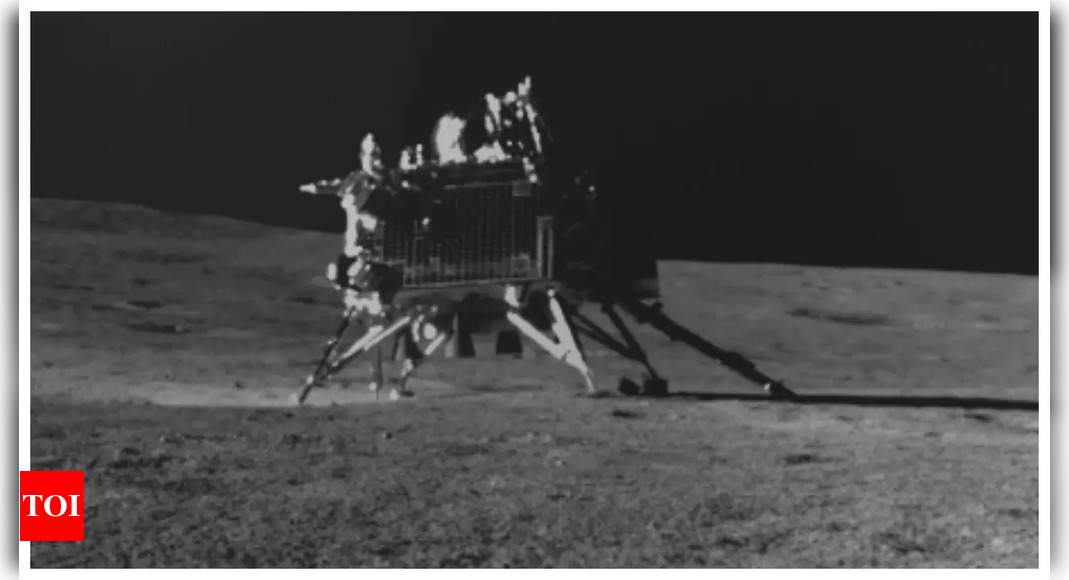 NEW DELHI: The Indian Space Reasearch Organisation (Isro) on Wednesday released another set of images of Chandrayaan-3's Vikram lander. The images were clicked by 'co-traveller Pragyan' on the lunar surface around 11am this morning.
"Once more, co-traveller Pragyan captures Vikram in a Snap! This iconic snap was taken today around 11 am IST from about 15 m," the Indian space agency posted on its official X (formerly Twitter) page.
Earlier today, Isro had released the first photos of Vikram lander since its historic landing on August 23. They were taken by the Navigation Camera onboard the rover, Isro said.
Pragyan rover on Tuesday confirmed the presence of sulphur on the lunar south pole.
"The Laser-Induced Breakdown Spectroscopy (LIBS) instrument onboard Chandrayaan-3 Rover has made the first-ever in-situ measurements on the elemental composition of the lunar surface near the south pole," the space agency said.
"These in-situ measurements confirm the presence of sulphur in the region unambiguously, something that was not feasible by the instruments onboard the orbiters," Isro, which regularly shares updates, added.
India scripted history on August 23 as Chandrayaan-3 lander module successfully landed on the Moon's South Pole. With this, India became the first country to achieve the historic feat.
Prime Minister Narendra Modi, who was in Johannesburg for the Brics summit, addressed the Isro scientists virtually. "India made a resolve 'on the Earth and fulfilled it on the Moon'. India's successful Moon mission is not India's alone … Our approach of one earth, one family one future is resonating across the globe … Moon mission is based on the same human centric approach. So, this success belongs to all of humanity," he said.
PM Modi met Isro chairman S Somanath and the team of Chandrayaan-3 in Bengaluru last week.