Cricket's bigger COVID-19 challenge is off the field, not on it: Unadkat
NEW DELHI: Brainstorming sessions in boardrooms of sports administrators have taken things forward for the return of on-field action, while the battle against COVID-19 continues. Football has led by example, with the resumption of the Bundesliga in Germany in front of empty stands, while some of the other sports too have marked dates on their calendars for likely resumption. Cricket has also taken a few steps, as the England, West Indies and South African cricketers have returned to their training grounds under strict coronavirus protocols. Apart from that, it's going to be a wait and watch policy to once again see wickets falling and sixes being hit.
That wait is being felt most perhaps as far as the Indian Premier League (IPL) 2020 edition is concerned, which has been on hold indefinitely and awaits to know its fate. A similar dilemma surrounds the men's ICC T20 World Cup scheduled for this October in Australia.
A lot of questions will have to be answered before decisions can be taken for the resumption of these big-ticket events, besides the bilateral series on ICC's Future Tours Programme (FTP). On that note, it's worth mentioning that the Cricket West Indies has given its approval to the Test tour of England in July in 'bio-secure venues'.
The International Cricket Council (ICC) has already banned the use of sweat and saliva until further notice. But will it load the game in favour of the batsmen? Will, like other sports, cricket too be played with no fans in the stadium? Are safety concerns off the field going to be equally challenging as the ones during play or training?
Timesofindia.com spoke to Rajasthan Royals and Saurashtra left-arm pacer Jaydev Unadkat on what could lie in store for cricket in the near future.
Ban on the use of saliva is a hot cricket topic. What is your opinion on that?
The use of any artificial substance instead of sweat and saliva will not be easy, because we are not used to those substances, so we don't really know what effect it will have on the ball and on the swing as well. Having said that, if the circumstances arise where you have to start amidst the virus still prevailing in some of the regions, I think that's the safer way to go about it. To start the game is a priority and you have to sacrifice a little if you have to. So I don't mind using any artificial substance in that way.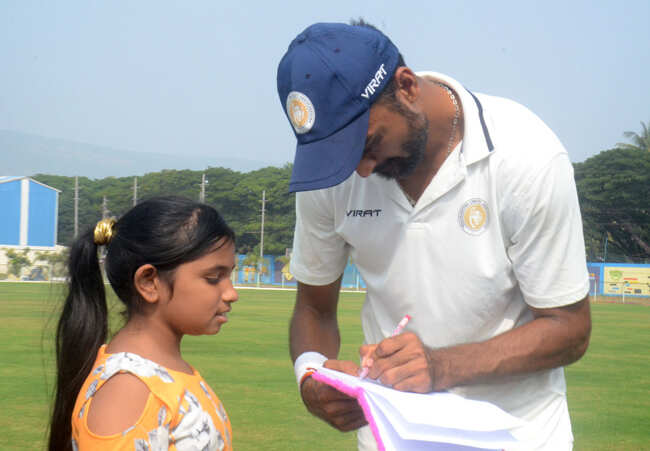 What threats or safety concerns does a sport like cricket face from COVID-19?
Cricket is not a contact sport. If you compare it to games like football and basketball, the risk is obviously lesser in cricket. If you avoid celebrating after a wicket, avoid high-fiving and hugging each other, and obviously not applying sweat or saliva on the ball, I think on the field the issues are sorted. But what is important is to take care of how you handle things off the field — being in the dressing room with each other, sharing the washroom facilities and then travelling and staying in hotels is, I think, more challenging in these times, because you don't really know who is affected and who is not. If those things are taken care of, then we can obviously look forward to the positive side of it.
How do you view cricket being played without any spectators on the ground?
It will be different for sure because we are used to loud cheers in the IPL, especially them (fans) supporting the teams. But then with the advanced technology in play, I am sure the organisers and the teams have started to think about other alternatives. Also, if you would have seen how the TV viewership has gone up for a Bundesliga game, which shows the power of sports and how much it can impact everyone around the globe.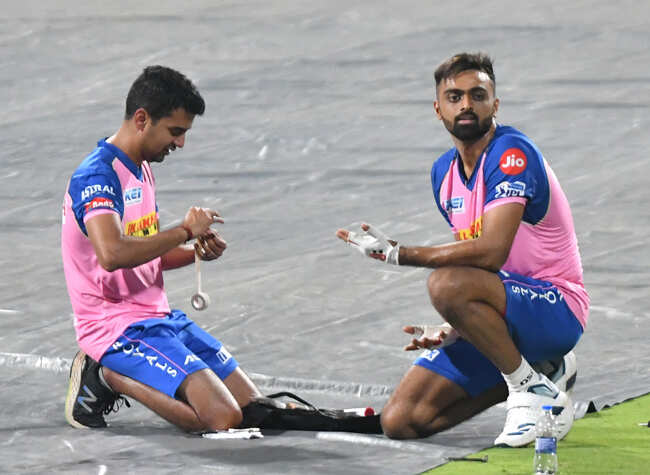 Under normal circumstances, at this time you would have been in the company of Ben Stokes, Jos Buttler and Jofra Archer in the RR camp. What plans did you have to pick the brains of the World Cup-winning trio?
I definitely miss being out there on the field with them. You always learn a thing or two when you are with players of such class, in practice sessions or just having a word with them in team meetings or around the team dinners that we have. I was looking forward to that. I am hoping that it happens sometime soon. Let's all hope that what has actually prevailed for the last couple of months ends really soon and we have cricket back on track and we can all be in love with the sport again.
What is your gut feel about the suspended IPL season?
As of now, we are sure the BCCI is working to find a window for the IPL. It is a world class tournament. Players from all around the world come and play in it. It has multiple effects on the economy and not just the players. We are hoping that something positive comes soon but having said that, the safety of everyone is of prime importance at the moment, can't really sacrifice on that having worked really hard to avoid getting affected. So for now that's all we can hope for, and we continue to hope for the best.
Tell us something about your hobby of reading and how has it helped you as a cricketer?
Yes, reading is something that has helped me mentally to overcome the doubts that I had, and it is therapeutic for sure. When you are actually doing nothing, your mind goes to places and it is actually better to read and divert the mind, if I can say that, from the game and learn new things in terms of just life in general. I think a lot of books have had that impact on me. I have been reading a book called 'Blink' recently, which is about the power of making decisions in real quick time. I think that actually relates a lot to the game, and there have been a lot of good things that I have read apart from that (book) as well.