Crisis-hit local Chinese govts using cops to make money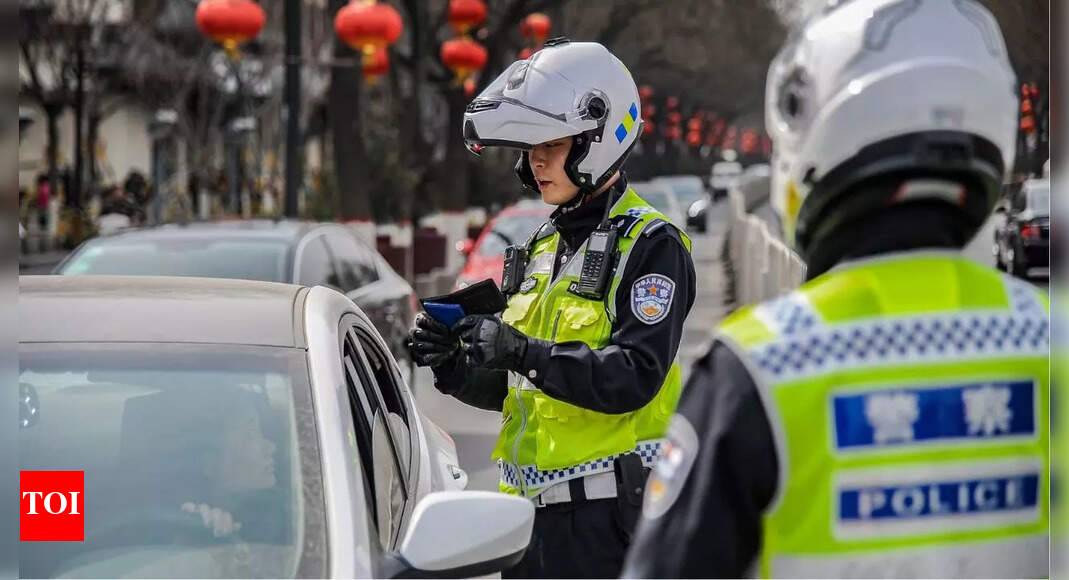 NEW DELHI: Cash-strapped local governments in China are turning to unconventional sources of revenue, and law enforcement agencies have emerged as some of their biggest earners, according to a report in the Washington Post.
Unreasonably heavy fines for traffic offenses, business and safety-code violations, as well as other petty misdemeanors have become an increasingly common measure as local authorities seek to bring in much-needed revenue, revealing the tip of the iceberg for China's fiscal predicament
According to a report by the South China Morning Post, revenues fell short of expenditure in all of mainland China's 31 provinces, municipalities and autonomous regions.At the same time, as per public data compiled by the Guangzhou-based Southern Weekly newspaper, local government revenue from fines and money confiscated from illegal sources including pyramid schemes increased in 80 out of 111 cities.Revenue from fines and confiscations more than doubled in 15 cities, with Leshan in Sichuan province rising by 155%.
Nanchang, the capital city of Jiangxi province, saw its revenues increase by 151%.
Police in many cities have doubled down on issuing traffic tickets, and across the country, more check points have been set up to fine drivers and passengers for not fastening their seat belts and other related violations.
According to a report from the China Youth Daily newspaper, in Chengwu county in Heze city in Shandong's southwest, truck drivers can pay for a "monthly pass" of 1,000 or 2,000 yuan to be free from further fines in the event of any future traffic violations.
Beyond jurisdiction
In certain situations, local law enforcement agencies have pursued cases that seemingly have few direct connections to their own areas of jurisdiction.
They have even gone as far as targeting individuals or businesses located hundreds of miles away, a strategy that legal experts and state media suggest is aimed at seizing assets believed to have been obtained through illegal means.
For instance, earlier this year, police officers from China's northeastern border regions traveled over 600 miles to Beijing in order to apprehend top executives of a video-streaming startup. They accused this startup, known as Xueli Xingqiu or Future Learning, of involvement in illegal multilevel marketing. In response, Future Learning alleged that the investigators were fabricating charges and exceeding their legal authority in an attempt to gain control over the startup's assets.
In another case, developers of a Chinese cryptocurrency exchange claimed that police in the eastern city of Wuxi overstepped their territorial jurisdiction by initiating a criminal investigation into the startup. This investigation was also related to allegations of illegal multilevel marketing techniques being used by the company.
Sluggish economy
Beijing has denounced the aggressive tactics to raise revenue, describing such methods as "profit-seeking law enforcement".
The long-running phenomenon has flared up again as China's economy suffers through a sluggish recovery from the Covid-19 pandemic and a bursting of the country's property bubble, prompting China's top market regulator to announce this month a new clampdown on the misuse of regulatory powers to fill coffers.
The expense of implementing Beijing's zero-tolerance Covid measures exacerbated many local governments' debt woes, while a sharp drop in land sales deprived them of a key revenue source.
Chinese local governments' total land-related income in 2022 fell 23% from a year earlier, data from the finance ministry shows, mostly because of falling land sales.
Desperate, local governments have grappled for ways to juice revenues. Some resorted to fictitious transactions, setting up off-balance-sheet funding vehicles to buy state-owned land and assets from themselves. Many have also ramped up enforcement actions that generate income through fines, fees and asset seizures.
In May, for instance, a public furor erupted after a Chinese state-media outlet reported that authorities in the central province of Henan were slapping unusually heavy and repeated fines on truck drivers for exceeding weight limits, with one driver claiming to have received 58 fines worth roughly $38,000 in just two years.
Crackdown by Beijing
Beijing has also tried to curb the phenomenon. In 2021, it reprimanded the northern city of Bazhou for ordering officials to plug fiscal gaps with fines, fees and other nontax income—a campaign that had raised more than $9 million worth of fines and confiscated assets in two months.
That same year China's then-public-security minister, Zhao Kezhi told his ministry to "resolutely rectify prominent problems such as profit-seeking law enforcement and illegal cross-jurisdiction law enforcement," encouraging officials to better enforce rules against those practices.
There also seems to be little sensitivity among the central leadership to the struggles of the local governments.
Premier Li Keqiang recently said: "Local governments should tighten their belts, put existing assets to better use, maintain a balance between revenue and expenditure, and guarantee fiscal spending to ensure people's livelihoods."
Public services halted
Under financial stress, some local governments have already suspended public services, including buses, and delayed salary payments to civil servants.
In Hequ county in Shanxi province, two thirds of public servants have been effectively laid off, bursting the bubbles of the so-called iron rice bowl from an occupation which traditionally had guaranteed job security.
Dancheng, a county with a population of 1.37 million in central Henan province, suspended bus services, while multiple bus lines in Boluo county in Guangdong province have also been slashed or suspended due to financial stress.
(With inputs from agencies)