Day and Night Test: Everything you need to know about the pink ball
Starting today, the Indian cricket team will play only their third Day and Night Test match. Day and Night Tests are played with a pink ball, which has evolved over the years. All leading ball manufacturers produce the pink ball.
India played their first Day and Night Test at home, when they hosted Bangladesh at the Eden Gardens in 2019. India won that match convincingly. Their next pink ball international assignment ended in disaster, when they were bowled out for their all-time lowest Test innings total of 36 by the Australians in Adelaide in December 2020, eventually losing the match by 8 wickets. That match was played with the Kookaburra pink ball.
The third Test of the ongoing series vs England, which starts today will be played with the SG pink ball, which is manufactured in Meerut.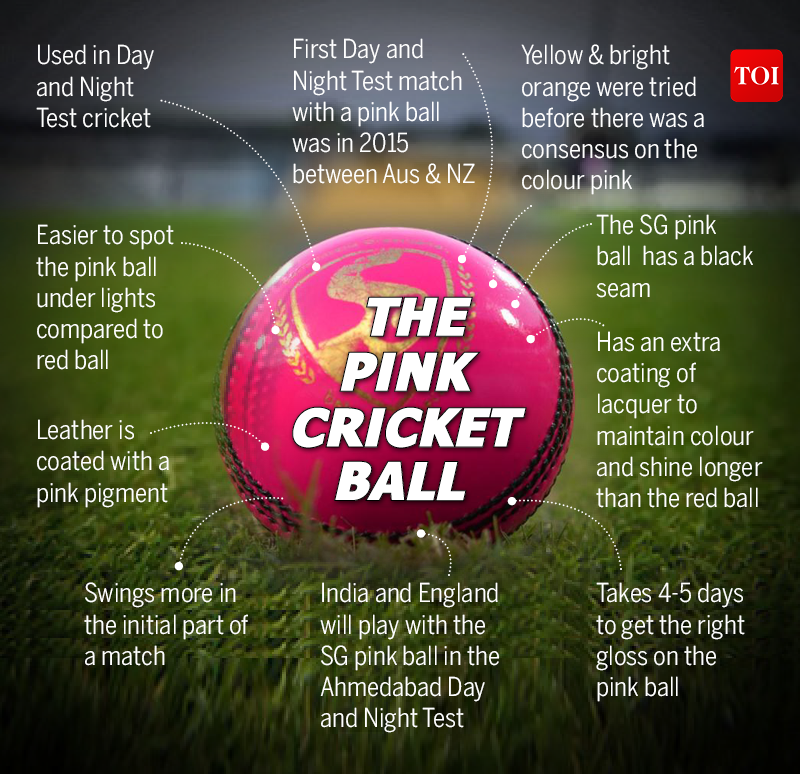 Here's a quick recap of the evolution of the pink ball and Day and Night Test cricket:
* Day & Night Test cricket is played with a pink ball.
* The pink ball was trialed in an England vs Australia women's ODI match in 2009.
* In January 2010 a first class match between Guyana and Trinidad & Tobago was played with a pink ball in Antigua.
* Other countries also subsequently experimented with the pink ball.
* In 2014 a full round of Sheffield Shield matches in Australia were played with a pink ball manufactured by Kookaburra.
* India experimented with Day & Night long form cricket as early as 1997. In that year the Ranji Trophy final between Mumbai and Delhi was played under lights in Gwalior with a white ball. India however took to Day and Night Test cricket very late. They declined Australia's offer to play a Day and Night Test in Adelaide on their 2018-19 tour. They were the ninth Test playing nation to play a Test with the pink ball under lights, when they hosted Bangladesh at the Eden Garden in 2019. India won that match by an innings and 46 runs in three days.
* The first ever Day & Night Test match was played between Australia & New Zealand in November 2015 in Adelaide. Australia won that match by three wickets on Day 3.
* Kookaburra who manufacture cricket balls for all countries barring India, England, Ireland and the West Indies experimented with yellow & bright orange before there was a consensus on the colour pink.
* The reason the red ball was not used for Day and Night Tests is because it was very difficult to pick the red ball under lights. It's easier to spot the pink ball under lights compared to the red ball. The white ball meanwhile was not preferred because it is not durable enough for Test cricket.
* The core of all the cricket balls (red, white and pink) is the same. For the pink balls the leather is coated with a pink pigment.
* The pink ball usually tends to swing more in the initial part of a match.
* Kookaburra first used a dark green and white seam. They later changed it to a black seam for the pink ball. Steve Smith, who was involved in the very first Day and Night Test vs New Zealand had said that the seam had to be more visible. Kookaburra shifted to a black seam in 2016.
* The pink cricket ball has an extra coating of lacquer to maintain the colour and shine longer than the red ball.
* It takes upto 4-5 days to get the right gloss on the pink ball.
01:58WATCH: SG pink ball being manufactured in Meerut * The new Motera stadium will be hosting its first international cricket match. The seats are coloured and it will be interesting to see if fielders find it difficult to spot the pink ball under lights against the backdrop of coloured seats.
* SG Director Paras Anand has said that some amount of grass should be left on the pitch for the pink ball to maintain its colour and last 80 overs.
* SG pink ball is hand stitched and the black seam is pronounced.
* Keeping the dew factor in mind pink ball seams are usually more pronounced than those found on red balls.
* India have played only one Test so far with an SG pink ball. Against Bangladesh in Kolkata in 2019, Ishant Sharma, Umesh Yadav and Mohammed Shami took all 19 Bangladesh wickets that fell.
* Ishant was adjudged Man of the match in that game for his match figures of 9/78. The Day and Night Test vs England in Ahmedabad will be Ishant's 100th Test match.