DC v KXIP Preview: Can Rishabh Pant pip KL Rahul in battle of 'keepers?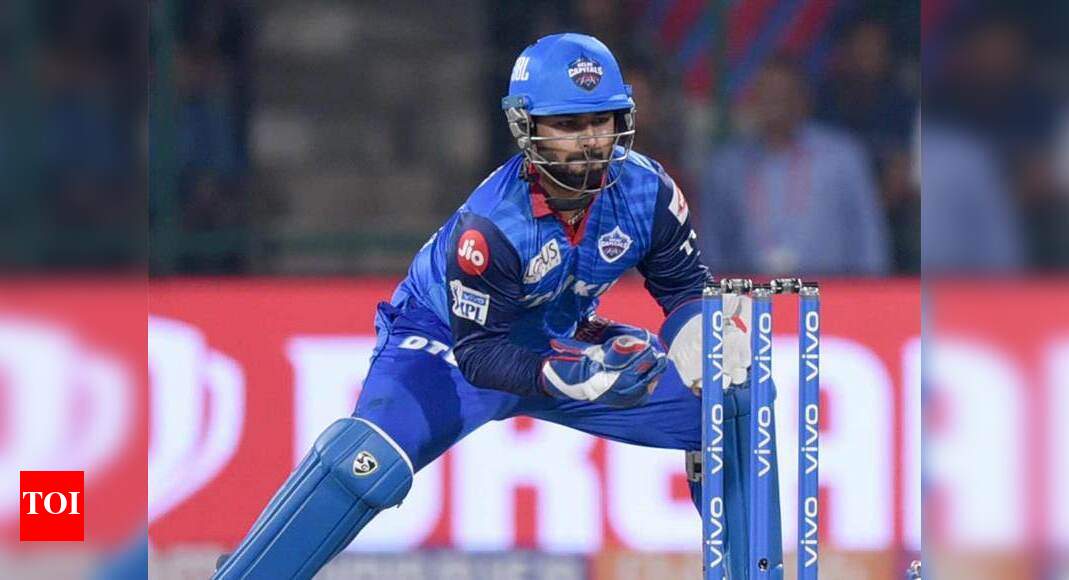 NEW DELHI: Rishabh Pant is about to turn 23 but it seems like he has been forever carrying the tag of MS Dhoni's successor behind the stumps. Dhoni is officially done with his international cricket. Yet, Pant has again found himself second in line for India's white-ball wicketkeeping spot.
When he takes strike for Delhi Capitals against Kings XI Punjab in Dubai on Sunday, there will be KL Rahul in his eyeline reminding him of his biggest competition right now. Rahul had donned the big gloves and literally owned them in limited-overs cricket in the early part of the year. Saturday will see the beginning of the race for India's wicketkeeper-batsman's spot.
Check IPL 2020 League Stage Schedule
"Pant, during the last week, has really turned the corner well and I would expect him to perform as well as he did last year," DC coach Ricky Ponting said during a virtual media interaction from Dubai on Saturday. Ponting, it may be recalled, was very vocal about Pant's inclusion in India's World Cup squad last year. "The Indian players feel more pressure than the overseas players. In DC, we as a coaching group don't put added pressure on the players. We like to take as much as possible pressure off them. We never expect any such thing from them which they don't expect from themselves," he added.
The sticking point for Pant is while Rahul is likely to face more overs, his batting position at Capitals could see him miss out on some crucial time to get himself in and score big. Former India wicketkeeper Deep Dasgupta feels Pant must make sure that he doesn't see Rahul as a competition. "Rahul has the ability to do well in all three roles (captain, wicketkeeper and batsman) for KXIP. Pant has to focus on his role and close out matches," Dasgupta told TOI.
Capitals have a loaded top order. There are suggestions Pant could be pushed further down the order from No. 4 to accommodate Ajinkya Rahane. However, Rahane seems an unlikely starter. Ponting prefers to see this situation as an opportunity to be flexible with the batting lineup.
The trick for Pant right now shouldn't be the volume of runs but the value of whatever he scores. "He has to make an impact. Rahul is not his competition. If Pant does well down the order, he could reclaim his position in the Indian team even with Rahul in the playing XI. India have options up the order but they don't have an answer for a finisher after Dhoni," Dasgupta said.
One of the reasons he was initially left out of India's World Cup squad last year was his inability to close out games in the IPL despite consistent scores. Most discussions revolved around Pan't lack of maturity. Days after the squad announcement, Pant took his game to a new level. He single-handedly won two crucial games for Capitals that saw them finish third in the competition.
Pant, for one, didn't shy away from the criticism, "Finishing matches is important. I will learn to do it consistently. You only learn from your experiences and mistakes. Things don't change overnight. I am just 21. It's difficult to think like a 30-year-old man. In due course, my mind will be stronger and there will be a lot of maturity," he had told TOI after he ensured Capitals made the playoffs after seven years.
It's not just the runs. He goes into this IPL with question marks over his wicketkeeping skills. That's the biggest trap Indian wicketkeepers have fallen into. "Pant played the last Test series in New Zealand because of his batting abilities. He started well with the bat but the focus on his 'keeping came when the runs dried out," Dasgupta pointed out. However, he feels Pant's wicketkeeping shouldn't be an issue this IPL. "From what I have seen, he has been working very hard on his wicketkeeping and has grown as wicketkeeper. That shouldn't be a problem," he opined.
For all the criticism he has endured over his two-year career as an international cricketer, Pant has had a habit of breaking down the doors for himself through sheer weight of his performances. He earned his international debut on the back of stellar 2016-17 first-class season. A got into the team again 2018 in the team for Nidahas Trophy in Sri Lanka after breaking records in the preceding Syed Mushtaq Ali Trophy.
One may also recall, Pant was drafted into the Indian team midway through the England tour in 2018 following a stellar IPL and an impressive performance in the corresponding India 'A' tour of England.
Pant's performances in IPL in the last two editions gave him backdoor entry into the Indian dressing room for England tour in 2018 and the World Cup last year. One has to wait and see if he can reclaim his spot after this IPL. IPL is his favourite hunting ground after all!