Finally, Amarinder attends Sidhu's 'coronation' as Congress chief in Punjab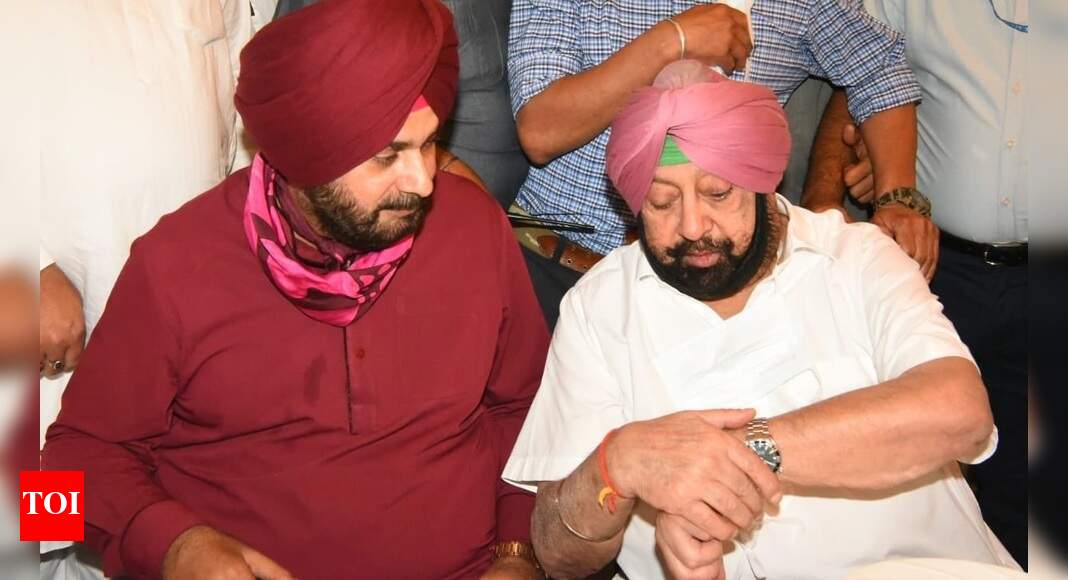 CHANDIGARH: Punjab chief minister Amarinder Singh finally met with the new Punjab Congress chief Navjot Singh Sidhu at a tea hosted by the former at Punjab Bhawan ahead of the installation ceremony of Sidhu.
Sidhu was the first to reach the venue and left the venue in-between for some time while Amarinder joined the other party MLAs, MPs and other senior leaders. Sidhu returned to meet Amarinder and told him that he had gone out for a while for 'Ardas' (Sikh prayer before any significant task). Pictures of both leaders sitting together were soon released.
Punjab chief minister #AmarinderSingh and #NavjotSidhu together at #Punjab Bhawan in Chandigarh. https://t.co/TaUni3TDIX

— TOIChandigarh (@TOIChandigarh) 1627019968000
After a brief meeting, both leaders left for Congress Bhawan in separate cars. AICC incharge of Punjab affairs Harish Rawat was in Amarinder's car while minister Bharat Bhushan Ashu travelled with Sidhu.
Live: Navjot Sidhu to take oath as Punjab Congress chief
"The two leaders met warmly and interacted briefly," said Congress MLA Navtej Sigh Cheema, while coming out of Punjab Bhawan.
"There have been all sorts of speculations about me, positions are not the issue. Today every Congress worker has become the president. There is no difference between leader and workers," Sidhu said while addressing party workers after taking charge as the Congress chief in the sate.
The meeting between Amarinder and Sidhu assumes significance as Amarinder had earlier put a precondition that he will not agree to meet Sidhu until the latter publically apologises for his 'derogatory' tweets.
After the event, Sidhu will head for Zira to meet with the Congress workers who sustained injuries in an accident while on their way to Chandigarh for the installation ceremony.
The four newly appointed working presidents were also present at the get together of Congress leaders.