Ghastly aftermath of Hamas assault: Bodies of 40 babies, some severed, found in Israel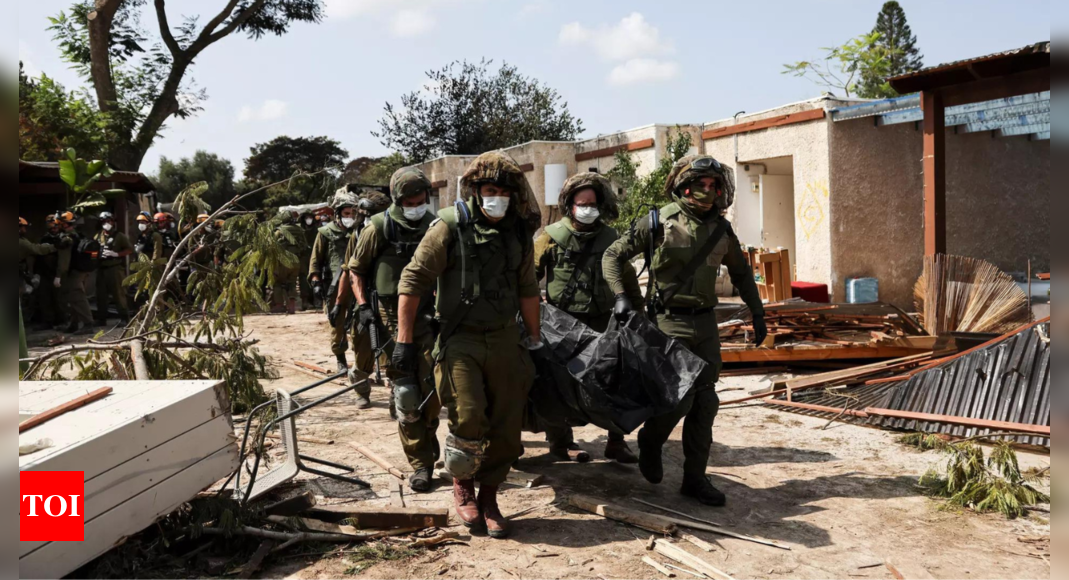 NEW DELHI: Kfar Aza, a community near the Gaza Strip, was massacred after a surprise attack by Hamas terrorist infiltrators in Israel on Saturday.
In unimaginable cruelty, nearly 70 terrorists invaded the community, leaving behind casualties scattered across the area, including 40 babies and small children — some with their heads chopped off.
According to a report in Israel-based i24 News, the smell of death was pervasive in Kfar Aza which has now been opened to the reporters to observe the extent of the destruction following the assault.Israel Defense Forces Major General Itai Veruv characterized the incident as more than a war, labeling it a "massacre".
Remnants of families, including babies, mothers, and fathers, were found in their living spaces after the assault.
Kfar Aza remains an active zone, with Israeli soldiers alert for potential threats, rockets overhead and distant sounds of mortars and artillery.
Reserve soldiers have engaged in the ongoing task of removing bodies in the area though an exact count of victims is not yet available. Soldiers navigated through booby-trapped houses as terrorists' vehicles, potential hazards with rigged explosives, linger as a reminder of the recent events.
The attack involved the use of guns, grenades, and knives against civilians in their homes. Kfar Aza, once a peaceful community, is now marked by soccer nets on lawns, abandoned strollers, and damaged sidewalks after houses were burned and residents were compelled to flee.
Israel-Hamas war: Israeli army officer explains how Hamas massacred kids, took hostages
Israel-Hamas conflict: What has happened so far?
Four days following the Hamas assault, the Israeli military declared "full restoration" of control over the border. According to Israel, 1,500 bodies of Hamas militants were discovered within Israeli territory and no Hamas fighters have breached Israel's borders since Monday night. Rear Admiral Daniel Hagari, a military spokesperson, asserted that the Hamas operatives had "nowhere to hide in Gaza," saying that Israel "will reach them everywhere."
The Israeli military revised the count of Hamas militants killed to 1,600 as the conflict intensified. The violence has resulted in a death toll exceeding 1,800 individuals, including 1,000 Israelis and nearly 830 Palestinians in Gaza.
"Largest massacre of Israeli civilians in Israel's history…" says IDF spokesperson Major Libby Weiss
Watch Israel declares state of war as Hamas fire over 5,000 rockets