Gold hits record Rs 60,000, turns safe haven amid global woes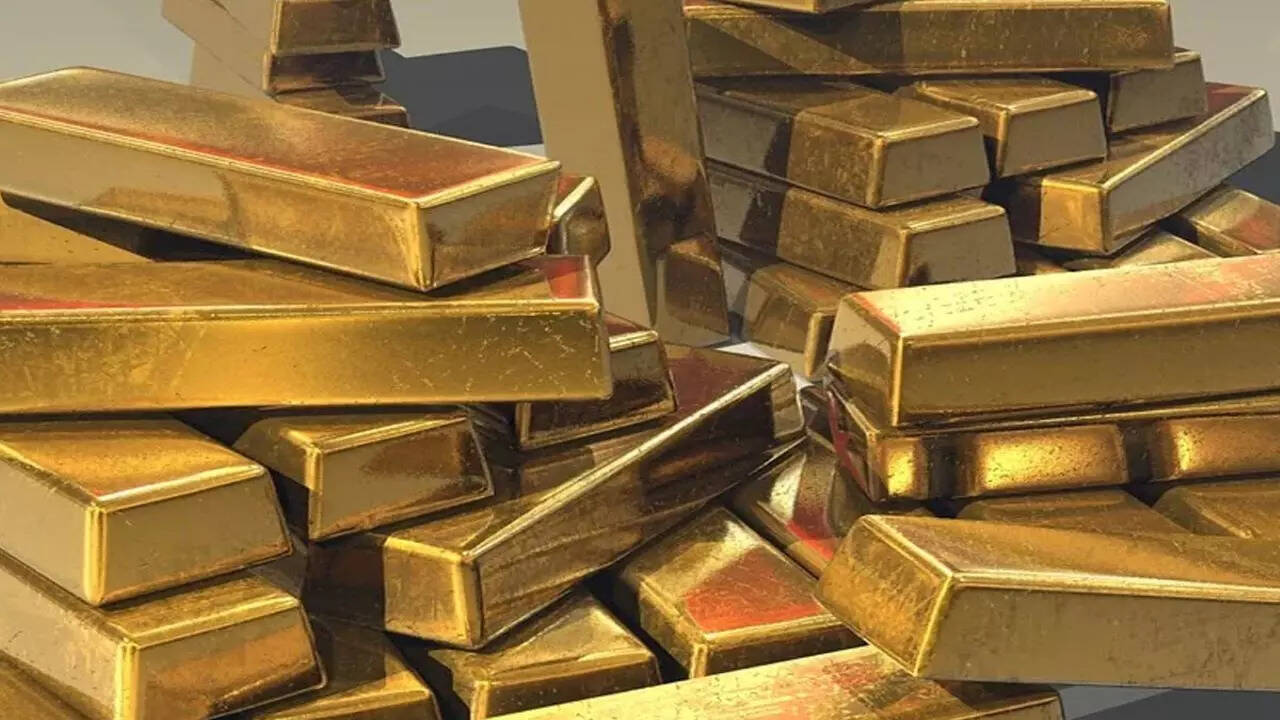 MUMBAI: Heightened global uncertainties, weakness of the rupee and incoming festival season have combined to push up gold prices in India to around the Rs 60,000 per 10gm mark for the first time in the physical retail market in some parts of the country. And on the gold derivatives trading platform of the MCX, the price of the yellow metal is hovering close to that mark, exchange data showed.
In the international market, gold prices crossed the psychologically important $2,000 ­per­ ounce mark in intraday trades on Monday.
In one month, the price of gold has jumped 7­8%. That is one of the biggest gains in the last three years, that is, since the early days of the pandemic.
According to Kama Jewelry MD Colin Shah, the rally in the yellow metal is primarily due to the banking crisis in the West. "The liquidity infused by the central banks and the expectations of lower to no rate hikes is pushing gold prices up." The price of gold, considered a safe haven asset, usually shows a sharp rise during periods of uncertainty.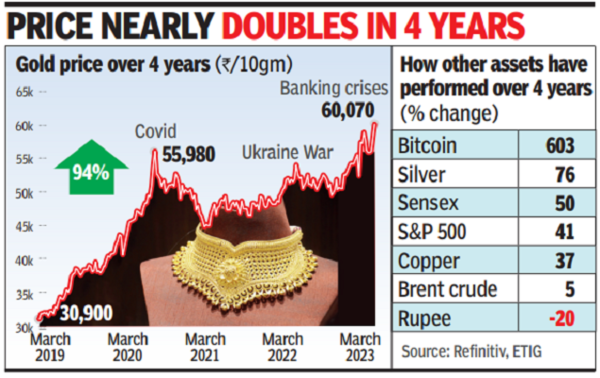 "Gold prices hitting a fresh high is a sign of slower economic growth and lower interest rates with ample liquidity to help the system steer off the current situation," Shah said. The leading jeweller is expecting international prices to soon near the $2,050­ 2,100 level. This, in the domestic market, could translate into Rs 61,000­62,000 range.
Since March last year when the US Federal Reserve started hiking interest rates, the first such move since 2018, gold prices have been subdued in the international market. That has changed in the last few weeks. According to Motilal Oswal Financial Services's Navneet Damani, market uncertainties could help a rally in gold prices.
"The collapse of the Silicon Valley Bank in the US has highlighted banks' vulnerabilities to sharply higher rates, while a rout in Credit Suisse shares has added to the market turmoil. On the other hand, after the ECB announced a 50­basis­point (100bps = 1 percentage point) rate hike last week, all eyes are now on the US Fed's policy meeting scheduled this week. Fed is expected to raise rates by 25bps. However, the probability for a pause is increasing sharply, supporting the move in safe haven assets ."
Damani has a conservative short­term price range for the yellow metal at $1,985­2,015 in the international market, translating into a domestic price range of Rs 59,800­60,600.
Bitcoin thrives in chaos
Turmoil in the banking sector, hotterthan expected inflation data, and renewed hopes for a dovish Fed has also seen Bitcoin reaching levels not seen in about nine months, Bloomberg reported. The largest digital coin topped $28,000 for the first time since June 2022. Bitcoin is now up more than 70% since the start of the year, a report said.