Had belief I could do it, says KKR match-winner Rinku Singh
AHMEDABAD: Man of the moment Rinku Singh has credited his captain Nitish Rana for trusting him and urging him to bat till the end irrespective of the result of the match.
The 25-year-old from Uttar Pradesh's Aligarh blasted 48 off 21 balls to see Kolkata Knight Riders home with a three-wicket win against defending champions Gujarat Titans on Sunday. The win has propelled KKR to second in the table with four points after three matches.
"I had the belief that I could do this. Rana bhai said to keep belief and to bat till the end, then we will see what happens," said Singh who has played for Uttar Pradesh across all age-groups.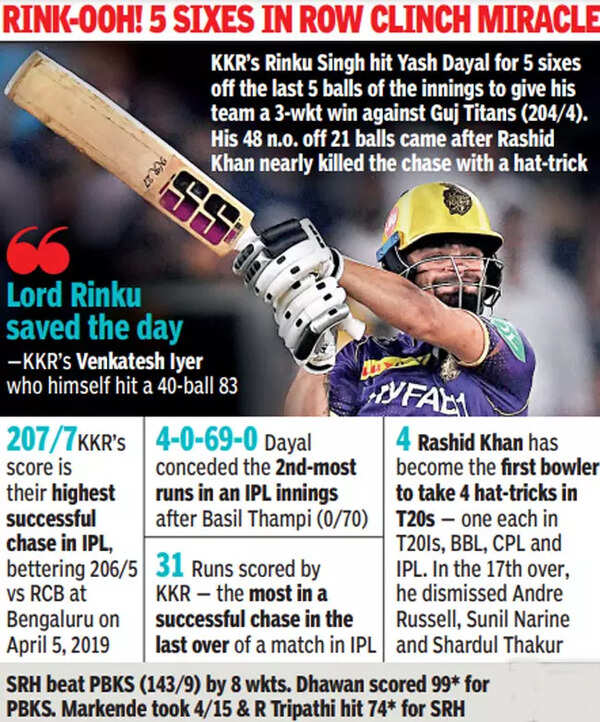 About the last over, Singh said, "I was just trying to hit sixes. (Umesh) Bhaiya was asking me not to think much and just play the ball. I was just reacting to the ball. It kept coming out of the middle. I had belief and it came off in the end."
Another player who made an instant impact with his aggressive innings, Venkatesh Iyer, too singled out Singh for praise. 01:45
IPL 2023: Rinku Singh hits 5 sixes off last 5 balls in stunning win for KKR
"This match is going to be remembered for the Lord Rinku show. Obviously, everyone ruled us out with two overs remaining. But, to come back from there and win is something that I know won't happen everyday.
"But, we are going to cherish this game for a very long time," said Iyer.
When asked about the mood in the dug-out after the hat-trick by Rashid Khan, Iyer stated, "Everyone ruled us out after Khan's hat-trick. I honestly thought we could not win from here.
"To score 45-odd from three overs with not a lot of batting, though Rinku was there, was difficult. I didn't believe it could happen. We knew Yash was going to bowl the last over. Today was not his night. And, when the second six happened, we knew we could actually win. God always gives these moments to people with golden hearts. Rinku is someone that everyone likes. I am really happy that God has given him this moment."
In 78 T20s, Singh has scored 1,392 runs at a strike rate of 139.75.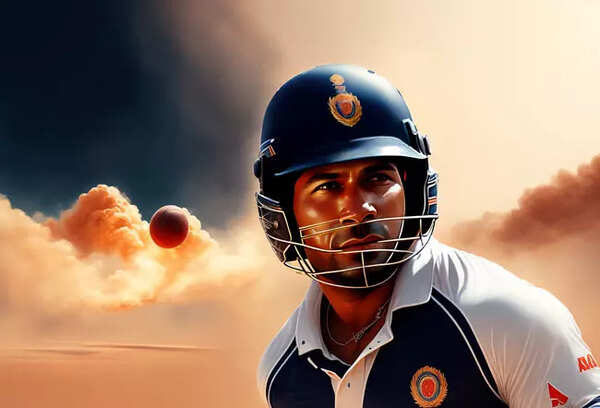 (AI image)