Historic connectivity deal, India's diplomatic win: Takeaways from Day 1 of G20 summit
NEW DELHI: India on Saturday played a gracious host on Day 1 of the G20 summit in the national capital even as it scored a big diplomatic breakthrough with a consensus on the New Delhi leaders' declaration.
The day, which began with PM Modi welcoming global leaders at the sprawling Bharat Mandapam, witnessed several positive developments, including the announcement of a historic connectivity deal between India, Middle East and Europe.
Read Also
India got 100% consensus on New Delhi Declaration: G20 Sherpa Amitabh Kant
Calling the New Delhi Declaration "historical and path breaking," G20 Sherpa Amitabh Kant on Friday said that India got the "100 per cent" consensus on all developmental and geo-political issues focussing on Strong, Sustainable, Balanced, and Inclusive Growth Accelerating Progress on Sustainable
India, US, Saudi Arabia, EU announce mega infrastructure deal to rival China's BRI: Why it's important
India, US, Saudi Arabia and the European Union on Saturday announced a multinational rail and ports deal on the sidelines of the G20 summit with an aim to counter China's ambitious Belt and Road Initiative (BRI).The ambitious plan seeks to bolster trade between India, the Middle East as well as
Here are the top takeaways from the first day of the mega two-day conclave:
Konark Wheel serves as backdrop of welcome handshake
A replica of Konark Wheel from the Sun temple in Odisha's Puri served as the backdrop of Prime Minister Narendra Modi's welcome handshake with G20 leaders as they arrived at the summit venue on Saturday.
The Konark Wheel was built during the 13th century under the reign of King Narasimhadeva-I. The wheel embodies India's ancient wisdom, advanced civilisation and architectural excellence.
When US President Joe Biden arrived at the conclave, PM Modi was seen explaining the significance of the background to him.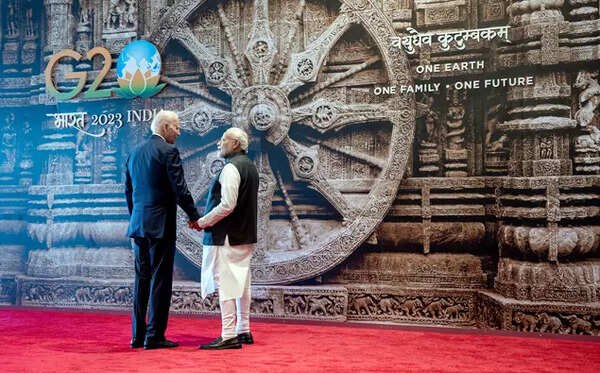 Bharat replaces India on name card
In another big push to the country's name as "Bharat", PM Modi on Saturday opened the G20 summit sitting behind a name plate that read "Bharat" and not India.
This is not the first time that "Bharat" has taken precedence over India in the recent times. In fact, the debate over possible governent move to change the country's name to "Bharat" from India was triggered by President's invite for the G20 dinner which referred her to as the President of "Bharat."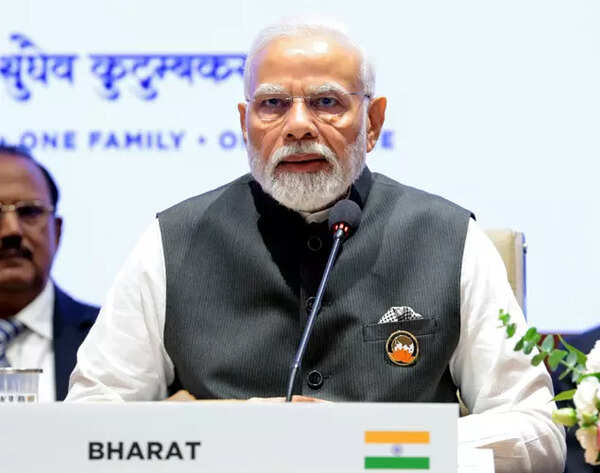 India also serves as the acronym for the newly formed opposition bloc Indian National Developmental Inclusive Alliance (INDIA).
Adoption of New Delhi leaders' declaration
In a big win for India's presidency, the G20 nations reached a consensus on the Ukraine conflict, paving way for the adoption of the New Delhi leaders' declaration.
"Friends, I have received good news. Due to the hard work of our team, consensus has been built on New Delhi G20 Leaders' Summit Declaration," PM Modi said at the session.
The consensus was reached after over 150 hours of intense negotiations with the member states, including China and Russia.
"History has been created with the adoption of the New Delhi Leaders' Declaration. United in consensus and spirit, we pledge to work collaboratively for a better, more prosperous, and harmonious future. My gratitude to all fellow G20 members for their support and cooperation," PM Modi later said on X.
G20 nations call for peace in Ukraine
The consensus declaration announced at the summit avoided condemning Russia for the war in Ukraine but called on all states not to use force to grab territory.
"We call on all states to uphold the principles of international law including territorial integrity and sovereignty, international humanitarian law, and the multilateral system that safeguards peace and stability," the declaration said.
"We … welcome all relevant and constructive initiatives that support a comprehensive, just, and durable peace in Ukraine … the use or threat of use of nuclear weapons is inadmissible," the statement added.
Ukraine's foreign ministry said the declaration was "nothing to be proud of", adding that a Ukrainian presence would have given participants a better understanding of the situation.
100% consensus on all issues
Calling the New Delhi Declaration "historical and path breaking," G20 Sherpa Amitabh Kant said that India got the "100 per cent" consensus on all developmental and geo-political issues focussing on strong, sustainable, balanced, and inclusive growth accelerating progress on sustainable development goals.
"All countries have unanimously supported the New Delhi Leaders Declaration. This is one declaration without a single footnote and without any Chairs Summary. This is a complete statement with 100 per cent unanimity," Kant said.
He added that G20 India has been the most ambitious in the history of the presidencies.
"With 112 outcomes and presidency documents, we have more than doubled the substantive work from previous presidencies," he said.
Mega connectivity corridor
Plans for an ambitious India-Middle East-Europe Economic Corridor were also unveiled on Saturday in an effort to rival China's Belt and Road Initiative (BRI).
India, US, Saudi Arabia, the European Union, the United Arab Emirates and others launched the initiative to link railways, ports, electricity and data networks and hydrogen pipelines on the sidelines of summit.
Prime Minister Narendra Modi asserted that India does not limit connectivity to regional borders and believes that it can play a key role in strengthening mutual trust. US President Biden described it as a "very big deal".
African Union becomes permanent G20 member
The African Union became a new permanent member of the G20 on the first day of the summit.
It marks the first expansion of the influential bloc since its inception in 1999.
PM Modi had strongly pitched for the inclusion of the African Union, in a nod to India's efforts of bridging the gap between the Global South and the West.
India launches Global Biofuel Alliance
After the second session, India announced the launch of the Global Biofuel Alliance and urged G20 nations to join the initiative with a plea to take ethanol blending with petrol globally to 20 per cent.
The Global Biofuel Alliance, which the world's third biggest oil consumer wants to push during its G20 presidency, mirrors the International Solar Alliance (ISA) piloted by New Delhi and Paris in 2015 to bring clean and affordable solar energy within the reach of all.
Speaking at the G20 Summit session on 'One Earth', Prime Minister Narendra Modi also proposed launching the 'G20 Satellite Mission for Environment and Climate Observation' and urged leaders to commence work on the 'Green Credit Initiative'.
(With inputs from agencies)