How Hardik Pandya is stepping into MS Dhoni's finishing shoes
In the second T20 vs Australia on Sunday, Hardik Pandya again showed the world just how effective a finisher he can be.
For a long time the tag of the team's best finisher was with MS Dhoni. Now, in the post Dhoni era, Pandya, who is currently playing as a pure batsman, because he is not fully fit to bowl, seems to have made that tag his own. Many feel Pandya is now stepping into Dhoni's finishing shoes and that is great news for the Men in Blue. In modern day limited overs cricket, a potent finisher is worth his weight in gold.
Pandya's stillness at the crease. The way he makes use of the entire crease, staying back on the backfoot more often than not, the way he breaks down the target in his head and executes the big shots and his immense self belief are all signs that India have a true match winner in him. Opposition teams know that it's always game on for India, till Hardik is out in the middle.
It wasn't a surprise then to hear Pandya, who was adjudged Man of the match in the second T20 for his unbeaten 42 off 22 balls say this after the win on Sunday that gave India an unassailable 2-0 lead in the 3 match T20 series – "During lockdown I wanted to focus on finishing games where it matters the most…..I have been in these situations many times and I learnt from my mistakes in the past. My game is always around the confidence which I carry, it has that fine line where I back myself and not become overconfident."
Those are words that suggest that Hardik has realised how best to utilise his innate self belief and not fall victim to overconfidence.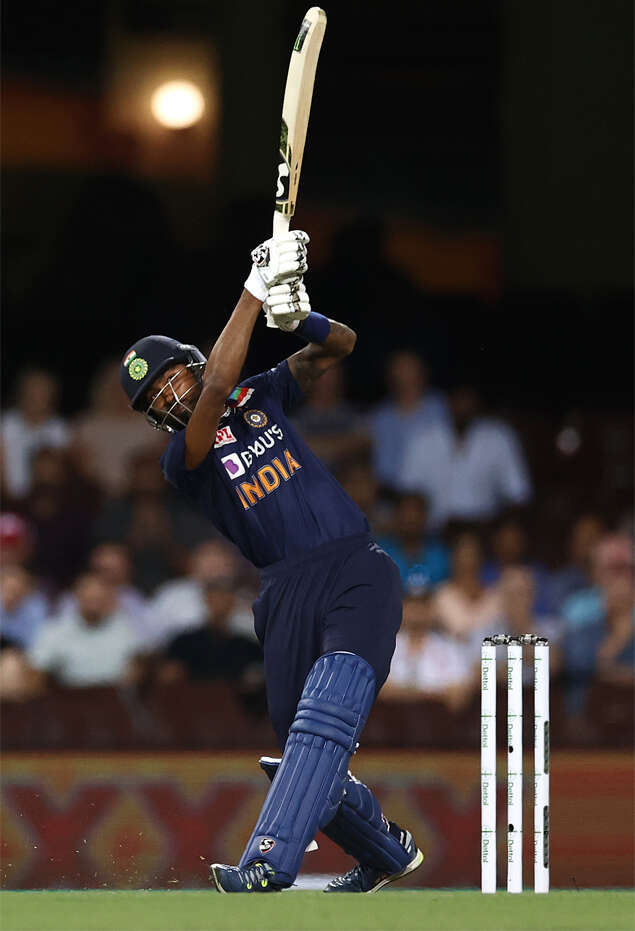 (Getty Images)
As the tour has progressed, Pandya has steadily become better. And the results are showing for the whole team. Pandya was the highest run-getter for India in the ODI series. He scored 210 runs in 3 matches (3 innings) at an average of 105.00.
In the second T20I, India needed 25 runs off the last two overs and Pandya delivered in style, smashing two sixes in the final over to secure a six-wicket victory with two balls to spare and seal the series for the Men in Blue.
In fact, after the series win, India captain Virat Kohli also said: "You need that finisher and he's (Pandya) becoming that for us. He's hungry, he's got to keep getting better."
Former India fast bowler Chetan Sharma feels Hardik Pandya is improving with time and he knows how to handle pressure now.
"Pandya is improving with time. He is a talented cricketer, there is no doubt about that. Virat trusts Pandya and he is living up to his expectations. He knows how to tackle pressure in crunch situations. Pandya's finishing skills are getting better with time. He knows how to handle pressure and keep calm in such crucial situations," Sharma, who played 23 Tests and 65 ODIs for India between 1984 and 1989, told TimesofIndia.com.
There were some questions raised about an all-rounder not being able to bowl. But Hardik, with his recent knocks has shown that the decision to play him as a pure batsman was the right one. The team knows just how effective he can be as a finisher and they back that skill of his. He performs the same role for his IPL franchise, the Mumbai Indians.
Now, with Dhoni no longer in the scheme of things, it is imperative Hardik gets all the support possible so that he can keep honing his incredible natural skills.
Just like Dhoni, Hardik also backs himself to hit the big shots almost at will. He is willing to take the game deep and then shift into launch mode.
Former India wicket-keeper Kiran More also spoke to TimesofIndia.com about how Hardik is shaping up as a brilliant finisher.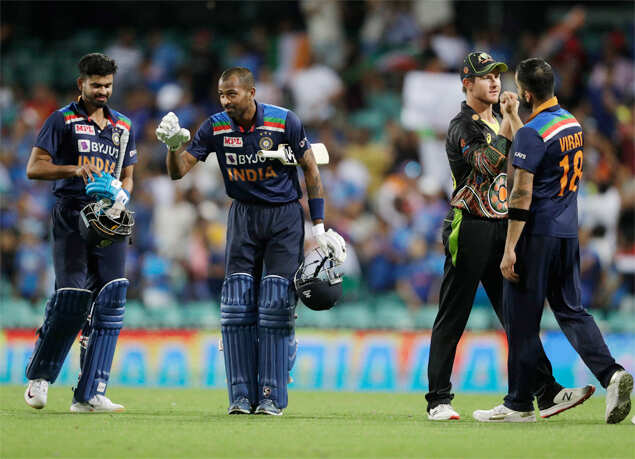 (AP Photo)
"Any player, especially a legend like MS Dhoni, leaves an impact on the team. Once a big player goes, we need to find out a solution. (An) all-rounder gives you balance in a team. Pandya is a match-winner. He has the ability to turn the game on its head," More told TimesofIndia.com.
"In the second T20I, I would give all credit to Pandya. Pandya was just superb. India were chasing 190 plus and the team did really well and played like champions," More, who played 49 Tests and 94 ODIs for India further said.
VIRAT KOHLI'S MISSION 'T20 WORLD CUP'
Meanwhile, when it comes to T20 cricket, Virat Kohli, like all other international captains will have his sights trained on the next edition of the ICC T20 World Cup, scheduled to be played next year in India. Virat and the Indian team management have been giving chances to youngsters, experimenting with different players in order to test Team India's bench strength.
For Sharma and More, Kohli's experiments have worked well for the Indian team.
"Virat has done a commendable job. His focus is on the entire series. He planned things very intelligently. ODI series gone, T20I series is in the pocket and he kept his focus on Test series too. That's why he rested his key bowlers. Keeping the Test series in mind, you have to rest your main bowlers for the big assignment. That's what Virat did. In T20Is, he used the players well. He gave chances to youngsters in the series. I really loved Virat's strategy in the series. He used his bowlers according to the format and rested bowlers like Shami and Bumrah for the Test series," Sharma told TimesofIndia.com.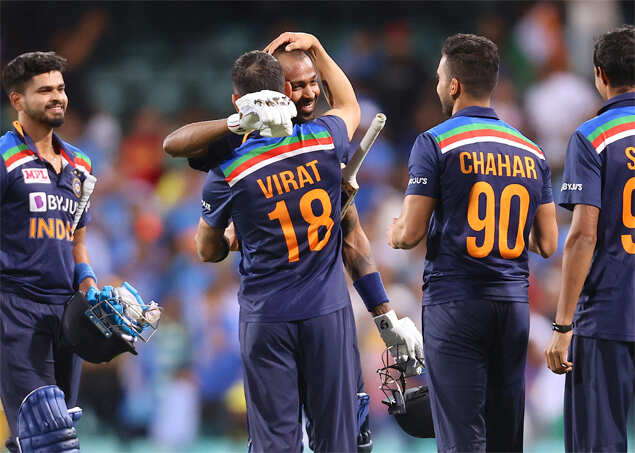 (AFP Photo)
"The best part I liked about Virat in the series is that he tested his bench strength. He is preparing a team for the T20 World Cup. He gave opportunities to youngsters. Shardul, Natarajan, Iyer all these players were tested. It feels good when you experiment and the results go in your favour," Sharma further said.
"Kohli is looking to build a good Indian side as the T20 World Cup is approaching," More opined.
T20 SERIES IN THE BAG FOR INDIA – 3-0 SCORELINE ON THE CARDS
It was the year 2016 when two left-handers Yuvraj Singh and Suresh Raina held their nerve to help India register a 3-0 cleansweep over Australia in the T20I series.
India, who had already sealed the series 2-0 after winning the first T20I by 37 runs and second by 27 runs, went in with a licence to kill in the third and final clash against the Yellow Brigade at the jam packed Sydney Cricket Ground. After Australia posted a mammoth 197/5, thanks to a whirlwind century from Shane Watson, India rode on Yuvraj's and Raina's heroics to register a 3-0 whitewash over Australia.
India needed 17 off 6 balls in the final over with Yuvraj And Raina in the middle. Yuvraj, unbeaten on 5 off 9 balls, was on strike and Andrew Tye was asked to bowl the last over. The swashbuckling left-hander smashed Tye for a four and then a six off the first two deliveries. Five runs were taken on the next three balls (1bye, 2, and 2). With two runs needed off the last ball, Raina stayed cool as a cucumber, made room, and punched the ball over point for a boundary to seal 3-0 against Shane Watson's men.
On December 6, 2020, Sunday, at the same venue (SCG), Hardik Pandya and Shreyas Iyer pulled off a sort of encore.
Pandya and Iyer chased down 37 runs in the final three overs, as India defeated Australia by six wickets in the second T20I to take an unassailable 2-0 lead in the three-match series. Pandya played an unbeaten knock of 42 runs off just 22 balls, with the help of three boundaries and two sixes, while Iyer remained not out on 15 off just 5 deliveries.
Chetan Sharma told TimesofIndia.com that watching Pandya and Iyer reminded him of Yuvraj and Raina four years ago at the same venue.
"In 2016, we had two left-handers who won us the game. Raina and Yuvraj won the match for us. This time there were two right-handers – Pandya and Iyer. Pandya and Iyer reminded me of Yuvraj and Raina. A stupendous effort by Pandya and Iyer also," Sharma told Timesofindia.com.
"It's a great effort by Team India. Winning in Australia is a different feeling altogether. If you see that match, it was a great team effort. First, it was Dhawan and then Virat Kohli who played a captain's knock. After that Pandya played a big role as a finisher. What a finish by him. He was just fantastic. It was an amazing match," the former Indian pacer said.
India came into the T20I series after losing the ODI series 1-2. India had lost the first two ODIs but managed to earn a consolation win, thanks to Pandya's 92 not out off 76 balls in the final ODI. The all-rounder was adjudged Man of the Match for his performance.
"We were surprised by the bowling attack in the ODIs. We didn't do well on the bowling front in the ODIs. The players looked a little bit jaded. But it was an amazing performance in the last ODI. India have shown a tremendous show in the T20Is. It's not easy to win in Australia. And when you play away, there is always pressure because of bigger grounds and conditions," More told TimesofIndia.com.
India now stand on the cusp of a 3-0 T20 series win vs the Aussies in their backyard. The third and final T20 will also be played in Sydney on Tuesday, December 8.