How Viacom 18 has created a near monopoly with India home cricket rights
Viacom 18 now officially holds the rights for all India home cricket across TV and digital for the next five years. They beat the other two serious contenders – Star India and Sony in a three way battle in an e-auction on Thursday to bag the coveted rights.
With this Viacom 18 has created a near monopoly in the Indian cricket broadcasting sphere.
How was the bidding conducted?
3 Key Points:
– The BCCI had opted for an e-auction for the bilateral media rights
– The base price was of Rs 25 crore for India digital and rest of world TV & digital rights and Rs 20 crore for India television rights, continuing the trend from IPL media rights auction.
– This brought the combined rights value to INR 45 crore per game for a total of 88 matches for the 2023-28 cycle.
What were the final winning bids?
3 Key Points:
– Viacom 18's cumulative bid was worth approximately Rs 5963 crore for the time period of 2023-28
– In the digital spectrum Viacom 18 bid – Rs 3101 crore (approximately)
– In the linear TV spectrum the winning bid was of Rs 2862 crore
1 Insight:
BCCI had invited separate e-bids for both linear (TV) and digital for best price discovery and not surprisingly Digital rights were more expensive and attracted greater bids.
How much will BCCI earn per match as per the new deal?
3 Key Points:
– India will be playing 88 international games across three formats including 25 Tests, 27 ODIs and 36 T20Is with per match value of the deal standing around Rs 67.76 crore.
– This is nearly Rs 7.76 crore more than last cycle's Rs 60 crore per match value.
– However the BCCI overall earned more money in the last rights cycle because that had more number of matches (102) as opposed to the 88 games that will be played in the 2023-27 media rights cycle. This means the BCCI will get Rs 175 crore less than the Rs 6138 crore it earned in the last cycle
1 Insight:
Looking at the prevailing market sentiments, it is not a bad price to fetch as the per match valuation has increased. One needs to factor in that only marquee Test matches and series against England and Australia will fetch decent advertisement revenue. For matches against other nations, it is only the T20 format which is the cash cow.
Viacom 18 snatches rights away from Star India
3 Key Points:
– Disney Star had bagged the television and digital rights for the 2018-23 cycle for Rs 6138 crore.
– Before that Disney Star had grabbed the rights for the 2012-18 cycle of broadcasting Indian cricket in the country for Rs 3851 crores.
– Viacom18, a relative newcomer in the broadcasting world through its TV channel – Sports18 and digital platform – Jio Cinema, is also the holder of TV and digital rights of the Women's Premier League (WPL) till 2027. It also has the rights of the Cricket South Africa matches to be shown in India from 2024-31.
1 Insight:
– India will play against Australia in 21 games and will be pitted against England in 18 matches across all three formats during the next five years. Viacom 18 will be hoping to rake in substantial advertising revenue from these high profile matches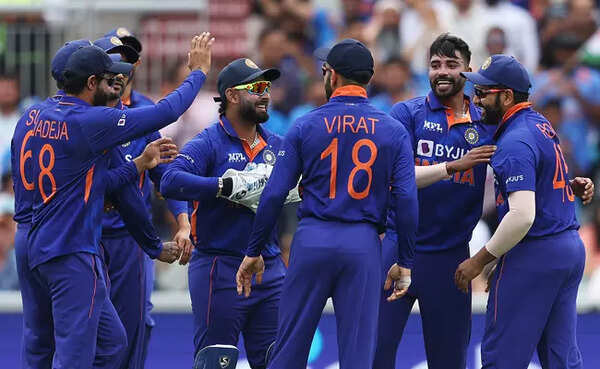 Team India (Getty Images)
What exactly are these rights for and what's the scale up?
3 Key Points:
– These rights are for all India cricket that is held in the country – international and domestic
– IPL rights are not included in this
– The average per-match cost now stands at Rs 67.75 crore. This is almost 13% more than Rs 60 crore Star India was paying in the last rights cycle.
1 Insight:
Viacom 18 has now entered the cricket broadcast space in a big way. They have established themselves as serious competitors and will be looking to make more inroads in the future. They already have the digital rights for the men's IPL for the Indian subcontinent which they bagged at a bid of Rs 23,758 crore for 410 matches. They also have the rights for Australia, New Zealand, Singapore, Caribbean, South Africa, Sub Saharan Africa, UK, Ireland and Continental Europe rights.
When do Viacom 18's rights begin?
3 Key Points:
– Viacom18's cycle of showing India's matches will begin with the next series the Indian men's team plays at home
– This will be the three-match ODI series against Australia from September 22-27
– This will be a preparatory series before the Men's ODI World Cup
Team India home matches, IPL (digital), Women IPL, Olympics 2024, SA home matches 2024, T10 League, Road Safety World Series, SA20, NBA, Serie A, La Liga, Ligue1, and Diamond League
BCCI Reactions:
"Congratulations @viacom18 for winning the @BCCI Media Rights for both linear and digital for the next 5 years. India Cricket will continue to grow in both spaces as after @IPL and @wplt20, we extend the partnership @BCCI Media Rights as well," BCCI secretary Jay Shah said on 'X', formerly twitter.
"Also, a big thank you to @starindia @DisneyPlusHS for your support over the years. You played a key role in making India Cricket reach its fans across the globe," added Shah, also the President of the Asian Cricket Council (ACC).
What Broadcasting Industry Sources are Saying:
"With IPL digital rights being bought by Viacom for Rs 26,000 crore plus, they now have almost all the high profile cricket properties save IPL linear (TV) and ICC events."
(With inputs from Agencies)