In Telangana, PM Modi vows panel to look at SC sub-quota demand
HYDERABAD: PM Modi declared Saturday a committee would be formed to consider the demand for sub-categorisation of scheduled castes (SC) during his second public meeting within a week in Telangana which votes for a new assembly on November 30.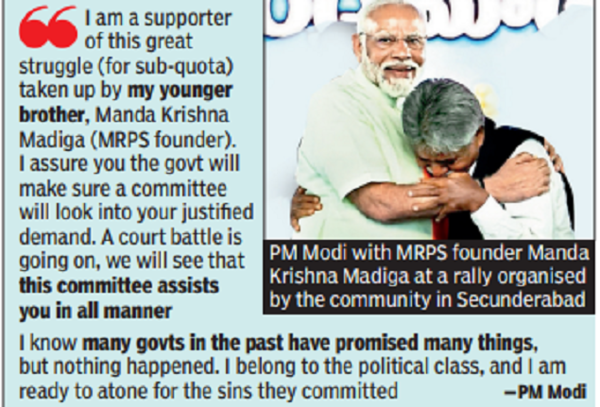 This has been a long-pending demand of the Madiga community in Telangana and Andhra Pradesh. The announcement, made at the Madiga Vishwaroop Sabha organised by the Madiga Reservation Porata Samiti in Secunderabad, is expected to have nationwide ramifications, bringing the issue of reservations and the creamy layer into the spotlight this election season, and in the 2024 Lok Sabha polls.The Madiga community, constituting nearly 50% of the SC population in Telangana, has long sought distinct quotas, arguing the benefits of reservation have disproportionately favoured other SC groups like the Malas.PM Modi acknowledged the 30 years of non-violent agitation by the Madiga community.
"I am a supporter of this great struggle taken up by my younger brother, Manda Krishna Madiga (MRPS founder). I assure you that the government will make sure a committee will look into your justified demand. A court battle is going on, we will see that this committee assists you in all manner," he said.
In September, the government said in Rajya Sabha that out of 20 states and two Union territories, 13 states had opposed sub-categorisation. The issue is also pending in SC, where a bench is expected to hear the case challenging the validity of sub-categorisation.