India vs Australia: Novice Indian pace attack has task cut out
When India began their groundwork for the Test series in Australia, they would have most likely done so with a first-choice pace attack of Jasprit Bumrah, Mohammed Shami and Ishant Sharma in mind with Umesh Yadav as an able back-up option. Bumrah, Shami and Ishant were among the chief architects of India's historic series win in Australia a couple of years ago.
But with Ishant being ruled out prior to the start of the Test series and Shami and Umesh suffering injuries in the first and second Tests respectively, the Indian pace attack that will take the field at Sydney Cricket Ground (SCG) will wear a very novice look with Bumrah (16 Tests), Mohammed Siraj (1) and Navdeep Saini (debut) having a combined total of 17 Tests under their belt.
The last time a three-member Indian pace attack had lesser experience was against England in Manchester in 2014 when Bhuvneshwar Kumar (9), Varun Aaron (1) and Pankaj Singh (1) had played just 11 Tests between them.
While Bumrah is among the best in the world and exudes the confidence of an attack leader despite being only 16 Tests old, it will be a thorough examination for Siraj and Saini against an Australian lineup that will see the return of David Warner on arguably the most batting-friendly pitch in Australia.
India skipper Ajinkya Rahane admitted that the departures of Umesh and Shami were a setback, but hoped that the likes of Siraj and Saini would see it as an opportunity to perform at the highest level.
"Umesh and Shami are among our main bowlers. We will definitely miss them. But it gives an opportunity to other guys to come here and do well at the highest level. Bumrah and Ashwin are doing very well for us, but it's not about one or two individuals. It is about the bowling unit as a whole," Rahane said.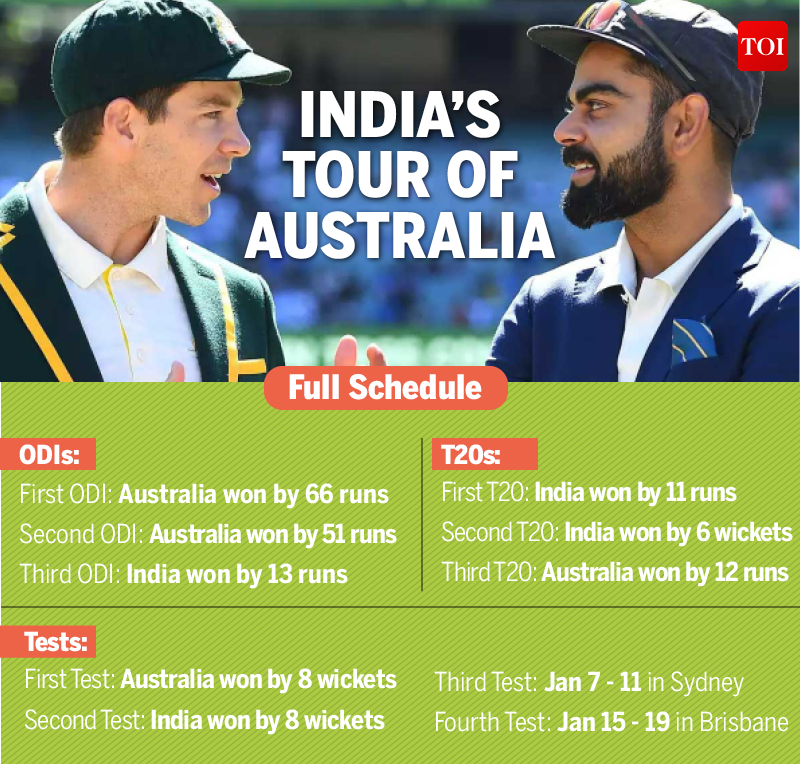 It's still early days for Siraj, but he has already shown glimpses to suggest that he belongs at this level. On debut at the MCG, he was particularly impressive in the second innings when he stepped up admirably to fill the void left by Umesh's injury. And pertinently, he seems to be adept at getting the ball to reverse too as he showed with the wicket of Cameron Green on the opening day.
"I am really happy for Siraj, especially. The way he bowled in the last game was really exceptional," the skipper pointed out, which should give further confidence to the Hyderabad pacer.
Australian captain Tim Paine made it clear that they won't be taking the likes of Siraj and Saini lightly. However, he certainly hopes that the two rookies are put under pressure as it might compel Rahane to keep going back to his primary strike weapons in Bumrah and R Ashwin.
"Ideally, we want to put pressure on the newer guys and have Bumrah and Ashwin bowling a lot of overs. That would mean we are scoring a lot of runs," continued Paine, "But as we have seen, there is a lot of depth in the Indian team. The guys coming in have got a lot of skills. We have seen them play for India 'A' earlier in the tour and we cannot take them lightly. The key is to get a lot of overs into Bumrah and Ashwin and make them tired."