India vs Australia: Team India agrees to 'strict' protocols in Sydney
NEW DELHI: The Indian team management has agreed to abide by all biosecurity protocols upon reaching Sydney on Monday for the third Test of the series. This comes after a couple of days' speculation about the team's reluctance to adhere to stringent protocols in the following Test in Brisbane.
Sydney, which hosted two ODIs and two T20Is earlier in the tour, now has more stringent protocols for players since there has been a spurt in Covid-19 cases around the city. "The Indian squad has been handed the protocols. The team management has agreed to it and all players and the team have been asked not to go out of the hotel except for scheduled training. The team is also asked to follow all social-distancing practices," a BCCI source told TOI on Monday. Earlier, the players were allowed for walk-arounds and eating outdoors.
The entire squad – including the five players who were placed in 'isolation' for dining in an indoor restaurant in Melbourne—tested negative for Covid-19 after undergoing RT-PCR tests before travelling to Sydney. The squad is likely to undergo another round of tests before the Test match which starts on Jan 7.
TOI understands that BCCI is in touch with Cricket Australia about the arrangements in Brisbane where the teams are likely to be put in quarantine for the match. Board sources also claimed that there have never been any doubts over Brisbane hosting the final Test of the tour. The Indian team management hasn't been handed the protocols for the fourth Test yet. As for the 'investigation' to find out if Rohit Sharma, Rishabh Pant, Navdeep Saini, Shubman Gill and Prithvi Shaw breached any protocol, board sources claimed it's safe to assume that it's over after the tests came out negative.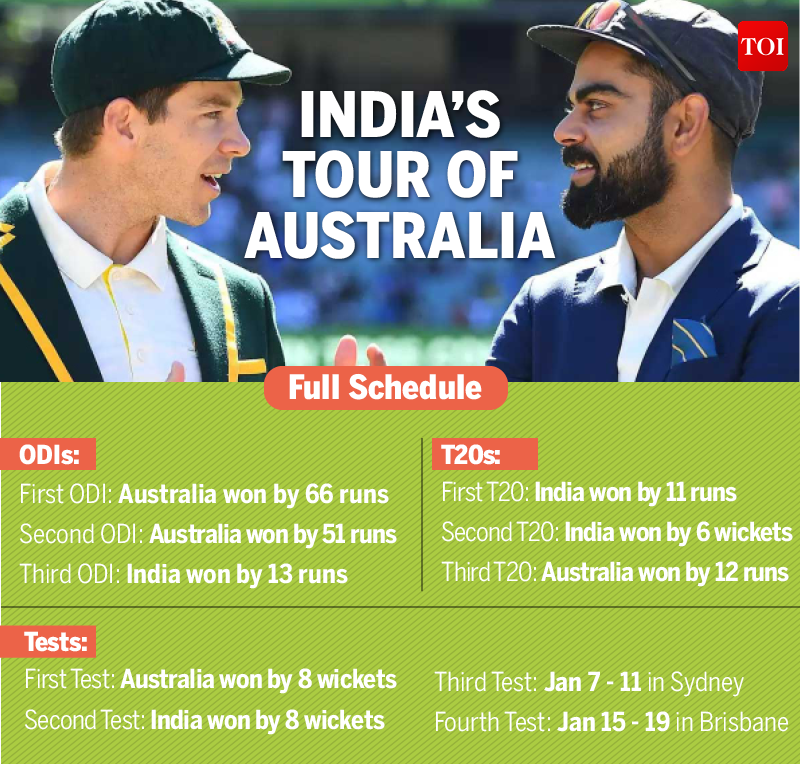 However, there are talks of offering some relaxations to the players in Brisbane. "Putting the players into hard quarantine in Brisbane is a bit tough on the players. There are talks where they won't even be allowed to leave their rooms other than travelling to the grounds. Like in Sydney, the team should have access to the hotel floors too," a senior BCCI official told TOI.
On Monday, CA's interim CEO Nick Hockley gave a statement that the Australian board has been in touch with BCCI and there has been no objection to protocols laid out for the tour. "We speak to our counterparts at the BCCI daily. We have had nothing formal from the BCCI to suggest anything other than they're supportive," Hockley said. "Both teams have wanted to play the schedule as we've set out," he added.
"There is always a controversy when India travels to Australia. These are mind games by the media and cricket fraternity in Australia. BCCI never had objected to any protocol set by CA. The Brisbane Test is very much on," the BCCI official added.