India vs Bharat: Will special Parliament session debate country's name change?
NEW DELHI: Will India be officially named Bharat in the upcoming special session of Parliament scheduled from September 18 to 22? Well, the debate has been triggered by President Droupadi Murmu's invite for the G20 dinner which called her the "President of Bharat" instead of the customary "President of India."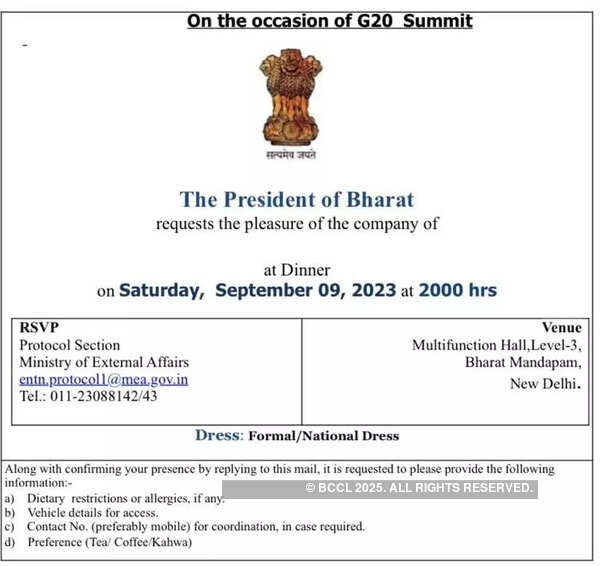 Ever since the government announced five-day special session of Parliament, there have been speculations on the agenda for this surprise move.The opposition parties first linked it to government's possible plans for early Lok Sabha elections.Then came Centre's big push for One nation, one election. Government's move to constitute an eight-member committee to examine and make recommendations for holding simultaneous elections in the country was immediately linked to a possible legislation over the issue in special Parliament session.
In between the two debated possible agendas emerged a third one – the Women's Reservation Bill which seeks to provide 33% quota to women in Lok Sabha and state assemblies. BRS leader K Kavitha has in fact gone ahead to make an appeal to 47 political parties urging them to unite and pass the long-awaited Bill in the upcoming special session of Parliament. 03:15
India as 'Republic of Bharat'? G20 dinner invite sparks speculations, Congress slams BJP
The spokespersons for the government or the BJP have done little to put an end to these speculations by keeping silent on the agenda for the special session. In fact, the President's invite today has added one more possibility to the list.
The India vs Bharat row started soon after the opposition parties, which have joined hands against the BJP for the 2024 Lok Sabha elections, decided to name their group as INDIA (Indian National Inclusive Developmental Alliance). Prime Minister Narendra Modi led the attack against the new name of the opposition front. The Prime Minister cited examples of organisations like Popular Front of India and said they also use India in their names. In most of his subsequent speeches, the Prime Minister used Bharat for most of his references to the country. Almost all Union ministers and BJP leaders followed suit and targeted the new name of the opposition alliance.
Assam chief minister Himanta Biswa Sarma, said the name India was a colonial legacy. He went on to change the name India to Bharat in his bio on X, formerly Twitter. The Assam chief minister's post today again seemed to suggest that changing the name of India to Bharat could be a possibility.
"REPUBLIC OF BHARAT – happy and proud that our civilisation is marching ahead boldly towards AMRIT KAAL," he wrote on X after the President's G20 invite.
Delhi chief minister Arvind Kejriwal, meanwhile, had an interesting take on the issue. He asked a "flustered" BJP if it would change the name of Bharat if the opposition alliance INDIA rechristened itself as 'Bharat'.
As the opposition parties raised questions over "President of Bharat" in the G20 invite, the BJP rubbished all objections and said the use of the Hindi name for the country underscores its "civilisation march." Union minister Rajeev Chandrasekhar asserted that "our country's name is Bharat and there should be no doubt about it". "If we will not use Bharat as the name of Bharat, then what will we use?" Chandrasekhar said.
To a query on whether changing the country's name will be taken up for discussion in the upcoming session of Parliament, the minister said, "you will have to wait and watch".
Clearly, the government wants the opposition to keep guessing about the agenda of the special Parliament session.
(With inputs from agencies)