India vs Pak: Kohli vs Afridi and other player battles to watch out for
NEW DELHI: The mother of all cricket battles is back. India and Pakistan will face each other in a One-Day International for the first time since the 2019 World Cup in England. The much-awaited contest on Saturday in the Asia Cup group stage will set the ball rolling for many such clashes between the two arch-rivals this year.
There is a chance of India and Pakistan playing each other as many as three times in the Asia Cup itself – first in the group stage, then in the Super Four stage and if all goes as petr cricket fans' wishes, again in the summit clash too. Then there is the ICC ODI World Cup in India, starting on October 5 in Ahmedabad, where the two teams are again in the same group. Fans have a full menu this year after a long wait.
It will be a clash of two extremely talented teams as World No.1 Pakistan take on India, ranked third in the world, at the Pallekele International Cricket Stadium in Sri Lanka on Saturday.
Here Timesofindia.com highlights the top three player battles which could have a big impact on the outcome of the upcoming matches between the arch-rivals India and Pakistan in the Asia Cup: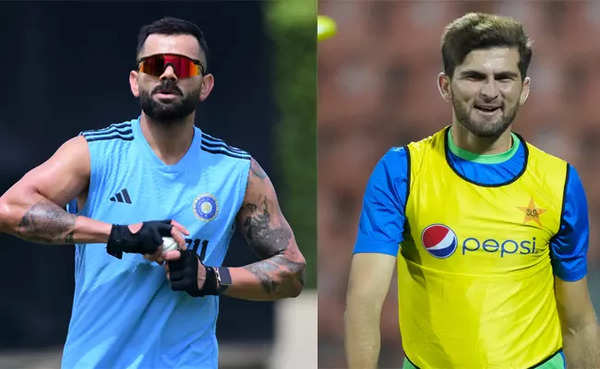 Virat Kohli vs Shaheen Shah Afridi
It's a battle between one of the modern-day greats vs a fast bowling superstar who has firmly cemented his place as Pakistan's pace spearhead. One is a veteran of 275 ODIs and the other has played 40 one-dayers so far. And it will well define the outcome of the much-awaited clash between the two arch-rivals.
After a prolonged low of almost three years, batting maestro Virat Kohli is back to his absolute best and has so far scored 427 runs in 9 ODIs this year @53.37, which includes two hundreds and a fifty. He is scoring at an impressive strike rate of 116.03 too – his highest ever in a calendar year. And India will be looking at their run-machine again to do the bulk of the scoring against Pakistan.
Pakistan is one of the only two full member countries against whom Kohli has less than a 50 batting average in his career, the other being England. Kohli has faced Pakistan only 13 times in ODIs and scored 536 runs @48.72 with the help of two hundreds and two fifties. His career's highest ODI score was also incidentally scored against Pakistan – 183 in the 2012 Asia Cup. A proven run-scorer in the continental tournament, Kohli has scored 613 runs in 10 innings in the Asia Cup (ODIs) so far, and will be looking for more such exploits in the 2023 edition. 07:13
India vs Pakistan: Who has the edge in the Asia Cup clash?
Left-arm pacer Afridi is also coming into the all-important Asia Cup match with his tail up, having taken 16 wickets in just 8 ODIs this year. An impressive average of 20.06 and an economy rate of 5.04 shows his effectiveness as a tall pacer. The 23-year old is one of the fearsome pacers around these days and can be handy against any batting line-up. He will be aiming for the prize wicket of Kohli in the upcoming blockbuster clash.
The youngster has a terrific start to his international career, taking 78 wickets in 39 ODI innings. He also has a good record in the Asia Cup – 6 wickets in 4 ODIs at a 25.66 average and an economy rate under 5. Even though Afridi remained wicketless against India in the only ODI he has played against the Men in Blue in 2018, Pakistan will be looking to the tall pacer to provide crucial early breakthroughs for them.
ODI Records:
Virat Kohli: M 275 | I 265 | R 12898 | HS 183 | Ave. 57.32 | SR 93.62 | 46x100s | 65x50s
Shaheen Afridi: M 40 | I 39 | W 78 | BBI 6/35 | Ave. 23.08 | Econ. 5.42 | SR 25.5 | 2x5W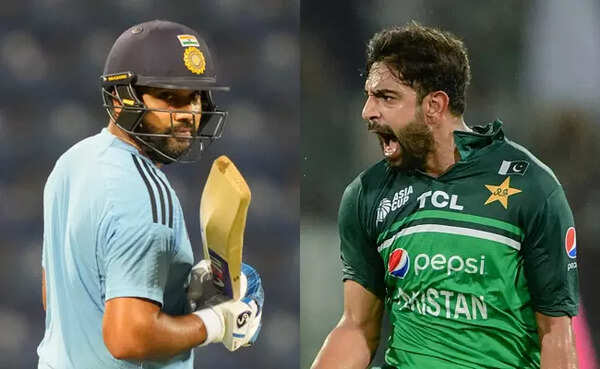 Rohit Sharma vs Haris Rauf
It's another battle between an ODI master vs a fast emerging force. This battle upfront in the innings, could have a big impact on the outcome of the contest.
For India skipper Rohit 'Hitman' Sharma, ODI is a format he has mastered. And if he is not stopped early in the innings, Pakistan will definitely feel the pain, and that's where one of the quickest fast bowlers around, Haris Rauf will have a big task on his hands.
With three double centuries and a highest score of 264 in the format, Rohit is a force to reckon with. The India captain is in good form this year too, having scored 383 runs in 9 ODIs @47.87 so far, including a hundred and two fifties. He is a proven performer on the big stage and is one of the top-scorers in the Asia Cup (ODIs), accumulating 745 runs @46.56 in 21 innings. Rohit also has a terrific record against Pakistan, scoring 720 runs in 16 innings at 51.42 average with the help of two hundreds and six fifties in ODIs.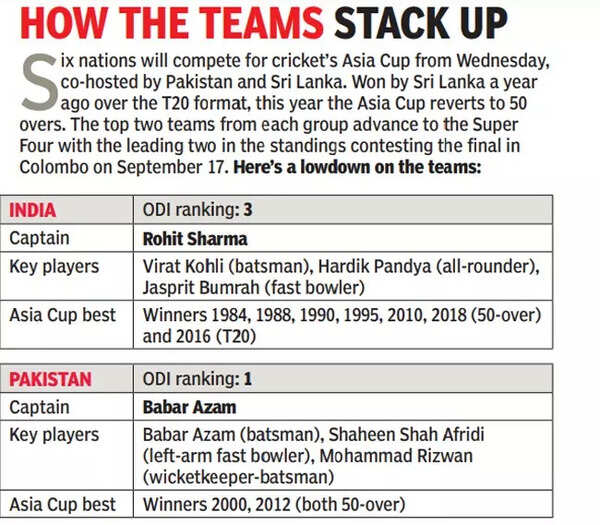 Haris Rauf's speed will be a challenge for the Indian batting line-up as they haven't faced him in ODIs yet. The pacer is a genuine wicket-taker and has so far grabbed 46 wickets in 25 ODIs, and would look to continue his good run against India too. He is in good form this year, taking 17 wickets in 10 ODIs, including his career best figures of 5/18 last month against Afghanistan. He made his Asia Cup debut in the tournament opener against Nepal this time and returned figures of 2 for 16 in 5 overs in Pakistan's massive 238-run win.
India will bank on Rohit to give them a good start to their innings, and Pakistan's potent pace attack including Rauf will be looking to provide their team with early breakthroughs.
ODI Records:
Rohit Sharma: M 244 | I 237 | R 9837 | HS 264 | Ave. 48.69 | SR 89.97 | 30x100s | 48x50s
Haris Rauf: M 25 | I 25 | W 46 | BBI 5/18 | Ave. 25.76 | Econ. 5.72 | SR 26.6 | 1x5W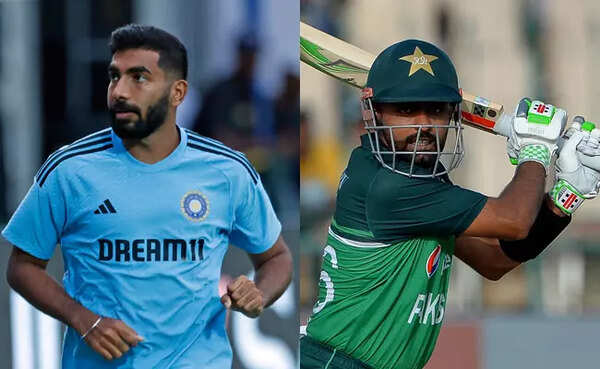 Jasprit Bumrah vs Babar Azam
It's a battle of two match-winners. India's pace spearhead Jasprit Bumrah vs Pakistan's batting mainstay and captain Babar Azam.
Bumrah will play his first ODI in more than a year when he faces the arch-rivals Pakistan on Saturday. The pacer made a comeback to international cricket after a long injury layoff, captaining India in a T20I series last month vs Ireland, and took 4 wickets in 2 T20Is. He will be eager to make a mark against Pakistan in the Asia Cup. He is a genuine wicket-taking bowler and has taken 121 wickets in 72 matches so far. He had a terrific Asia Cup (ODIs) in 2018, taking 8 wickets at 16.00 average in four games, and will be looking for an encore this time. Bumrah though has had a below-par record against Pakistan in ODIs, taking just 4 wickets in 5 matches, and will be eager to fix those numbers this time around.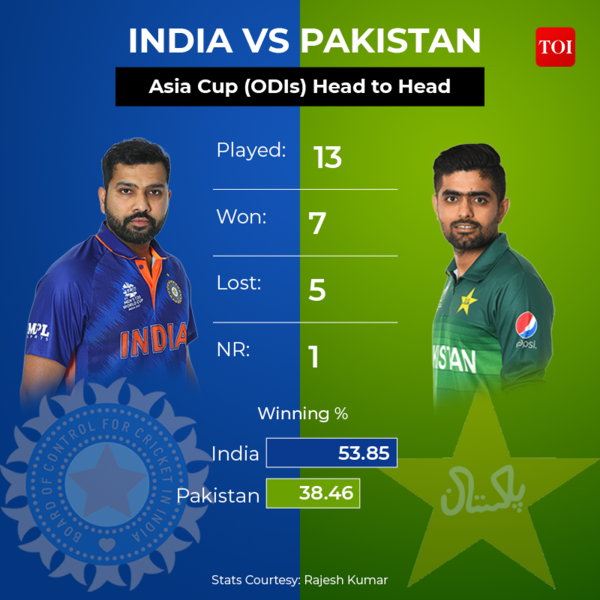 Babar is a prolific run-scorer in ODIs and has already scored more than 5000 career runs in 104 matches. He started his 2023 Asia Cup campaign with a majestic 151 against Nepal in the tournament opener. It was his 19th ODI hundred. Babar has a below-par record against India though, having scored 158 runs @31.60 in 5 ODIs. Incredibly, he is yet to hit a fifty against India. Babar will be more than eager to change that record in the upcoming matches against the arch-rivals. He is a proven run-scorer in the Asia Cup, having already accumulated 307 runs @51.16 in 6 games so far.
Bumrah will be looking to stop Pakistan's run-machine Babar from scoring big in the mega contest, while the Pakistan captain will be looking to make amends for his so far below-par record against India. This battle has the potential to turn out to be the most important and impactful one in the much-awaited clash on Saturday.
ODI Records:
Jaspirt Bumrah: M 72 | I 72 | W 121 | BBI 6/19 | Ave. 24.30 | Econ. 4.63 | SR 31.4 | 2x5W
Babar Azam: M 104 | I 102 | R 5353 | HS 158 | Ave. 59.47 | SR 89.39 | 19x100s | 28x50s