India's balance not the same without injured Pandya vs NZ: Dravid
NEW DELHI: Indian cricket coach Rahul Dravid on Saturday expressed that India may have to adopt a different balance for their upcoming World Cup match against New Zealand due to the absence of the injured all-rounder Hardik Pandya. Dravid sees this as an opportunity to experiment with various combinations.
Hardik, who has been a crucial all-rounder for India and has taken five wickets in the tournament, is set to miss the match against New Zealand in Dharamshala after injuring his ankle during India's seven-wicket win over Bangladesh.
Dravid stated, "He is an important all-rounder, so he helps us balance our squad out really well. But he is going to be missing this game, so we will have to work around that and see what is the best combination."
"We've got to work with the 14 that we've got… We will have to see what works best for these conditions and these wickets. But yeah, probably might not have the kind of balance that we used in the first four games."
Dravid mentioned that India is clear about their playing 11 for the match but didn't disclose the final lineup.
"Hardik being one of those four seamers, we'll just have to see which combination we can go with. We certainly can go with the three fast bowlers or the three spinners," he added.
He also noted that there are different combinations to consider until Hardik returns to the team.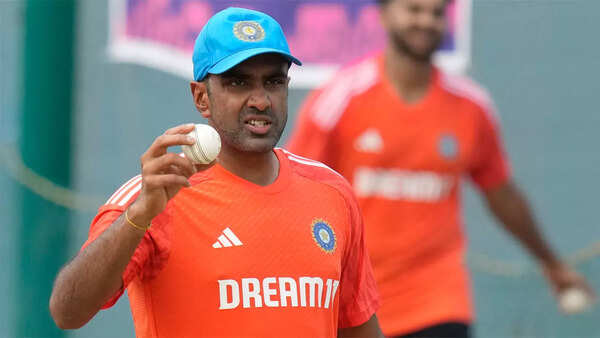 Ravichandran Ashwin (PTI Photo)
"In some cases, there is Ashwin who has obviously been sitting out, who has great quality as well. So there are two or three combinations we could consider till Hardik gets back."
One factor that could play a significant role in Dharamshala is the toss, as the cold temperatures in the foothills of the Himalayas often lead to early onset of dew in the outfield. Dravid acknowledged this and mentioned that the team needs to prepare for both scenarios.
"There is nothing to hide in this. We are in Dharamshala, the temperature is cold, so there will definitely be dew," Dravid said. "But you can't think much about it. Of course, you can make tactics and strategies according to that, but you have no guarantee that you will win the toss. So you have to plan for both."
World Cup: Will Mohammed Shami finally get a chance?
Dravid emphasised the need for a positive approach and building a cushion in case they have to bowl in dewy conditions, indicating that adaptability and flexibility will be key for the team in the upcoming match.
(With inputs from Reuters)
Watch For how long will Hardik Pandya be out of action from the World Cup? Watch this prediction