India's historic Asian Games run culminates with 107 medals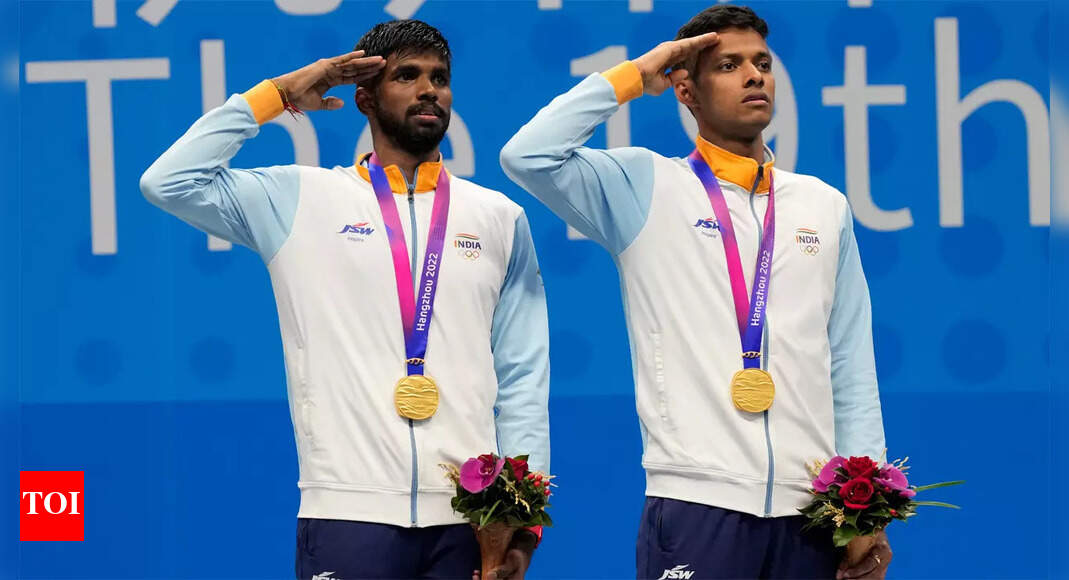 NEW DELHI: Indian athletes have achieved an impressive milestone of 107 medals at the Asian Games through their unwavering dedication and hard work over the past two weeks.
This achievement not only serves as an early Diwali gift to the nation but also holds the promise of a historic harvest at the 2024 Paris Olympics.
Chirag Shetty is Rafael Nadal, he never gives up: Satwiksairaj Rankireddy
As India concludes its participation in this continental showcase on Saturday, with no Indian athletes competing in the final events scheduled for Sunday, the tally of 107 medals will be cherished in the collective memory of the nation until athletes have the opportunity to reset it in Aichi-Nagoya, Japan in 2026.
In Hangzhou, India's final medal count comprises 28 gold, 38 silver, and 41 bronze medals, a remarkable leap from the 70 medals the contingent secured in Jakarta in 2018.
India complete 100 medals at Asian Games 2023
The total had reached 95 medals on Friday, with a few more assured medals to come on Saturday. Surprisingly, Indian athletes added 12 more medals on the last day of their campaign, including six gold, four silver, and two bronze medals.
If celebrated Indian grappler Bajrang Punia bowed out without a whimper leaving the country in shock on Friday evening, the smashing Indian men's badminton pair of Satwiksairaj Rankireddy and Chirag Shetty brought tons of cheers to the contingent on Saturday afternoon, while the men's and women's kabaddi teams regained their pride of place after slipping in 2018 Jakarta.
A controversy in the final against Iran apart, the Pawan Sehrawat-led men's kabaddi team was simply on fire, while young archer Ojas Deotale and Abhishek Verma made it a gold-silver finish in the compound men's individual event.
Archer Jyothi Vennam too had her golden moment on the country's final day of competition, taking the top podium finish in individual women's compound event and show the continental giants in the sport, South Korea, that India had well and truly arrived on the scene.
The men's and women's chess teams finally provided the silver lining to the country's campaign later in the day as India had the fourth-best tally behind China, Japan and South Korea.
India's fourth position is unlikely to change as fifth-placed Uzbekistan has 20 gold as compared to India's 28.
On the back of a splendid show by the shooters (22) and track and field athletes (29 medals), who contributed 51 medals, India had already surpassed its best-ever show on Wednesday this week.
The Indian contingent won many surprise medals, the biggest being a women's table tennis team bronze by Sutirtha Mukherjee and Ayhika Mukherjee, who humbled the mighty China in the semifinals.
Parul Chaudhary's sensational dash in the last 30 metres of the women's 5000m event will also be remembered for a long time as the Meerut runner snatched a gold by edging Japan's Ririka Hironaka in a close finish.
Javelin thrower Kishore Kumar Jena's astonishing 86.77m throw that gave him lead over superstar Neeraj Chopra for a brief period in the men's javelin event was another unforgettable moment.
Later Chopra won the gold, while Jena finished behind him to settle for a silver medal.
Canoers Arjun Singh and Sunil Singh Salam's historic bronze in the men's double 1000m along with Ram Baboo and Manju Rani's third place finish in the mixed 35km race walk were perfect examples that if athletes refuse to bow down to the hardships life throws, excelling in sports is possible.
(With PTI Inputs)