IPL 2023 to start from March 31, Gujarat to take on Chennai in opener
NEW DELHI: Defending champions Gujarat Titans will take on four-time champions Chennai Super Kings in IPL 2023 opener in Ahmedabad, the BCCI announced on Friday as it unveiled the schedule for the upcoming season.
The 16th edition of the tournament starts from March 31 and the last league match will be played on May 21.
All the 10 franchises will play 7 home and 7 away matches during the league phase of the tournament.
A total of 70 league matches will be played and will include 18 double headers, the board announced. The league matches will be played over a course of 52 days at 12 venues.
The summit clash will be played on May 28 with the schedule and venues for the Playoffs and Final to be announced at a later date.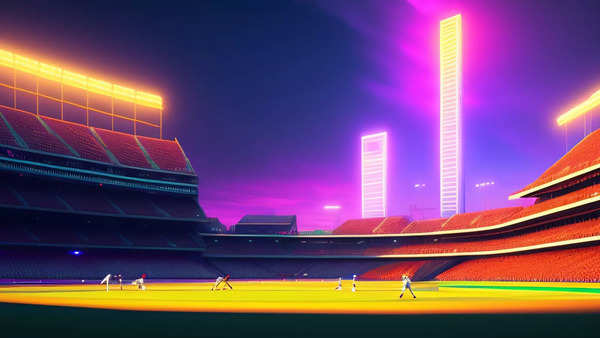 The evening matches will start from 7:30 pm IST while the afternoon matches on the day of the double headers will begin from 3:30 pm IST.
Punjab Kings will take on the Kolkata Knight Riders in the afternoon game in Mohali while Lucknow Super Giants will lock horns with Delhi Capitals in the evening game on April 1, which will be the day of the first double-header of the season.
The Sunday (April 2) evening blockbuster will be between heavyweights Royal Challengers Bangalore and five-time champions Mumbai Indians.
The first three days of the tournament itself will see all the 10 teams in action.
"Rajasthan Royals will play their first two home games in Guwahati before playing the remainder of their home games in Jaipur. Punjab Kings will play their five home matches in Mohali and then, play their last two home matches in Dharamshala against Delhi Capitals and Rajasthan Royals respectively," the board said in a release.
The final league phase match will be played between RCB and GT at the iconic M. Chinnaswamy Stadium in Bengaluru on May 21.
Here is the full schedule of the Indian Premier League 2023 (ALL TIMES ARE IN IST):
| | | | | |
| --- | --- | --- | --- | --- |
| DATE | TIME | HOME TEAM | AWAY TEAM | VENUE |
| Mar 31 | 7:30PM | GT | CSK | Ahmedabad |
| Apr 1 | 3:30PM | PBKS | KKR | Mohali |
| Apr 1 | 7:30PM | LSG | DC | Lucknow |
| Apr 2 | 3:30PM | SRH | RR | Hyderabad |
| Apr 2 | 7:30PM | RCB | MI | Bengaluru |
| Apr 3 | 7:30PM | CSK | LSG | Chennai |
| Apr 4 | 7:30PM | DC | GT | Delhi |
| Apr 5 | 7:30PM | RR | PBKS | Guwahati |
| Apr 6 | 7:30PM | KKR | RCB | Kolkata |
| Apr 7 | 7:30PM | LSG | SRH | Lucknow |
| Apr 8 | 3:30PM | RR | DC | Guwahati |
| Apr 8 | 7:30PM | MI | CSK | Mumbai |
| Apr 9 | 3:30PM | GT | KKR | Ahmedabad |
| Apr 9 | 7:30PM | SRH | PBKS | Hyderabad |
| Apr 10 | 7:30PM | RCB | LSG | Bengaluru |
| Apr 11 | 7:30PM | DC | MI | Delhi |
| Apr 12 | 7:30PM | CSK | RR | Chennai |
| Apr 13 | 7:30PM | PBKS | GT | Mohali |
| Apr 14 | 7:30PM | KKR | SRH | Kolkata |
| Apr 15 | 3:30PM | RCB | DC | Bengaluru |
| Apr 15 | 7:30PM | LSG | PBKS | Lucknow |
| Apr 16 | 3:30PM | MI | KKR | Mumbai |
| Apr 16 | 7:30PM | GT | RR | Ahmedabad |
| Apr 17 | 7:30PM | RCB | CSK | Bengaluru |
| Apr 18 | 7:30PM | SRH | MI | Hyderabad |
| Apr 19 | 7:30PM | RR | LSG | Jaipur |
| Apr 20 | 3:30PM | PBKS | RCB | Mohali |
| Apr 20 | 7:30PM | DC | KKR | Delhi |
| Apr 21 | 7:30PM | CSK | SRH | Chennai |
| Apr 22 | 3:30PM | LSG | GT | Lucknow |
| Apr 22 | 7:30PM | MI | PBKS | Mumbai |
| Apr 23 | 3:30PM | RCB | RR | Bengaluru |
| Apr 23 | 7:30PM | KKR | CSK | Kolkata |
| Apr 24 | 7:30PM | SRH | DC | Hyderabad |
| Apr 25 | 7:30PM | GT | MI | Ahmedabad |
| Apr 26 | 7:30PM | RCB | KKR | Bengaluru |
| Apr 27 | 7:30PM | RR | CSK | Jaipur |
| Apr 28 | 7:30PM | PBKS | LSG | Mohali |
| Apr 29 | 3:30PM | KKR | GT | Kolkata |
| Apr 29 | 7:30PM | DC | SRH | Delhi |
| Apr 30 | 3:30PM | CSK | PBKS | Chennai |
| Apr 30 | 7:30PM | MI | RR | Mumbai |
| May 1 | 7:30PM | LSG | RCB | Lucknow |
| May 2 | 7:30PM | GT | Delhi | Ahmedabad |
| May 3 | 7:30PM | PBKS | MI | Mohali |
| May 4 | 3:30PM | LSG | CSK | Lucknow |
| May 4 | 7:30PM | SRH | KKR | Hyderabad |
| May 5 | 7:30PM | RR | GT | Jaipur |
| May 6 | 3:30PM | CSK | MI | Chennai |
| May 6 | 7:30PM | DC | RCB | Delhi |
| May 7 | 3:30PM | GT | LSG | Ahmedabad |
| May 7 | 7:30PM | RR | SRH | Jaipur |
| May 8 | 7:30PM | KKR | PBKS | Kolkata |
| May 9 | 7:30PM | MI | RCB | Mumbai |
| May 10 | 7:30PM | CSK | DC | Chennai |
| May 11 | 7:30PM | KKR | RR | Kolkata |
| May 12 | 7:30PM | MI | GT | Mumbai |
| May 13 | 3:30PM | SRH | LSG | Hyderabad |
| May 13 | 7:30PM | DC | PBKS | Delhi |
| May 14 | 3:30PM | RR | RCB | Jaipur |
| May 14 | 7:30PM | CSK | KKR | Chennai |
| May 15 | 7:30PM | GT | SRH | Ahmedabad |
| May 16 | 7:30PM | LSG | MI | Lucknow |
| May 17 | 7:30PM | PBKS | DC | Dharamshala |
| May 18 | 7:30PM | SRH | RCB | Hyderabad |
| May 19 | 7:30PM | PBKS | RR | Dharamshala |
| May 20 | 3:30PM | DC | CSK | Delhi |
| May 20 | 7:30PM | KKR | LSG | Kolkata |
| May 21 | 3:30PM | MI | SRH | Mumbai |
| May 21 | 7:30PM | RCB | GT | Bengaluru |