IPL: Varun Chakravarthy takes five-for as KKR beat DC by 59 runs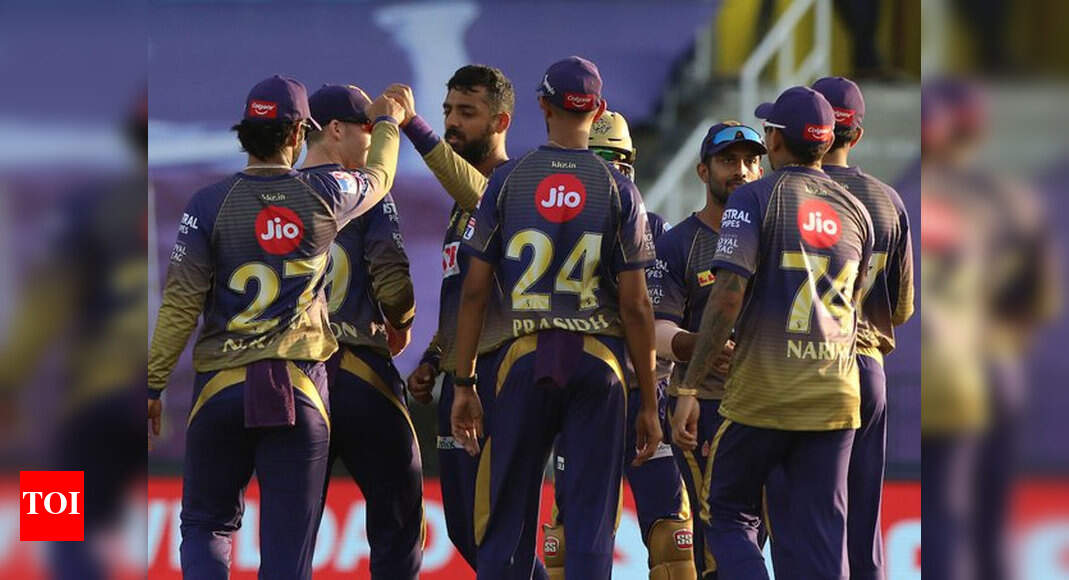 SCORECARD | LIVE BLOG
Kolkata Knight Riders beat Delhi Capitals by 59 runs
Shreyas Iyer 47
Varun Chakravarthy 5/20
Pat Cummins 3/17
That's that from Match 42. @KKRiders win by 59 runs.#Dream11IPL https://t.co/QfctclPHdn

— IndianPremierLeague (@IPL) 1603546895000
End of 20th over: And victory for Kolkata Knight Riders! First complete performance for KKR this season. Complete domination from the Eoin Morgan-led side in all the three departments as they continue their journey towards the play-offs. Win was must for KKR in this game and they have done it in style, beating the title favorites Delhi Capitals by 59 runs. A wicket as well for Lockie Ferguson in the final over. Varun Chakravarthy, Nitish Rana the stars for the show for KKR tonight. Delhi Capitals end at 135/9 after 20 overs
18.5 overs: OUT! Another nail in the coffin for Delhi Capitals. Pat Cummins removes Kagiso Rabada as Kolkata Knight Riders inch closer to victory. DC 132/8
End of 18th over: A sensational spell from Varun Chakravarthy comes to an end. Leaked 8 runs in his final over but still fishes with figures of 4-0-20-5. DC 127/7
End of 17th over: An decent over from Pat Cummins from other end as well. 7 runs from it. Varun Chakravarthy now comes in to bowl his final over. DC 119/7
Varun Chakravarthy has FIVE! Axar goes for the big slog, misses it and is clean bowled!#Dream11IPL https://t.co/MjrFmLmsHE

— IndianPremierLeague (@IPL) 1603545720000
15.5 overs: OUT! A fifer for Varun Chakravarthy. A sensational performance from him. This time he cleans up Axar Patel for 9 to gets his fifth wicket f the match. Varun has completely demolished Delhi Capitals in this run chase of 195. It should definitely now be a smooth ride for KKR from here on. DC 112/7
15.1 overs: OUT! Another one for Varun Chakravarthy. His fourth wicket and he has brought down Delhi Capitals down to their feet in this chase. Absolute carnage from Varun. This time he gets rid of Marcus Stoinis for 6. Delhi Capitals are reeling in this chase of 195. A stupendous performance from Varun in crunch game for KKR. DC 110/6
End of 14th over: A sensational over from Varun Chakravarthy. Two wickets and just 5 runs from it. Missed out on a hat-trick but has put this team in total control. Delhi Capitals are now running out of options. DC 99/5
13.3 overs: OUT! OUT! Two-in-two for Varun Chakravarthy. He is on fire! Gets Shimron Hetmyer and Shreyas Iyer off consecutive balls. Both get out, trying to hit Varun out of the park. Picked up at long-on. Delhi Capitals are now really in big trouble in this chase of 195. Varun is on a hat-trick now. DC 95/5
End of 13th over: SIX! Boundary off the last ball of Sunil Narine's over. That was in the arc of Shimron Hetmyer and he just slams it over the long-on fence. DC 94/3, need another 101 off 41 balls
11.2 overs: OUT! Varun Chakravarthy strikes second-ball of his first over. Rishabh Pant goes for the expansive sweep off Varun but finds the fielder in the deep square-leg. Pant falls for 27 as Kolkata Knight Riders break dangerous-looking partnership. DC 76/3
10.3 overs: FOUR! FOUR! Back-to-back boundaries for Delhi Capitals. Shreyas Iyer now in counter-attack mode. Collects two fours off Lockie Ferguson in the long-off region. DC 74/2
Halfway through!
Rishabh Pant 26*
Shreyas Iyer 27*
DC 64/2 after 10 overs, need another X131 off 60 balls
8.2 overs: FOUR! Full length delivery from Locki Ferguson and Rishabh Pant just whips it away to the cow corner fence. DC 55/2
End of 8th over: A decent start from Sunil Narine. 7 runs from his first over. 50 also came up for Delhi Capitals in that over. Lockie Ferguson to continue from the other end. DC 51/2
End of powerplay!
An excellent start for Kolkata Knight Riders. A couple of big wickets right at the start and they are on top of Delhi Capitals at the moment. Rishabh Pant and Shreyas Iyer are continuing this fight and looking to revive this Delhi Capitals' chase. DC 35/2 after 6 overs
4.2 overs: SIX! A cracking six from Rishabh Pant. Unorthodox from the stylish left-hander. Makes room for himself and pulls it over the short fine-leg fielder to to collect six runs. It was a decent delivery from Krishna but Pant was at this best there. DC 27/2
2.3 overs: OUT! Pat Cummins now gets rid of Shikhar Dhawan. Cleans him up with a straight delivery. Trying to run it down to the vacant third-man region, Dhawan misses the ball completely. The ball crashes onto his off stump. Dhawan departs for 6. DC 13/2
End of 2nd over: FOUR! Shikhar Dhawan collects a boundary off the last ball. Dances down the track against Prasidh Krishna and smacks him over covers to collect four runs.
End of 1st over: An excellent start from Pat Cummins. A wicket and just four runs in his first over. Prasidh Krishna to share the new ball with Cummins from the other end. DC 4/1
0.1 overs: OUT! Wicket first-ball for Pat Cummins and what a start this has been for Kolkata Knight Riders. Traps Ajinkya Rahane right in front and the umpire had no hesitation at all. Rahane falls for a duck and an early setback for Delhi in this mammoth run chase. DC0/1
Shikhar Dhawan and Ajinkya Rahane are out in the middle to start the 195-run chase for Delhi Capitals. Pat Cummins has the new ball in hand for Kolkata Knight Riders. A slip in place for Cummins. Rahane to face the first ball. Here we go!
Innings Break
Kolkata Knight Riders 194/6
Nitish Rana 81
Sunil Narine 64
Anrich Nortje 2/27
Innings Break!Half-centuries by Nitish Rana and Sunil Narine, guide #KKR to a formidable total of 194/6 on the bo… https://t.co/1w6loWNRkH

— IndianPremierLeague (@IPL) 1603540377000
End of 20th over: 10 runs and 2 wickets in the final over from Marcus Stoinis. Kolkata Knight Riders finish at a strong 194/6. Nitish Rana departed for 81 off 52 on the penultimate delivery while Eoin Morgan fell for 17 off 9 off the last ball before collecting 10 runs. Reeling at 44/3 at one stage, Nitish and Sunil Narine (64) produced a stupendous joint effort to power KKR to a terrific total.
18.5 overs: SIX! High and handsome! Eoin Morgan gets going from the other end as well. Slams Kagiso Raba for a six straight down the ground. An 84-metre long strike from the KKR skipper. KKR 180/4
End of 18th over: FOUR! Runs continue to flow for Kolkata Knight Riders. A boundary to end the over from Anrich Nortje. Nine runs from it. Kagiso Rabada to bowl the penultimate over of the innings. KKR 170/4
16.4 overs: OUT! Finally a breakthrough for Delhi Capitals. Sunil Narine this time hits it straight into the hands of Ajinkya Rahane at the fence. DC will breath a sigh of relief as Narine was taking the game away from them. Narine falls for 64 off 32 as Kagiso Rabada gets his first wicket. KKR 157/4
16.1 overs: FOUR! And the runs continue to flow for KKR. Boundaries raining for them at the moment. Outside edge off Nitish Rana's bat and the ball races to the third-man fence. Kagiso Rabada seems pretty disappointed. KKR 155/3
End of 15th over: 15 runs from Ashwin's third over including a four and a six. Last 7 overs have produced 98 runs for KKR and these two are looking very threatening at the moment. A game changing knock from both these players. KKR 142/3
50 up for Sunil Narine!
And what a brisk knock this has been from Gets there in just 24 balls. Fourth IPL fifty for Narine and he now is just looking unstoppable. KKR 133/3 after 14.2 overs
13.2 overs: SIX! FOUR! Sunil Narine now looking to hit everything over the ropes. Takes on Marcus Stoinis and dispatches his first two balls of the over for a six and a four. Runs now flowing thick and fast for both Narine and Nitish Rana. KKR 121/3
50 up for Nitish Rana!
Outside edge and the ball races to the third-man fence. A brave knock from Rana under pressure. Gets to his 50 off just 35 balls. Rana and Sunil Narine have been pretty solid so far. They both now need to end the KKR innings strongly. KKR 111/3 after 13 overs
100 up for Kolkata Knight Riders
Nitish Rana 43*
Sunil Narine 31*
KKR 102/3 after 11.5 overs
11.1 overs: FOUR! Change of ends for Ashwin and Nitish Rana welcomes him with a boundary first-ball. Goes with the reverse-sweep and hits it over the short third-man fielder. The ball races to the fence. KKR 90/3
End of 10th over: We are halfway through the first innings, and after early success for Delhi Capitals, Nitish Rana and Sunil Narine are now trying to pull things back for Kolkata Knight Riders. The partnership between them has moved to 33 off 16. Both collect 18 runs from the last over of Tushar Deshpande. KKR 75/3
9.1 overs: FOUR! Short and wide outside off from Tushar Deshpande and Sunil Narine slaps it tho the deep-point boundary. Narine has made his intentions pretty clear. He is going hard after the ball, looking for some quick runs. KKR 61/3
8.2 overs: SIX! Over-pitched from Ashwin and Sunil Narine smacks it straight down the ground for the first six of the match. 50 comes up for KKR with that 85-metre long strike from Narine. KKR 50/3
7.2 overs: OUT! Now Dinesh Karthik heads back to the pavilion for 3. Another low score for him his season. Kagiso Rabada gets the outside edge and Rishabh Pant takes a good catch behind the stumps. Karthik's poor run with the bat continues. KKR once again in trouble early. KKR 42/3
End of 7th over: A tidy first over from Marcus Stoinis. Dinesh Karthik and Nitish Rana collect five runs from it. KKR 41/2
5.4 overs: OUT! A cracking yorker from Anrich Nortje. Rahul misses and Nortje hits. Rahul tries to flick it but misses the ball completely. Just manages the toe end of his bat and the ball uproots his off stump. Second wicket for Nortje as Rahul departs for 13. KKR in trouble early. KKR 35/2
5.1 overs: FOUR! Rahul Tripathi looking to make the most in the final over of the powerplay. This time he shuffles to his left, makes room for himself and then hits Anrich Nortje over point to collect four runs.
4.5 overs: FOUR! Short this time from Axar Patel and Nitish Rana hits it in the mid-wicket region to pick up four runs. Loose ball from Axar, gets the right treatment. KKR 29/1
End of 4th over: A good first over from Kagiso Rabada. Six runs from it but twice in the over Rahul Tripathi tried to go over the top against him and mistimed. The ball on both the occasions just cleared the in-field. Rabada looking in good rhythm. KKR 22/1
2.2 overs: FOUR! Short from Tushar Deshpande and Nitish Rana pulls the ball in style over square-leg to pick up his first boundary. KKR 14/1
1.5 overs: OUT! Wicket in his first over for Anrich Nortje. Shubman Gill perishes early. Outside off from Nortje and Shubman hits it straight into the hands of Axar Patel at point. Gill walks back after scoring 9. KKR 11/1
End of 1st over: Two boundaries in the first over from Tushar Deshpande on either side of the wicket. Anrich Nortje to share the new ball with Tushar from the other end. KKR 8/0
0.2 overs: FOUR! Exquisite! Outside off from Tushar Deshpande and Shubman Gill hits it through point to collect his first boundary. Gill and KKR are off the mark with a cracking four. KKR 4/0
Shubman Gill and Nitish Rana are out in the middle to start the innings for Kolkata Knight Riders. Tushar Deshpande has the new ball in hand for Delhi Capitals. A slip in place for him. Gill on strike. Here we go!
PLAYING XIs
Kolkata Knight Riders: Shubman Gill, Sunil Narine, Nitish Rana, Rahul Tripathi, Eoin Morgan (c), Dinesh Karthik (wk), Pat Cummins, Lockie Ferguson, Kamlesh Nagarkoti, Prasidh Krishna, Varun Chakravarthy
Delhi Capitals: Shikhar Dhawan, Ajinkya Rahane, Shreyas Iyer (c), Rishabh Pant (wk), Marcus Stoinis, Shimron Hetmyer, Axar Patel, Ravichandran Ashwin, Kagiso Rabada, Tushar Deshpande, Anrich Nortje
CAPTAIN SPEAK
Eoin Morgan: We had good practice for a couple of days, just that we need to re-focus. We haven't played our best cricket, hopefully we do that today. Nagarkoti comes in, Narine comes in for Kuldeep and Banton. We were looking to bowl first, but this looks a good wicket. We enjoy playing here.
Shreyas Iyer: We will bowl first, there's bit of grass on the wicket. It will help our seamers at the start. We are not here to survive, but we're here to express ourselves, so our mindset will be the same. We will have the same approach. Every player has been Man of the match on some occasion and it's good to see the camaraderie within the team. Rahane comes in for Prithvi, Nortje comes in for Sam.
TEAM NEWS: For KKR, Kamlesh Nagarkoti and Sunil Narine come in, Kuldeep Yadav and Banton miss out. In Delhi's XI, Ajinkya Rahane comes in for Prithvi Shaw, Anrich Nortje replaces Sam.
TOSS NEWS: Delhi Capitals win the toss and top to bowl first.
Hello and welcome once again to the live coverage of another double-header Saturday in the Indian Premier League, and the day begins with a contest between two teams in contrasting forms – the up and down Kolkata Knight Riders vs the in-form and consistent Delhi Capitals.
Here's the Match Preview:
It's been a stop-start season for the Kolkata Knight Riders so far and they will need to dish out an exceptional performance when they face table toppers Delhi Capitals in Abu Dhabi.
In spite of the bashing at the hands of Royal Challengers Bangalore in their last match, KKR still remain in the race for a playoff berth. With 10 points from as many matches, the Kolkata outfit will have to win at least three of their remaining four matches to qualify.
However, that will be a tough task for a team which continues to be let down by its batsmen. Their dilemma remains accommodating both Andre Russell and Sunil Narine.
Given the four foreigners quota, new skipper Eoin Morgan and pacer Lockie Ferguson are automatic choices. Pat Cummins has been scrappy with the ball, but has delivered with the bat in crucial situations.
So, it's only Tom Banton who can be sacrificed for Russell. The Jamaican, however, has been mostly unfit and his limitation against the short ball has been exposed by pacers Kagiso Rabada and Jasprit Bumrah.