'It is crucial that we don't worry…': Rohit urges team ahead of clash with Pak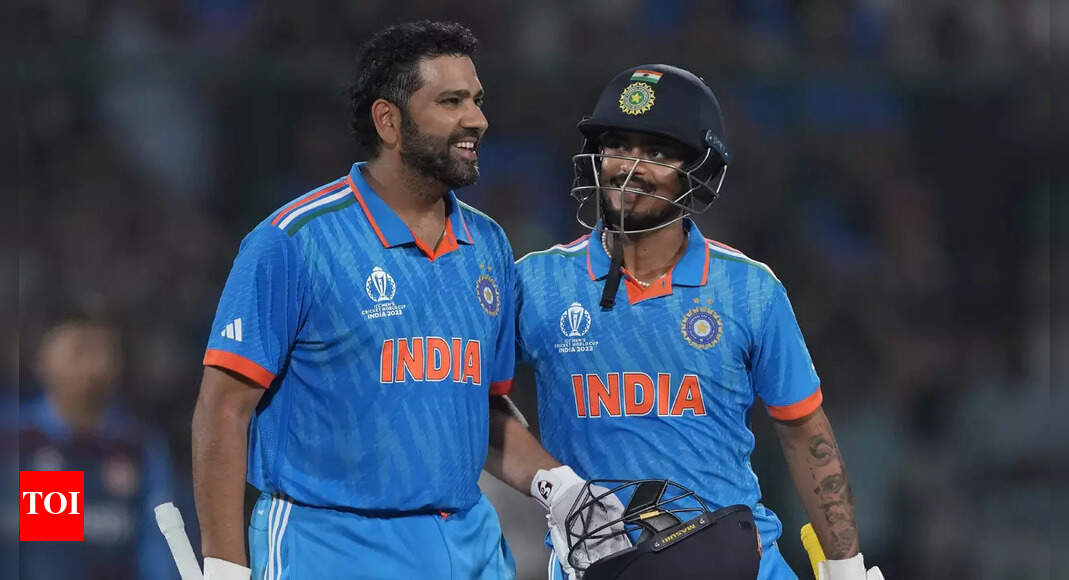 NEW DELHI: Following India's commanding eight-wicket victory over Afghanistan, captain Rohit Sharma has urged his team to maintain their focus on "things we can control" as they prepare for the highly anticipated World Cup clash against arch-rivals Pakistan.
India secured their second consecutive win in the World Cup with a resounding victory over Afghanistan. Rohit played a pivotal role in the triumph, scoring an impressive 131 off 84 balls.This victory propelled the team to the second position in the points table.
Scorecard: India vs Afghanistan
"(It) was a good win for us, very important to get that momentum at the start of the tournament," Rohit said during the post-match presentation.
Rohit stressed the importance of concentrating on elements within their control, while dismissing external distractions. The captain's message was clear: the team needs to focus on what they can do as players and how they can perform.
India's next challenge is the mega World Cup clash against arch-rivals Pakistan, a match that has cricket fans eagerly awaiting an intense battle between the two cricketing giants.
"For us it is crucial that we don't worry about external factors and just look at things we can control. We just need to show up and do well," Rohit said while talking about India's clash against Pakistan on Saturday in Ahmedabad.
"Things like what the pitch is like, what combo we can play is what we can control. What happens outside we won't be worried about it. It is just about focusing on what we can do as players and how we can perform," the India captain added.
Rohit Sharma breaks Sachin Tendulkar's this World Cup record, slams 31st ODI hundred against Afghanistan
Rohit said absorbing pressure was a key factor in the first game for India in this World Cup. After being reduced to 5/3, India defeated Australia in the first match by six wickets to stamp their authority.
"We have got guys who can play fearless cricket with bat and guys who can absorb like the last game. It is about absorbing pressure and taking the right decision on the field," Rohit said.
"There will be a spell from the opposition where you will have to absorb pressure. Leading up to the tournament, we had played such games. We have got players with different skill sets in our team. They bring different attributes of the game to the team and it puts you in good positions as a team when you have that," he added.
Rohit on Wednesday recorded the most number of centuries in World Cup history, surpassing the legendary Sachin Tendulkar during his magnificent 131 against Afghanistan. He also went past West Indies' Chris Gayle (553 sixes across formats) to record most sixes in international cricket across formats.
"I knew once I got my eye in, the wicket was going to get easier for me. (It is) something that I have been working on for a long time. It is a special feeling to get a World Cup hundred. (I am) really happy with that. Don't want to think too much; I don't want to lose my focus," he said.
Rohit said it was crucial to convert a start into a big score with a fearless approach. "You need to make such things count. You got to make it big. Some of it (the shots) is premeditated. I let my instincts take over at times, sometimes it really works well," he said.
Afghanistan captain Hashmatullah Shahidi said his side wanted to reach 300 but failed to do so as they lost too many wickets in the middle.
"We had (it) in mind that India's batting line-up is long, (a total of) 300 was on our mind but unfortunately we lost too many wickets. The surface was good. We wanted to score more runs and put pressure on the opposition. Back-to-back wickets were the reason didn't score more runs. After losing three wickets, I was talking to Azmatullah (that we must not) don't worry about dots, we will convert later. Our aim was to build a partnership," Shahidi said.
(With inputs from PTI)