Jaishankar signals India may resume visa services for Canadians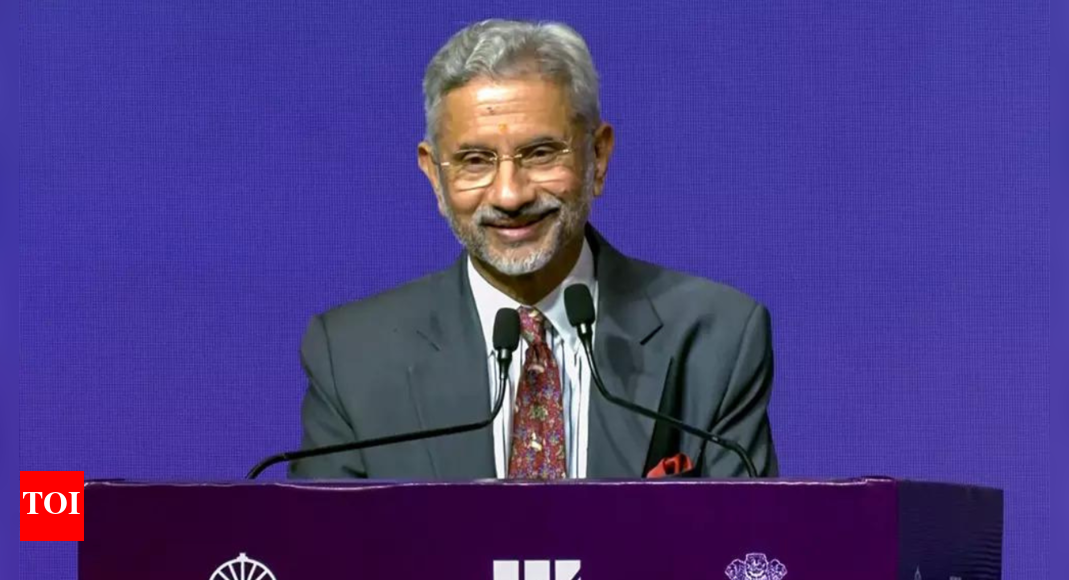 The government looked to fend off the visa blowback from the diplomatic row with Canada as it signalled Sunday it might resume visa services for Canadian nationals. After foreign minister S Jaishankar said this could happen "very, very soon", government sources here said India was reviewing the security situation that forced it to suspend visa services in Canada exactly a month ago.
India had also suspended visa services for Canadians in third countries, as well as the e-visa facility.The development came notwithstanding fresh tensions over India's decision to ensure parity in diplomatic presence with Canada by expelling 41 Canadian diplomats. While the US and UK have backed Canada's position that India had acted unilaterally and in doing so violated theVienna Convention, Jaishankar asserted Sunday India's action was backed by the Convention.
Canada had retaliated to the expulsion by "unilaterally'' shutting services in its 3 consulates Chandigarh, Mumbai and Bengaluru, raising concerns about possible disruption in visa services for Indian nationals.
Speaking at the Kautilya Economic Conclave, Jaishankar said India stopped issuing visas because it was no longer safe for Indian diplomats to go to work as Canada wasn't fulfilling its obligations under the Vienna Convention.
"We are tracking it (the visa issue) very closely. My expectation is that the situation will improve in the sense that our people will have greater confidence in being able to do their basic duty as diplomats. As you know, ensuring safety and security of diplomats is the most fundamental aspect of the Vienna Convention and that is what has been challenged in Canada. So, if we see progress there, I would like very much to resume visa services. My hope is that it's something that would happen very, very soon," said the minister.
The minister also said that while the relationship with Canada right now is going through a difficult phase, India's problems were with a "certain segment of Canadian politics and policies which flow from it". "I want people to understand the extent of the issue," said Jaishankar, who has in the past attributed the Justin Trudeau government's reluctance to act against Khalistani separatists to vote-bank politics.
India refutes Canada's accusation of breaching Vienna Convention: MEA states 'no violation' in requesting diplomats' withdrawal
After Trudeau alleged that India might have a role in the slaying of Khalistan leader Hardeep Singh Nijjar, India had asked Canada to downsize its high commission in New Delhi saying Canadian diplomats were interfering in India's internal affairs. Looking to address concerns that a depleted Canadian mission may delay processing of Indian visas, Jaishankar said people will get to know more about this interference in the future and about why India was concerned about their activities.
"Parity is very much provided for by the Vienna Convention which is the relevant international rule on this. We invoked parity because we had concerns about continuous interference in our affairs by Canadian personnel. We haven't made much of that public. My sense is that over a period of time, most of it will come out and people will understand why we had the kind of discomfort with many of them which we did," said Jaishankar.
India is hoping that Canada will also review its decision to "unilaterally" shut consulates in Chandigarh, Mumbai and Bengaluru. According to the Indian government, it had sought parity in diplomatic representations only in the respective high commissions in New Delhi and Ottawa and that the consulates were to remain unaffected. India and Canada have deep people to people ties, mainly because of the 1.7 million-strong Indian diaspora in the North American country and also because Canada remains a preferred destination for many Indian students.
Watch "Will resume Visas in Canada If…" Jaishankar's sharp rebuttal to Trudeau's 'Vienna Convention allegations' amid India-Canada diplomatic row