Jasprit Bumrah has potential to reach where James Anderson has: Walsh
CHENNAI: Longevity and endurance were hallmarks of Courtney Walsh's storied career. The former West Indian pacer, who is currently the coach of St. Kitts and Nevis Patriots in the Caribbean Premier League (CPL), was the first-ever player to reach 500 Test wickets and eventually finished on 519 from 132 Tests.
Recently, James Anderson set a new benchmark by becoming the first pace bowler to 600 Test wickets. Walsh spoke exclusively to TOI about Anderson's remarkable longevity, being part of the CPL in a bio-bubble and more.
Excerpts:
Your thoughts on Anderson becoming the first fast bowler to take 600 Test wickets…
It is a fantastic achievement. It is a monumental effort for any fast bowler to play as much as you need to for taking 500 or 600 wickets. It just shows the hard work and dedication that Anderson has put in over the years. He truly deserves every accolade he gets. The fact that he still wants to play and aim for 700 wickets is tremendous.
What does it take for a fast bowler to have a long career? What is behind Anderson's longevity?
Once you get to know your bowling action, it will help you to survive and play for many years. Anderson is not as quick as he used to be when he was younger, but his skill sets have gotten better. He has more consistency. That is what you need. The smoothness of his action and the minimal effort it takes out of his body have allowed him to prolong his career for so long. He has an action that is not stressful on the body.
You were the first to take 500 Test wickets, but quite a few bowlers are reaching these landmarks now. Will more and more bowlers cross the 500-wicket mark?
It's certain with the amount of cricket being played now that records will be broken. You will find a lot more bowlers getting past 500-600 wickets. I am hoping I can be alive to witness someone taking 1000 wickets. I was predicting at one time that Muttiah Muralitharan will cross it, but he retired on 800. It's not an easy road, but it's possible.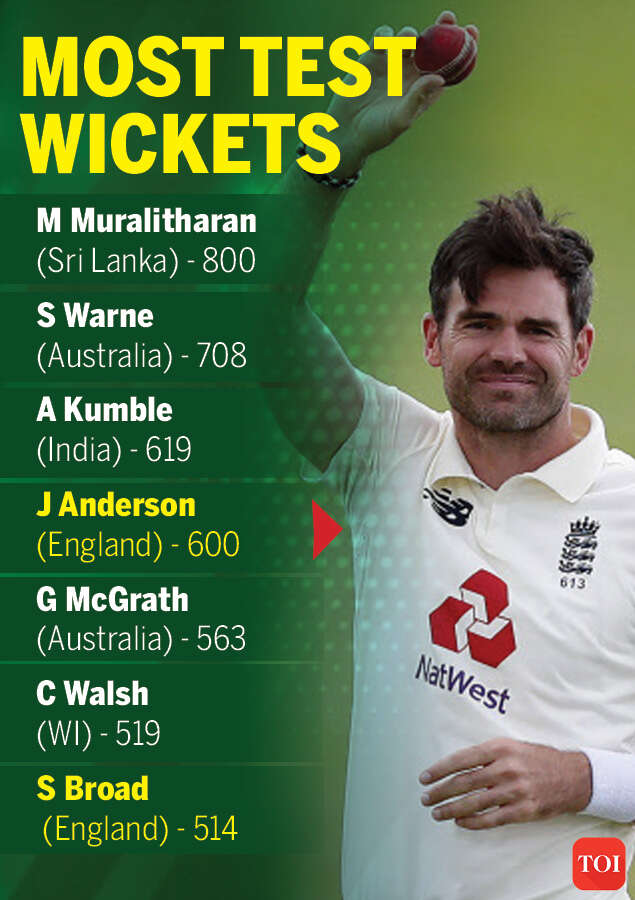 The Indian team has high hopes from Jasprit Bumrah. Do you think he can match up to the fast bowling greats?
He has the potential to reach where Anderson and Broad have. He is a very skilful bowler. He has a funny run-up that people might want to change. But it is what is best for him. If he stays fit, he could make his mark in a big way in all formats. It is just about how hungry he is to achieve success.
CPL was the first T20 league to start after coronavirus. What have the challenges been and what lessons can the IPL take?
It's a good initiative by the CPL to have been the first T20 league to start after coronavirus. I think the IPL would have seen what England did during the Test matches against West Indies and Pakistan and what we have done during the CPL too. I am sure they will have everything in place to secure the safety of the players. I am expecting a good IPL. Since it is being held in the UAE, I expect it to be easier to manage.