Legendary spinner Bishan Singh Bedi passes away at 77
NEW DELHI: Former India captain Bishan Singh Bedi passed away on Monday at the age of 77 after prolonged illness.
He is survived by his wife Anju, son Angad and daughter Neha.
Bedi is an iconic figure in the world of cricket. Born on September 25, 1946, in Amritsar, Bedi is celebrated for his exceptional left-arm spin bowling.
Bedi represented the Indian national cricket team from 1966 to 1979, during which he emerged as one of the finest spin bowlers in the sport's history.
Bedi's graceful, rhythmic action and the ability to impart prodigious spin on the ball set him apart. His illustrious career saw him amass 266 wickets in 67 Test matches with 14 five wicket hauls and one 10-wicket haul.
Bedi's impact extended to the limited-overs format as well, with seven wickets in 10 one-day internationals. He played a pivotal role in India's inaugural ODI victory, notably in the 1975 World Cup. In a remarkable display of bowling prowess, Bedi's figures of 12-8-6-1 severely constricted East Africa, limiting them to a mere 120 runs.
Bedi, Erapalli Prasanna, BS Chandrasekhar, and S Venkataraghavan collectively orchestrated a revolutionary transformation in India's spin bowling legacy.
Bedi was briefly the manager of the Indian cricket team in 1990 during tours of New Zealand and England.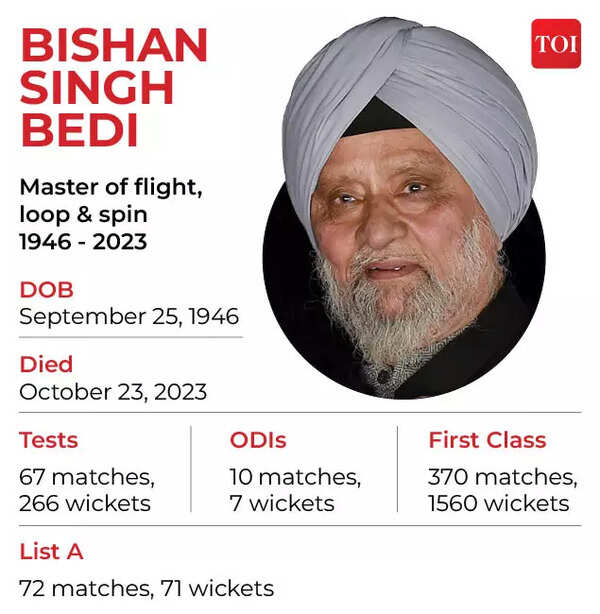 Bedi stood as one of the most esteemed Indian cricket captains, having led the national team in Test cricket for an impressive duration spanning from 1975 to 1979, following Mansur Ali Khan Pataudi's retirement.
Beyond his national captaincy, Bedi also left a lasting legacy as the longest-serving captain of the Delhi Ranji team, holding the role from 1974 to 1982. Under his guidance, the Delhi team emerged as a formidable presence on the national cricket scene, earning a reputation as a dominant force in the domestic circuit.
Beyond his on-field brilliance, the legendary spinner is known for his commitment to cricket ethics, sportsmanship, and his continued involvement in the game as a coach and mentor. His legacy remains an indelible part of Indian cricket history.
Sports Minister Anurag Thakur condoled the demise of Bedi saying: "This is a huge loss for cricket."
Home Minister Amit Shah also paid tributes to Bedi.
Watch Former India spin legend Bishan Singh Bedi passes away