'Loot ki Dukaan', 'failed product': PM Modi targets Rahul Gandhi in Lok Sabha speech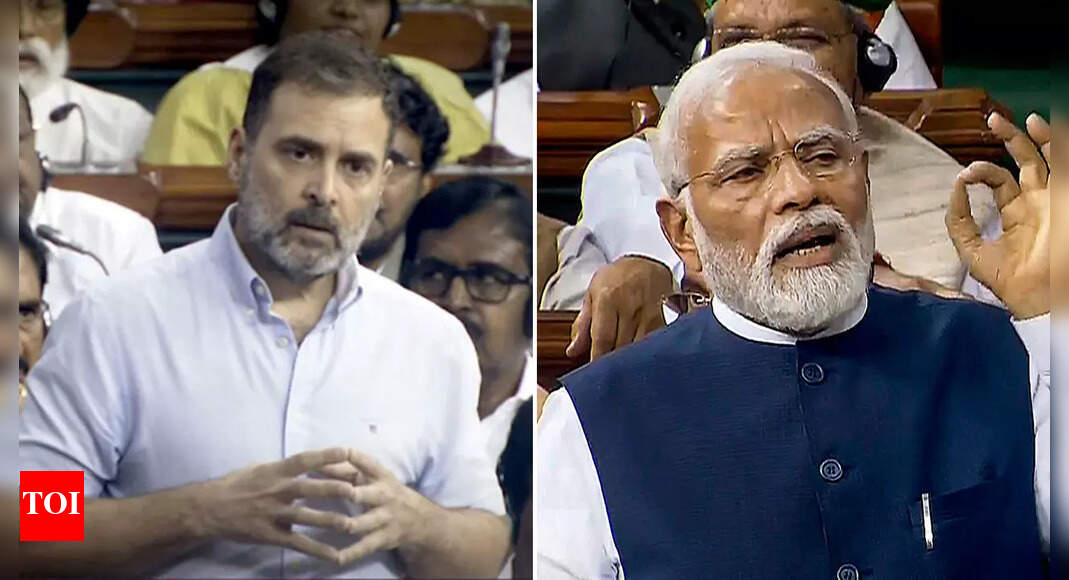 NEW DELHI: Prime Minister Narendra Modi on Thursday targeted Rahul Gandhi during his reply in Lok Sabha to the debate on no-confidence motion. From slamming Rahul for his remarks on Maa Bharti to attacking his Mohabbat ki Dukaan, PM Modi took swipes at the Congress leader several times.
"Some people here were wishing for 'death of Bharat Mata', how can they speak like this," PM Modi said referring to Rahul Gandhi's speech yesterday.
On the second day of the debate on no-confidence motion, Rahul Gandhi launched a broadside against the Narendra Modi government over its handling of Manipur violence."The politics of the BJP has "murdered Bharat Mata" in Manipur," Rahul alleged and called members of the ruling party "traitors".
Rahul slammed Prime Minister Modi for not visiting Manipur and alleged that the PM does not consider the state a part of India, evoking strong protest by the treasury benches.
PM Modi's second attack on Rahul Gandhi was on the Congress leader's politics of "Mohabbat ki dukan".
"They talk of Mohabbat ki Dukan but they run 'loot ki dukaan', 'nafrat ka bazaar', they sell partition, Emergency, atrocities and appeasement politics," PM Modi said.
In the third attack on the former Congress president, PM Modi repeated the jibe made by Union home minister Amit Shah yesterday of "failed launches".
"For years they have been launching 'failed product', but every time it 'fails', PM Modi said in a dig at Congress leader Rahul Gandhi.
Watch PM Narendra Modi takes 'failed product' dig at Rahul Gandhi