MI vs DC Final Live: Pant falls after fifty, Iyer key for Delhi's big finish
Live Blog | Scorecard
End of 19th over: A terrific penultimate over from Jasprit Bumrah. Just 6 runs and more importantly there was no boundaries in it. Nathan Coulter-Nile comes in to bowl the final over of the innings. DC 148/5
End of 18th over: Six runs and a wicket from Trent Boult's final over. He finishes with figures of 4-0-30-3. Jasprit Bumrah comes in to bowl the penultimate over of the innings. DC 142/5
17.4 overs: FOUR! Wide outside off from Trent Boult and Axar Patel cuts it behind point to collect his first boundary. A terrific shot from Axar. DC 141/5
17.2 overs: OUT! No Shimron Hetmyer fireworks today. Short from Nathan Coulter-Nile and Hetmyer hits it straight to the short third-man fielder. Hetmyer falls for 5 as Trent Boult gets his third wicket of the evening. DC 137/5
FIFTY!Third half-century of the season for @ShreyasIyer15. An important knock by the #DelhiCapitals Skipper.Liv… https://t.co/2nPtLA5tlx

— IndianPremierLeague (@IPL) 1605022073000
50 for Shreyas Iyer!
A terrific knock from the skipper in the finale and under pressure. Leading his team from the front. Scores his third half-century of the season. Came into the match with a series of low scores but roars back to form in the decisive game. DC 131/4
End of 16th over: FOUR! Nice inside-out shot from Shimron Hetmyer off the last ball from Jayant Yadav. Collects his first boundary of the evening. Excellent timing and placement from Hetmyer. Jayant Yadav is done for the evening. He finishes with figures of 4-0-25-1. DC 125/4
14.6 overs: OUT! Nathan Coulter-Nile finally breaks the dangerous Shreyas Iyer-Rishabh Pant Partnership. Bumper from Coulter-Nile and Pant goes for the pull. Mistimes and hits it straight to Hardik Pandya at the fine-leg fence. Pant falls soon after his fifty but has put Delhi innings back on the track. Pant walks back after an entertaining 56. DC 118/4
50 for Rishabh Pant!
First of the season! First after 15 innings! And what a stage to roar back to form. Gets to his 12th IPL fifty with a stylish boundary towards the fine-leg region. Gets down on one knee and and guides it to the fence. A fifty off just 35 balls.
End of 14th over: FOUR! A paddle-sweep from Rishabh Pant off the last ball of Krunal Pandya's over and the ball races to the fine-leg fence. A quicker delivery fired up to the pads of Pant and he places it to perfection. Pant has moved to 48 off just 33 balls. DC 108/3
100 up for Delhi Capitals!
And what a recovery this has been from Shreyas Iyer and Rishabh Pant after a horrible start. They were 22 for 3 at one stage. The partnership between the Pant and Iyer has reached 78* off 57 balls and both are looking solid out there in the middle.
Rishabh Pant 42*
Shreyas Iyer 39*
DC 100/3 after 13 overs
11.6 overs: SIX to end the Kieron Pollard over. A nothing ball from Pollard and Shreyas Iyer whacks it into the second tier over the mid-wicket fence. Both Iyer and Rishabh Pant leading this Delhi Capitals fightback. DC 94/3
11.2 overs: FOUR! Wide outside off from Kieron Pollard and Rishabh Pant cuts it fine to collect his third boundary. Pant now looking pretty comfortable out there in the middle. DC 87/3
End of 11th over: A decent comeback over from Jasprit Bumrah. 6 runs from it. Kieron Pollard now comes into the attack for the first time this evening. DC 81/3
Pant and Iyer steady ship for #DelhiCapitals with a solid 50-run partnership.Live – https://t.co/iH4rfdz9gr… https://t.co/u2DE9BpQ6u

— IndianPremierLeague (@IPL) 1605019907000
Halfway through in this first innings and Shreyas Iyer (26*) and Rishabh Pant (32*) have brought Delhi Capitals back on track after a horrendous start. Pant has clearly been the aggressor and is now looking very confident. Both collect 16 runs off the Krunal Pandya over. MI skipper Rohit Sharma has sensed the danger and has now brought Jasprit Bumrah into the attack. DC 75/3 after 10 overs
9.5 overs: SIX! Another one! This time through mid-wicket. Rishabh Pant taking on Krunal Pandya. Once again uses his raw power and slams the ball into the first tier. Pant has raced to 31 off 19 balls. DC 74/3
9.2 overs: SIX! Bang! Straight as an arrow! Rishabh Pant dances down the track against Krunal Pandya and smacks him over the sightscreen. A ferocious strike from Pant.
End of 9th over: Two tight overs from Krunal Pandya and Jayant Yadav as Delhi Capitals continue to struggle. In the last 3 overs, both Rishabh Pant and Shreyas Iyer have not been able to find the fence. Mumbai spinners keeping both Pant and Iyer in check. DC 59/3
End of 7th over: Another tight over from Jayant Yadav. Just 5 from it. Krunal Pandya now comes into the attack for the first time. DC 46/3
End of Powerplay!
Shreyas Iyer 19*
Rishabh Pant 5*
DC 41/3 after 6 overs
5.3 overs: Dropped! Straight through the hands of Ishan Kishan at covers. Outside off from Nathan Coulter-Nile and Shreyas Iyer slaps to the right of the cover fielder. Kishan puts in the dive, gets to the ball but it goes right through his hands. Kishan is in trouble as he is walking off the field. Hopefully no major damage is done. Iyer gets a lucky reprieve. DC 36/3
4.4 overs: FOUR! Another boundary in the same direction. This time Shreyas Iyer stands tall and punches the ball through covers to pick up the second boundary off Trent Boult. DC 34/3
4.1 overs: FOUR! A cracking cover drive this time from Shreyas Iyer. Uppish but in the gap. Slightly over-pitched from Trent Boult and Iyer wasted no time on that one. Jayant Yadav gives it a chase but it goes in vain. DC 29/3
Pumped up and how!#MumbaiIndians #Dream11IPL #Final https://t.co/kNQG2FaeUs

— IndianPremierLeague (@IPL) 1605018357000
3.3 overs: OUT! Another wicket! This time its Jayant Yadav. A wicket in his first over. The only change Mumbai Indians made in their playing XI and Jayant has delivered straightaway. Castles in-form Shikhar Dhawan as he misses the ball completely, attempting a slog sweep. Dhawan falls for 15. DC 22/3
End of 3rd over: Just three overs into the final and so much has already happened. A terrific start from the Mumbai Indians. Another fiery over from Trent Boult. Almost got rid of Shreyas Iyer as well on the last ball. Offie Jayant Yadav now comes into the attack. DC 20/2
2.4 overs: OUT! And again its Trent Boult. This time down the leg side. Faint edge and Quinton de Kock completes an easy catch. Boult and Mumbai Indians are on fire! Ajinkya Rahane now falls for 2. Delhi Capitals are in big trouble early in this final. DC 16/2
2.1 overs: FOUR! Shikhar Dhawan charges down the track and hits Trent Boult over covers for a boundary. That will certainly calm down some nerves for Dhawan. Excellent timing on that occasion from Dhawan as the ball races to the fence. DC 15/1
End of 2nd over: Good first over from Jasprit Bumrah as well. Both Shikhar Dhawan and Ajinkya Rahane looking nervous at the moment against this quality pace attack of Mumbai Indians. Trent Boult to continue from the other end. DC 11/1
End of 1st over: A terrific start from Trent Boult. Wicket in his first over! 5 runs along with the wicket of Marcus Stoinis. Jasprit Bumrah to share the new ball with Boult from the other end. DC 5/1
0.4 overs: FOUR! First boundary of the evening for Delhi Capitals and Shikhar Dhawan. On the pads from Trent Boult and Dhawan just times it to perfection. Flicks it towards the mid-wicket fence to collect four easy runs. DC 5/1
0.1 overs: OUT! And what a start from Trent Boult. A jaffa first up! Away-swinger and that one kept on rising after pitching. Takes the outside edge of Marcus Stoinis' bat and straight to wicketkeeper Quinton de Kock. First-ball duck for Marcus Stoinis. DC 0/1
Marcus Stoinis and Shikhar Dhawan are out in the middle to start the Delhi Capitals innings in this IPL 2020 finale. Trent Boult has the new ball in hand for Mumbai Indians. A slip in place for him. Stoinis to face the first ball. Here we go!
Playing XI for both teams!
A look at the Playing XI for the #Final of #Dream11IPL 2020 https://t.co/lcK8ZRdB9Y

— IndianPremierLeague (@IPL) 1605015793000
Mumbai Indians: Quinton de Kock(w), Rohit Sharma(c), Suryakumar Yadav, Ishan Kishan, Hardik Pandya, Kieron Pollard, Krunal Pandya, Nathan Coulter-Nile, Jayant Yadav, Trent Boult, Jasprit Bumrah
Delhi Capitals: Marcus Stoinis, Shikhar Dhawan, Ajinkya Rahane, Shreyas Iyer(c), Shimron Hetmyer, Rishabh Pant(w), Axar Patel, Ravichandran Ashwin, Kagiso Rabada, Praveen Dubey, Anrich Nortje
Delhi will be very happy to have won this toss. Always good in a final to have runs on the board.

— Harsha Bhogle (@bhogleharsha) 1605015292000
Captains at the toss!
Rohit Sharma: To be really honest I was very confused, so don't mind losing the toss. It is going to be a good track, it doesn't change much. We have to bowl aggressively at the start and then see how it goes. It feels nice to be part of another final. It is going to be a cracker of a game. The past doesn't matter, it is a fresh day, a fresh game and the pressure of this final will be different. But the guys have been in these pressure situations before, they understand the pressure of finals and yes, we have just got to treat this as another game. Hopefully we can execute what we've discussed on the field. Everyone's fit, but just one chance — Rahul Chahar misses out and Jayant Yadav comes in. Just a tactical move considering the amount of left-handers they have in the side. Rahul has been bowling really well for us so sad to leave him out, but Jayant is a quality bowler as well.
Shreyas Iyer: We'll bat. It really worked out pretty well in the last game. When you have a really good total on the board the bowling gets a lot of confidence. We've seen it through the tournament and in a big final runs on the board helps The wicket also looks amazing to bat on. They have been champions through the years and even the way they've been playing this season. We have nothing to lose, we havr to embrace it and have no regrets at the end of it. The team atmosphere is really motivated, we are in a good mood and have to enjoy the day. We are sticking with the same team.
#DelhiCapitals have won the toss and they will bat first in the #Final of #Dream11IPL 2020.Updates -… https://t.co/ivEW0NRA0T

— IndianPremierLeague (@IPL) 1605015446000
Team news: One change for Mumbai Indians as Jayant Yadav replaces Rahul Chahar. Delhi Capitals remain unchanged.
Toss news: Delhi Capitals skipper Shreyas Iyer wins toss, opts to bat against Mumbai Indians in Dubai.
Pitch report – "This pitch has been good. The whole square has been good. I see a beauty, I am licking my lips. This is the pitch used for that qualifier. There has been a good balance between bat and ball, with the ball coming on nicely. The faster bowlers have enjoyed bowling here. The spinners were in play. You'd bat first on this, but you're not going to be disadvantaged by the toss," said Mark Nicholas and Pommie Mbangwa.
And how about the experts for today's clash!
The comms looking 👌 for the #Final of #Dream11IPL https://t.co/nXqNrHERZR

— IndianPremierLeague (@IPL) 1605014588000
Another IPL milestone for Mumbai Indians skipper Rohit Sharma!
Double hundred for our Hitman! 💪💙Tonight will see Ro play his 200th IPL game and the 155th in #MI colours 🤩… https://t.co/Eyglb5YLG9

— Mumbai Indians (@mipaltan) 1605007808000
Mumbai Indians and Delhi Capitals journeys this IPL!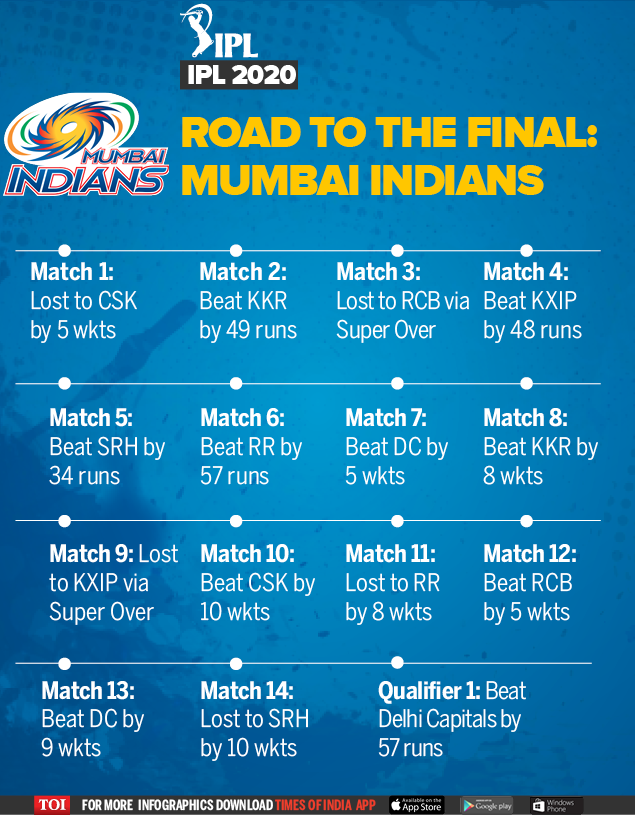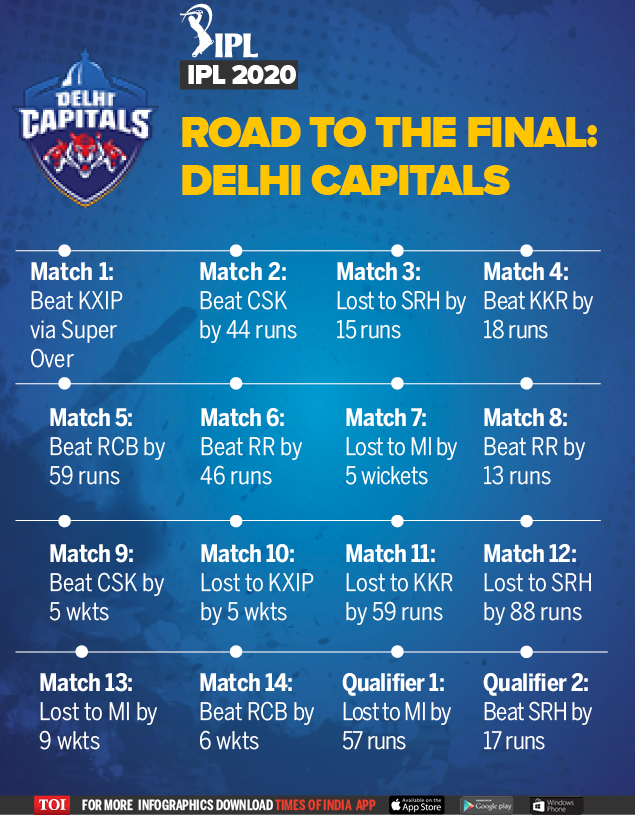 Players from both the teams are out in the middle, warming up ahead of the finale. We are just 30 minutes away from the toss.
Everything to play for!Two teams and 1 🏆Will #MumbaiIndians add another one to their trophy cabinet or will… https://t.co/Mk8VexYUBb

— IndianPremierLeague (@IPL) 1605006815000
The Big Day is finally [email protected] led #MumbaiIndians will take on @ShreyasIyer15 led #DelhiCapitals tonight in… https://t.co/UDu9oyXheU

— IndianPremierLeague (@IPL) 1605011333000
Hello and welcome to TimesofIndia.com's live coverage of the IPL 2020 Final where four-time and defending champions Mumbai Indians take on the first time finalist Delhi Capitals in Dubai.