Most memorable batting performances by Indians in Tests in Australia
NEW DELHI: When you have a cricketing rivalry as old and as interesting as the one between India and Australia, there are bound to be numerous performances from both sides that become part of cricket folklore and are remembered for a long time to come.
Here we look at five of the most memorable batting performances in India vs Australia Tests by Indians in Australia:
Sachin Tendulkar: 114 in Perth (1992)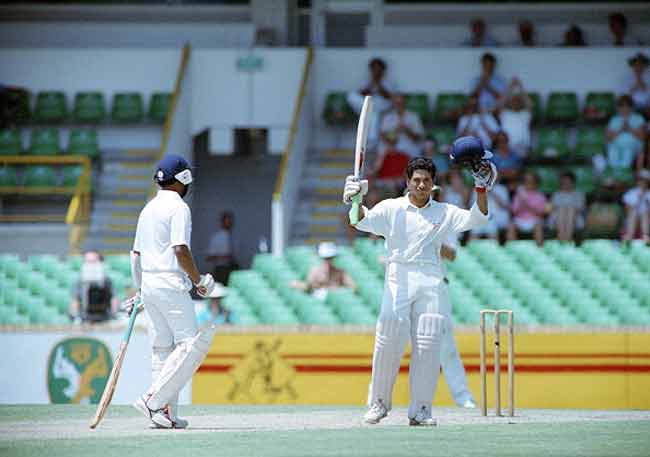 Sachin Tendulkar celebrates his century against Australia in Perth on February 3, 1992. (AFP Photo via Getty Images)
When Sachin Tendulkar landed in Australia as a 18-year-old, he already had a reputation of being a batting wonder-kid, who had saved a Test for India against England in Manchester in 1990. And by the time the Indian team reached Perth for the fifth Test of the series, Tendulkar had already given the Australian public glimpses of his marvellous batting genius with a swashbuckling unbeaten 148 in the third Test in Sydney.
But what unfolded that day at the WACA Ground on the bounciest pitch in the world at that time, was a batting masterclass against a bowling attack that had the likes of Craig McDermott, Merv Hughes, Paul Reiffel, Mike Whitney and Tom Moody. And that it came from an 18-year-old when only four of his teammates reached double figures in that innings, showcased a very mature head on very young shoulders.
Batting after Australia's 346, Tendulkar arrived at the crease with India at 69/2. The Aussies tried to bounce him out, but Tendulkar dug in deep and displayed an array of shots consisting of cuts and pulls, smashing 16 fours to reach his third Test hundred.
With India folding up for 272, Tendulkar's was the last wicket to fall. Though India lost the Test by 300 runs, Tendulkar's innings is still regarded as the one of the best knocks played by an overseas batsman in Australia.
Rahul Dravid: 233 in Adelaide (2003)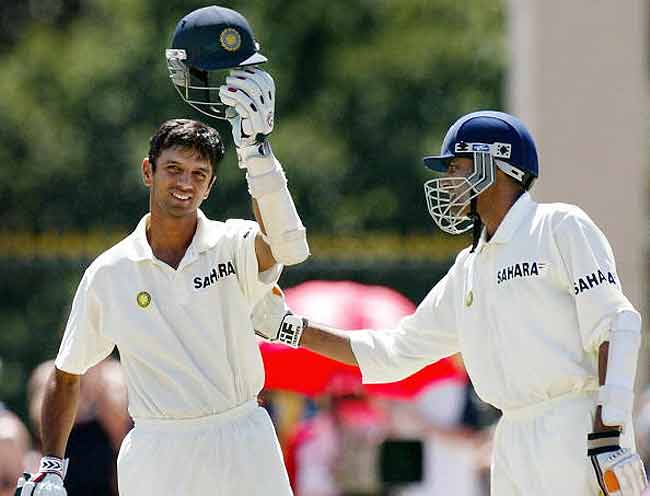 Rahul Dravid is congratulated by Anil Kumble on hitting a double century against Australia in Adelaide on December 15, 2003. (AFP Photo via Getty Images)
Rahul Dravid's first tour to Australia in 1999 was nothing short of disastrous with a highest score of 35 in the first Test in Adelaide. But by the time the 2003-04 tour came along, Dravid had enhanced his reputation of being one of the finest Test batsmen in the world and had also played the greatest supporting act in the history of Indian cricket in the previous series against Australia (2001) – a momentous 180 at the Eden Gardens, when India won the match after following on.
Batting first in the second Test of the series in 2003, Ricky Ponting smashed 242 as the Aussies racked up 556 runs on the board. India were reeling at 85/4 when VVS Laxman walked out to join Dravid at the crease. And together the 'Aussie tormentors' replayed their legendary Eden partnership with a 303-run stand for the fifth wicket. Dravid reached his century off 223 balls on Day 3 and kept going great guns after the dismissal of Laxman (148), notching up his fourth Test double hundred off 386 deliveries on Day 4. Dravid hit 23 fours and a six in his 233-run knock and his was the last wicket to fall with India having scored 523 runs in their first innings.
Dravid followed up his first innings marathon effort with an unbeaten 72-run knock in the second innings as India chased down a 230-run target to win the match by 4 wickets and take a 1-0 series lead against Australia in Australia for the first time ever.
Sourav Ganguly: 144 in Brisbane (2003)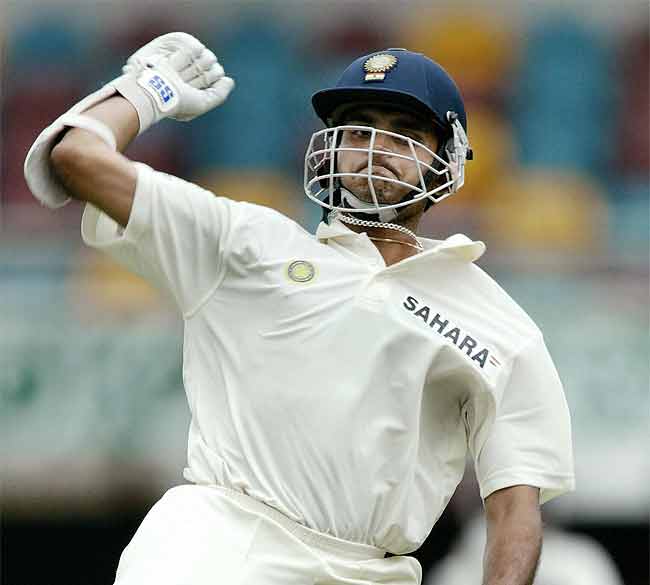 Sourav Ganguly celebrates his century against Australia at the Gabba in Brisbane. (AFP Photo via Getty Images)
Even before the Indian cricket team embarked on their 2003-04 tour to Australia, the mind games had begun and most of the banter, as usual, came from the Aussies. There were talks of 'chin-music' being dished out to the Indians, especially to the captain Sourav Ganguly, who had ruffled quite a few Aussie feathers in the 2001 series in India.
The desperate Aussies were gunning for revenge and with the first Test at their most favoured venue – The Gabba, they were expected to have the upper hand when Ganguly walked out for the toss with Steve Waugh, who was playing his last series.
Ganguly won the toss and asked Australia to bat first. Play on the first three days was hampered due to rain. Zaheer Khan took 5 wickets, but Justin Langer's 121 took the hosts to 323 in their first innings. Aakash Chopra and Virender Sehwag put up a 61-run opening stand before the latter fell to Nathan Bracken. But when Jason Gillespie dismissed Rahul Dravid and Sachin Tendulkar (adjudged out wrongly by umpire Steve Bucknor) in one over, India were in a spot of bother at 62/3. And then Ganguly walked out to join Chopra at the crease.
Ganguly drove through the covers, cut through point, pulled to mid-wicket, flicked through mid-on, all the shots that bore the elegance of a left-handed batsman. The Indian captain reached his fifty off 74 balls and a century off 135 deliveries. Ganguly's 146-run stand with VVS Laxman (75) for the 5th wicket was notched up in 206 balls and his 144-run knock was studded with 18 hits to the fence. Such was the class of Ganguly's knock that it drew applause even from some of the Aussie players.
The Test ended in a draw, but that day at the Gabba, Ganguly truly led India from the front with the bat and sent out a strong message to the Aussies that India was not going to be pushovers in the series. This also set the tone setting the tone for Waugh's farewell. The former Australian captain had to bring in all of his experience, grit and determination to the fore to save the series for Australia in the last Test of the series in Sydney.
Virender Sehwag: 195 in Melbourne (2003)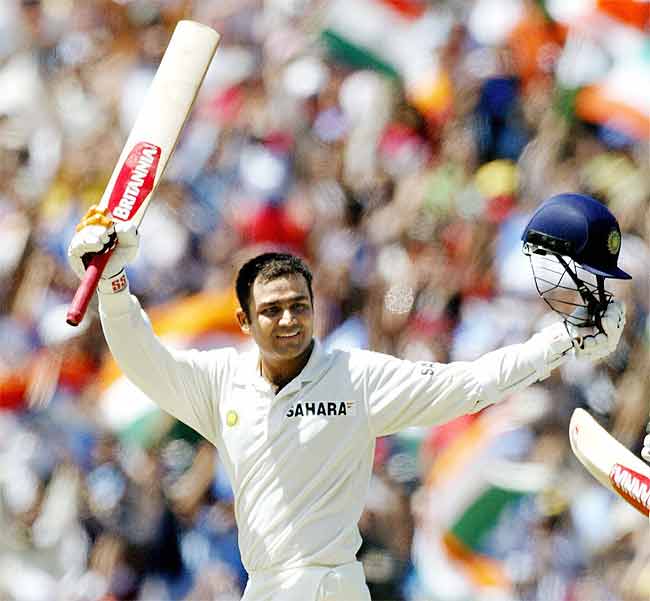 Virender Sehwag celebrates his century against Australia at the MCG in Melbourne on December 26, 2003. (AFP Photo via Getty Images)
What would you do if you're batting on 195 and get a full toss on the middle stump? If the team is three wickets down having just lost Sachin Tendulkar, you'd probably play it safe. But if you're Virender Sehwag, then you'll look to smash the ball out of the stadium. That's exactly what happened on December 26, 2003 at the Melbourne Cricket Ground.
With a draw in Brisbane and victory in Adelaide, India were in the lead and the Aussies were desperate for a win. The third Test at the MCG got underway with Sourav Ganguly winning the toss and opting to bat first. And then Sehwag cut loose.
Sehwag had a perfect opening partner in Aakash Chopra, who was an opener of the traditional mould looking to see off the new ball. Getting hit twice on the helmet by bouncers off Brett Lee, didn't deter Sehwag one bit. His punches off the back foot through the covers, his clean hits down the ground and his flicks through mid-wicket bore the stamp of an onslaught of an opener looking to make a statement.
Sehwag's stroke play that day had all the trademark shots, especially his hits through the covers with his feet absolutely nowhere near the ball. But the bat was so perfectly positioned that the ball raced through the infield of the MCG that was undergoing renovation at that time. Sehwag got to his fifty off 78 balls and reached his fifth Test century off 144 deliveries with a flick through mid-wicket. This was his fourth Test hundred as an opener.
Having reached his 150 off 200 balls, Sehwag looked set for his maiden double ton till Aussie part-time bowler Simon Katich tossed a juicy full toss on the middle-stump. Sehwag's eyes lit up: chance to get to a maiden 200 with a six. He swung his willow but slightly mistimed it and the ball went straight to Nathan Bracken who was the lone fielder at deep mid-wicket.
Sehwag's 195-run onslaught came off 233 deliveries and was studded with 5 sixes and 25 fours. In trademark style, Sehwag later said that he would play the same shot again irrespective of the score he might be on.
VVS Laxman: 167 in Sydney (2000)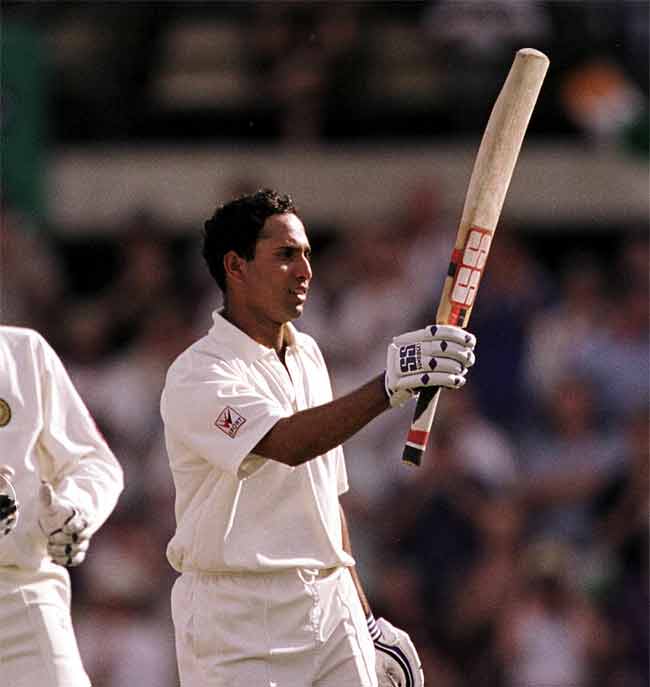 VVS Laxman celebrates his century against Australia at the SCG in Sydney on January 4, 2000. (Getty Images)
India's tour of Australia in 1999-2000 was a forgettable one. India lost all three Tests and there were only two Indian batsmen to hit centuries across the three Tests. One was captain Sachin Tendulkar, who hit 116 in the second Test at the MCG and the second was a batsman who could probably outshine even the great Tendulkar in dazzling strokeplay on his day – Vangipurappu Venkata Sai Laxman.
Laxman made no bones about the fact that he didn't like to open the innings, but these were early days in his career and this knock came in the second innings and provided just a sign of things to come.
Laxman was hit on the grill of his helmet while ducking a bouncer from Glenn McGrath but that didn't deter him from caressing the full length deliveries through the covers across the SCG turf. Laxman stood tall to short-pitched deliveries and pulled majestically from outside off-stump through to the mid-wicket fence. The timing and placement off Laxman's bat was perfect, whether it was a flick off his pads or when he hit through the line.
Laxman raced to his half-century off just 55 balls, reaching the mark with a magnificent pull shot to the mid-wicket fence. Laxman's footwork was not always a purist's delight in that innings, but when McGrath's outswingers were caressed through the off-side, Shane Warne's leg spinners were hit through mid-wicket against the turn and Brett Lee's yorkers were flicked to the mid-wicket fence, one and all were made to realize that they were watching something special.
Wickets falling at the other end couldn't curb Laxman from playing his shots and he reached his maiden century off 114 deliveries with the help of 16 fours. Laxman reached his 150 off 172 balls and when he finally fell for 167, caught behind by Adam Gilchrist off Lee, he was given a standing ovation by the SCG crowd.
So magnificent was the batting exhibition by Laxman that day that Justin Langer ran over and congratulated him at the end of his knock. Lee and other Aussie players also applauded him off the field.
The "very very special" tag that the Aussie tormentor carried with him for almost his entire career was perhaps given to him on that day at the Sydney Cricket Ground and this knock was just a prequel to a historic innings that was played at the Eden Gardens in March 2001.