No-trust debate, key bills, drama: Monsoon session highlights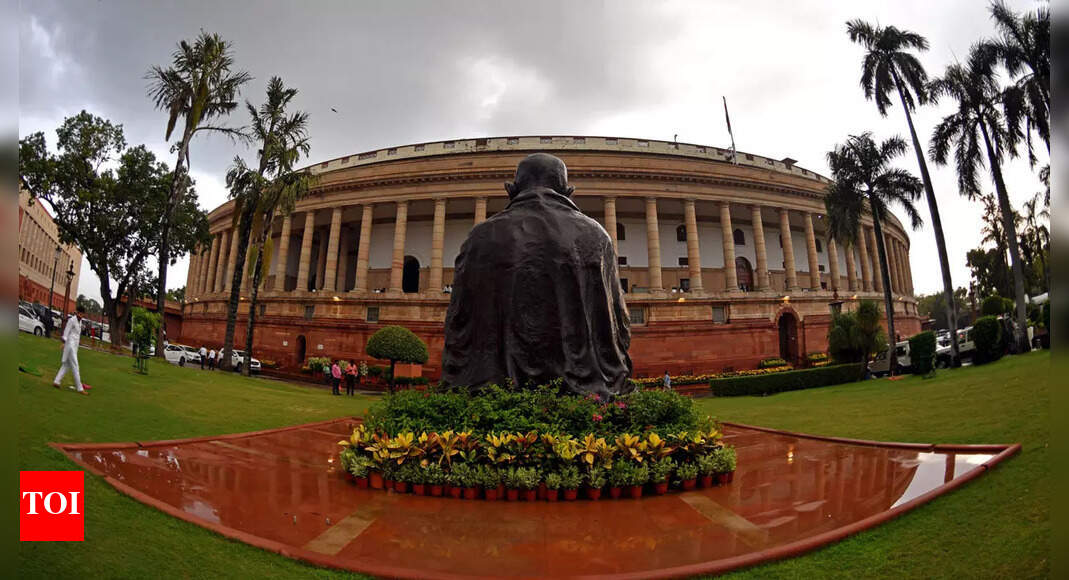 NEW DELHI: From the passage of key bills to the three-day long debate on no-confidence motion to a flurry of adjournments and suspensions, the monsoon session of Parliament — which concluded on Friday — was a stormy affair to say the least.
The final day of the Lok Sabha ended on a significant note with Union home minister Amit Shah unveiling three new bills to overhaul the colonial-era criminal laws.
The majority of the monsoon session saw both the houses losing several hours of productivity as the opposition parties and government locked horns over Manipur violence.
The final week of the session witnessed an intense three-day debate on the no-trust motion moved by the newly-formed opposition bloc INDIA, during which a host of speakers, including Prime Minister Narendra Modi, Amit Shah and Congress's Rahul Gandhi made fiery speeches.
Here are the highlights of Parliament's just-concluded monsoon session …
No-confidence debate
The opposition backed no-confidence motion was comfortably defeated by the government on the penultimate day of the monsoon session in Lok Sabha. However, the hours-long debate that preceeded the motion has set the tone for the 2024 political clash between the opposition bloc INDIA and a revamped NDA.
The discussion, initiated by Congress member Gaurav Gogoi, lasted for nearly 20 hours and saw participation of 60 members.
Though the motion was easily defeated by a voice vote, the opposition said it was necessary to make PM Modi speak in Lok Sabha on the Manipur issue.
The opposition, led by Adhir Ranjan Chowdhury of Congress and TMC's Mahua Moitra, said that the motion was not aimed at bringing down anything but to resurrect India's "founding principles". Chowdhury said it was time for polarisation to quit India.
During the debate, Amit Shah spoke at length about the Manipur situation and lashed out at the opposition for politicising the issue. This came after Congress's Rahul Gandhi launched a stinging attack on the government over the violence in the northeast state, claiming that for PM Modi, "Manipur isn't India".
On the final day, PM Modi pledged the country's support to the people in troubletorn Manipur, calling the northeast a "piece of our heart". "India stands with Manipur. This House stands with Manipur," he said, replying to the debate.
Delhi Services Bill
During the session, Parliament cleared the crucial Government of National Capital Territory of Delhi (Amendment) Bill, 2023, giving the central government control over bureaucrats in the Delhi government.
The bill became a major flashpoint between the Arvind Kejriwal-led government in Delhi and the Centre, with AAP spending several weeks in advance to rally the opposition parties to oppose the bill in Rajya Sabha.
Even though the AAP got the crucial support of Congress at the last-minute, the government managed to see the bill through Rajya Sabha with the help of neutral parties like BJD and YSR Congress.
The debate on the bill also saw a clash between the AAP and BJP. Amit Shah said that the bill is being brought to curb the abuse of power by the Delhi government. The AAP and opposition MPs called the bill "unconstitutional" and against the spirit of federalism.
Criminal law overhaul
The final day of the Lok Sabha saw the introduction of three new bills by Amit Shah to transform the criminal justice system in India.
Amit Shah said the new laws, once passed, will bring an overhaul of the criminal justice system and everyone will get justice in a maximum of three years.
The three proposed laws are Bharatiya Nyaya Sanhita (BNS) Bill, 2023; Bharatiya Nagarik Suraksha Sanhita (BNSS) Bill, 2023; and Bharatiya Sakshya (BS) Bill, 2023. They will replace the Indian Penal Code, 1860, Criminal Procedure Act, 1898, and the Indian Evidence Act, 1872 respectively.
The BNS Bill has provisions that seek to repeal sedition, and award maximum capital punishment for crimes such as mob lynching and rape of minors, the home minister said.
The bill also has provisions to provide community service as one of the punishments for first-time petty offences.
Read this story for more details
Relief for Rahul Gandhi
The session also saw the return of Rahul Gandhi to Parliament after the Supreme Court stayed the Congress's leader conviction in the "Modi surname remark" case.
Following the Supreme Court order, Rahul's Lok Sabha membership was reinstated, facilitating the Wayanad MP's return to Lok Sabha.
The return came just at the time right time for Congress since it happened before the no-confidence debate.
The House Committee of the Lok Sabha also decided to allot the same bungalow Rahul was asked to vacate after his disqualification.
"Mera ghar pura Hindustan hai (Whole country is my home)," Rahul had quipped when asked about being allotted the 12, Tughlaq Lane bungalow.
Data Protection Bill
During the session, Parliament also approved the Digital Personal Data Protection Bill that introduces several compliance requirements for the collection and processing of personal data and provisions for up to Rs 250 crore penalty for any data breach.
The government expects to implement Digital Personal Data Protection Act 2023 within 10 months.
The Bill provides for how companies should process users' data.
It allows companies to transfer users' data abroad and gives the government power to seek information from firms and issue directions to block content on the advice of a data protection board appointed by the Union government.
The government had been in the process of introducing a standalone data protection legislation since 2018.
Suspensions, adjournments, disruptions
The monsoon session of Parliament saw routine disruptions by the opposition and early adjournments amid ruckus over the Manipur issue. Several MPs were also suspended for misconduct and violation of rules.
During the early days of the session, the opposition MPs demanded a discussion on the Manipur issue. Though Amit Shah agreed to hold a discussion, the opposition MPs insisted that PM Modi himself address the issue in Parliament. This paved the way for the no-confidence motion against the government, the second such motion against NDA since PM Modi assumed office in 2014.
On the final day, the Rajya Sabha adopted a motion to suspend AAP MP Raghav Chadha for "gross violation of rule, misconduct, defiant attitude and contemptuous conduct", pending a report by the privileges committee.
It also extended the suspension of another AAP MP, Sanjay Singh, till the recommendation of the privileges committee.
Earlier this month, AAP's lone Lok Sabha member Sushil Kumar Rinku was suspended from the House for the remainder of the session for "unruly behaviour".
On Thursday, leader of opposition Adhir Ranjan Chowdhury was suspended from Lok Sabha for "repeated misconduct" pending an investigation by the privileges committee.
Earlier this week, Rajya Sabha Chairman Jagdeep Dhankhar announced the suspension of TMC MP Derek O'Brien. However, the Chairman later said that the motion to suspend him was not put to vote and hence he could continue to attend the proceedings.
On Friday, Chairman Dhankar said a total of 44 hours and 58 minutes were lost during the 17 sittings of the House "due to avoidable disruptions adversely impinging on our overall productivity of this session".
Other key bills passed
Some of the other important bills that were passed during the session were the Multi-State Cooperative Societies (Amendment) Bill, National Nursing and Midwifery Commission Bill, National Dental Council Bill, Jan Vishwas (Amendment) Bill, Armed Forces Organization (Command, Control, and Discipline) Bill, Inter-Services Organisations (Command, Control and Discipline) Bill, Offshore Areas Mineral (Development and Regulation) Amendment Bill and the Cinematograph (Amendment) Bill-2023.
(With inputs from agencies)