Outreach to states: Centre clears 34,000 crore GST transfers
NEW DELHI: Finance minister Nirmala Sitharaman on Saturday announced the release of Rs 33,500 crore to states towards GST compensation, which includes over Rs 16,500 crore to six states that have completed the paperwork to get their entire claim settled.
Almost Rs 17,000 crore will go to states as the remaining compensation for June 2022, when the five-year compensation period ended. The money will flow to the states and two Union territories, Delhi and Puducherry, from the Centre as there is a shortfall in the GST Compensation Fund and will be recouped in coming months, the finance minister said after a meeting of the GST Council.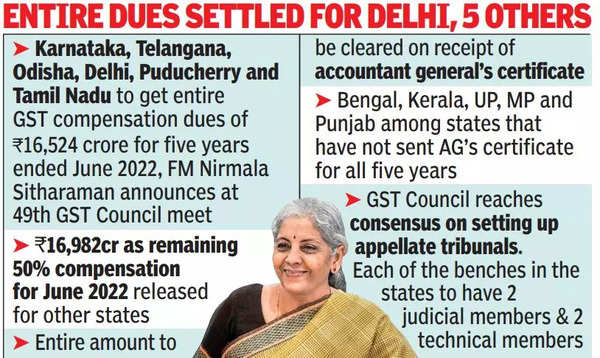 During the first five years of GST, the Centre had promised to "compensate" states in case revenue growth was under 14% on an annual basis, by transferring money collected as cess on soft drinks, tobacco, cars and some other products.
The move to release the cess comes amid claims from opposition-governed states such as Kerala and West Bengal that the Centre is sitting on their money. Pending balance of GST compensation will be cleared as of today: Nirmala Sitharaman
Recently, Sitharaman had told Parliament that these states have not received the full payment as they were yet to submit a certificate from the accountant general.
On Saturday, she said that around 90% of the compensation claim is released provisionally with the remaining money paid after the certificate is received, clarifying that all the funds are not held up. Entire GST compensation dues will be cleared: Sitharaman
"Waiting for the certificate does not mean that we have not released funds. Nearly 90% is released on a provisional basis and 5-8% is retained subject to AG certificate," the minister said.
There are several states, including BJP-ruled Uttar Pradesh and Madhya Pradesh, that had not submitted the AG certificate for five years, while others such as Bihar and Assam have it pending for a year or two, according to information collated by the finance ministry. Karnataka, Odisha and Telangana are among those that have submitted the certificate for five years with their entire claim settled.