Over 23K Nag Devotees Celebrate 'Ashtami' at Hilltop Temple in J-K's Bhaderwah
Last Updated: October 22, 2023, 23:51 IST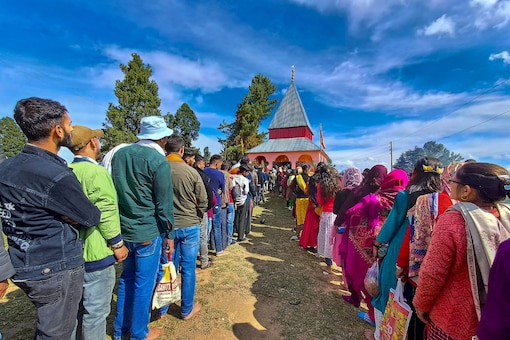 Devotees line up for 'darshan' at the ancient hill temple in J&K's Bhaderwah. (PTI)
Officials said the devotees, largely the Nagas, gathered at the 8,500 feet high 18-Bhuja temple at Rehoshra Dhar which is devoid of people in a radius of about eight kilometers due to ice
More than 23,000 devotees converged at the ancient Nag temple atop a hill in Jammu and Kashmir's Doda district to celebrate 'Ashtami', the eighth day of the ongoing Navratra festival.
Ashtami is celebrated as the birth anniversary of the Bhuja goddess, also known as Sheetla Mata, by the snake worshippers living here.
Officials said the devotees, largely the Nagas, gathered at the 8,500 feet high 18-Bhuja temple at Rehoshra Dhar which is devoid of people in a radius of about eight kilometers due to ice.
Located on a mountain pass, 43 km away from Bhaderwah town, the temple is believed to have its origins in Mughal emperor Babar's era.
According to local belief, the goddess is the sister of the principal deity of Bhaderwah, Lord Vasuki Nag and her birthday falls on the 8th day of Navratra.
The traditional celebrations started early in the morning with the opening of 'kewaars' (doors) of the historic temple and the Nagas sacrificed dozens of sheep to the deity as per their ancient custom, the officials said.
Phulail Singh, a temple committee member, said Navratri is incomplete without paying obeisance to the goddess on Ashtami at Rehoshra.
The devotees had to trek 11 km of hilly terrain to reach the temple, where Charri Mubarak' (holy mace) from Chinta, Shourara, Nalthi, Chirala, Sunarthawa, Atalgarh, Rainda, Puneja, Billawar and Baniand Dalain reached around noon, marking the Ashtami celebrations with the traditional Dekhu dance.
Shivani Thakur , a young devotee, said she had to wait for two hours in a long queue to pay obeisance at the shrine.
"This festival also gives us a chance to meet our relatives and friends before four months of dull life (winter) during which we mostly remain indoors," Sundroo (16), a devotee from Chinta, said.
Volunteers of Chinchora and Chinta village served langar' to devotees while the administration had made adequate security arrangements for the safety of the devotees, the officials said.
(This story has not been edited by News18 staff and is published from a syndicated news agency feed – PTI)