Para Asiad: Ex-banker bags two golds, mason's daughter wins silver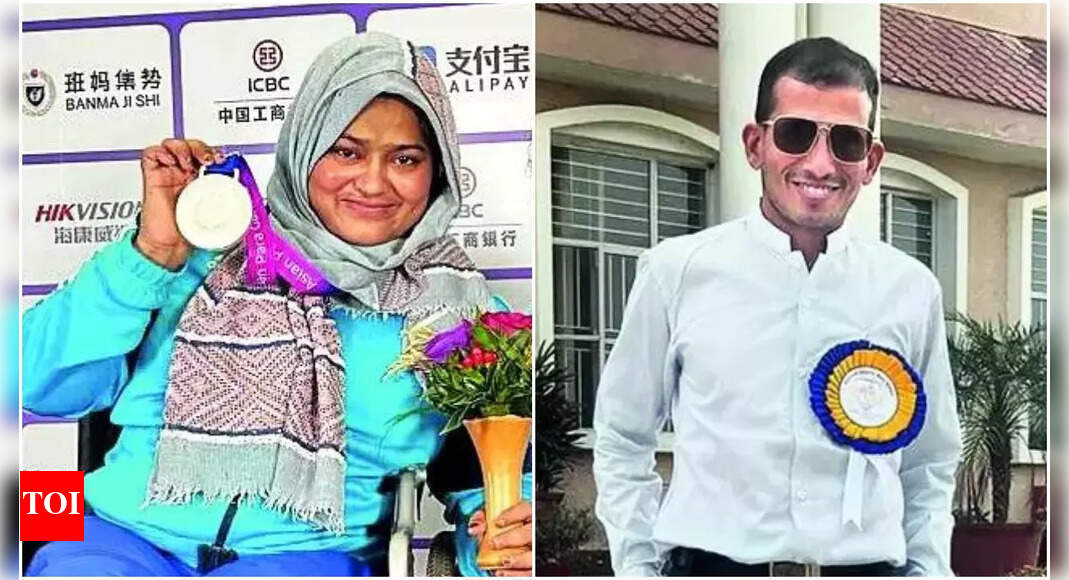 Battling all odds dished out to them by fate, two differently abled athletes from western Uttar Pradesh finished on the podium at the Asian Para Games 2023 in Hangzhou, China, on Wednesday. While Ankur Dhama, a visually impaired resident of Baghpat, became the first Indian para athlete to clinch two gold medals in the Asian Para Games, Zainab Khatoon, the daughter of a Meerut-based mason, clinched silver for India in women's 61kg powerlifting despite being paralysed below the waist.
Ankur, 30, who won gold medals in 5,000m and 1,500m (blind category), lost his vision when he was just seven.His eyes got infected after playing Holi and he became 100% visually impaired in March 2000. He was introduced tosports by his blind school teacher in 2003 and was inspired by his elder sister, a physical trainer, to pursue track and field.
Two gold medals for visually impaired runner
Zainab suffered a similar misfortune. Now 26, she was just six years old when an injection administered to her left her partially paralysed. "I was suffering from fever. The doctor gave me an injection that affected my legs and I lost the ability to walk," she told TOI over the phone from Hangzhou.
Ankur's cousin, Sandeep Dhama, said, "His classmate threw 'gulal' at him on Holi. The colour went straight into his eyes, and within a year, he lost both the eyes. As far as studies are concerned, he was always brilliant." For years, Ankur used to wake up at dawn to train on a specially laid track for the visually impaired. At the same time, he did his graduation and postgrad from St Stephen's College, Delhi, and cleared the probationary officers' exam to secure a job as a banker.
He added: "Due to sheer hard work, Ankur rose up the ranks, participating in various school, state and national-level sporting events. He left his bank job after working for about six months to join the Sports Authority of India. In 2019, he became a full-fledged coach in athletics." He was also felicitated with the Arjuna Award in 2018. His mother Santosh Devi, 60, said, "We belong to a family of farmers. I was just a medium to bring Ankur to this world, he was actually nurtured by his guides at Delhi Blind School. On Wednesday, he ran with his guide companion as per the Games rules."
Zainab showed similar grit and determination to achieve greatness. Her father Mohd Adil, 47, a resident of Sahu Nagla, about 90km from Delhi, said, "She aspired to see her name and story featured alongside those of her heroes in the newspapers. She was determined that she would find a way to achieve her goals." Adil said, "We are thankful to God who strengthened our daughter to such a level that she's making the country proud and even the Prime Minister of India is congratulating her."
He was referring to a post on X (formerly Twitter) by PM Modi, who tweeted, "Congratulations to Zainab Khatoon on the incredible achievement. It is a splendid silver for her in women's para powerlifting 61 kgs. Zainab's unparallelled determination and commitment are noteworthy. Best wishes for her upcoming endeavours."