Quarantine isolation, Shastri's guidance helped Virat and Rohit renew friendship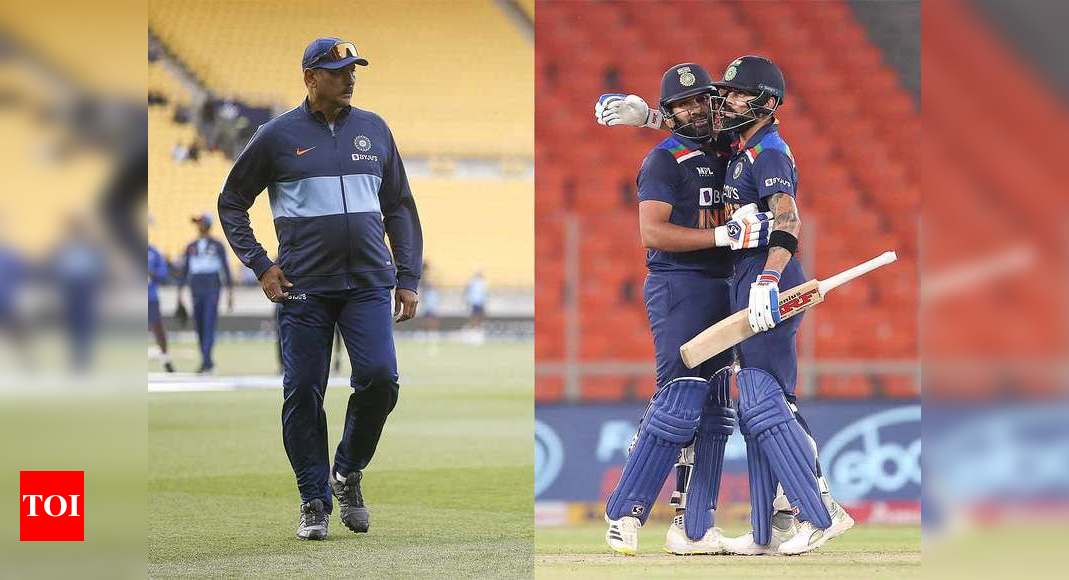 MUMBAI: Weeks of staying put inside a bio bubble during the pandemic hasn't been easy for the Indian cricket team. However, if there is anything positive to emerge from such strict quarantine rules then it is the forging of a 'renewed friendship' between two proverbial alphamales in the Team India dressing room – Virat Kohli and Rohit Sharma.
TOI understands that Kohli and Sharma, two of Team India's senior-most members – aided by the team management and coach Ravi Shastri – found the time and space needed to sit across the table and "talk it out" during the series against England. The two batsmen, who over the last couple of years, were reportedly not getting along, decided to begin on a fresher note.
"Apart from winning two big series, that's been the biggest gain inside the Team India dressing room. A great deal of personal bonding has happened in recent weeks and they're more in sync now than ever with regards to their cricket, the team, their responsibilities and the upcoming challenges. They understand now, more than ever, that the team will only benefit if they find themselves on the same page. This has been the biggest takeaway in the last four months," top sources said.
From opening the batting to relying on each other on the field to bonding off it, Kohli and Sharma have ticked all the right boxes to understand each other's perspective better. Staying inside the bio-bubble for weeks meant a lot of extra time on hand and that helped.
"All the chatter from the outside was causing too much bitterness and all the hearsay was making things worse. It's been the story of Indian cricket for far too long – of vested interests time and again taking advantage of rivalries between players. Like all professionals, Virat and Rohit too would have their disagreements from time to time. But until recently, they never thought of sitting down and talking it out with the kind of clarity that is now visible," sources add.
Those tracking developments point out how the two leading cricketers have also made it a point to subtly let those outside of the Team India camp know that "gossip theories need to end".
"They've spent a lot of time talking to each other in public, like during the post-match presentation at the end of the T20 series. They've been appearing in photographs together a lot more than in the past. During the One-day series, Virat made it a point to keep his discussions on with Rohit constantly during the game. These things would happen earlier too, but this one time they've decided to make it more visible for outsiders to know that all this chatter now needs to stop," sources add.
Those who have the cricketers' ear insist this is not some public-relations exercise they are indulging in to show everyone that things are fine even if they're not.
"Neither of them has the patience for such exercises. Both understand that neither of the two is any less important in the team and if disagreements have to crop-up, then it's best they resolve it between them than letting outsiders speak for them. It's the healthiest thing that could've happened to the team while staying in the bio-bubble," say those in the know.