Race on to save 40 trapped in Char Dham tunnel collapse, every hour crucial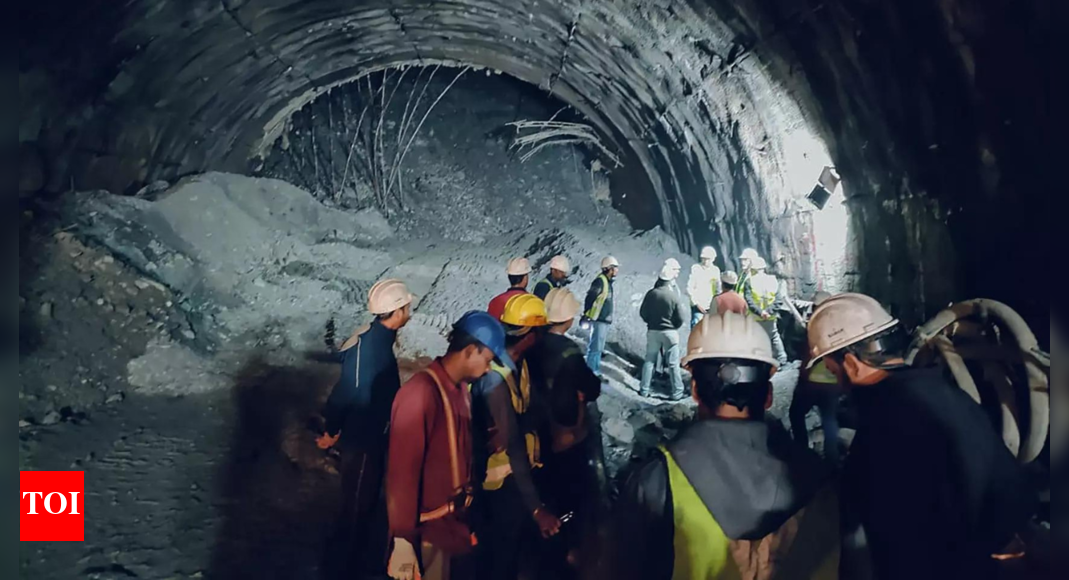 UTTARKASHI/DEHRADUN: Rescue personnel from multiple national and state agencies are racing against time to evacuate 40 workers, who were trapped when an under-construction tunnel on the Centre's ambitious Char Dham all-weather highway project collapsed early on Sunday. More than 150 personnel from the National Disaster Response Force (NDRF), State Disaster Response Force (SDRF), Indo-Tibetan Border Police (ITBP) and Border Roads Organisation (BRO) have been working almost round the clock to reach the trapped workers.
Despite their efforts, it might take more time – possibly a day more — before the workers can be reached, officials said on Monday. Ranjit Sinha, secretary of the state disaster management department who visited the site, said, "We are expecting to reach the trapped workers by Tuesday evening or Wednesday morning."
Uttarkashi tunnel collapse: Rescue personnel provide food, oxygen to trapped workers through pipe
Uttarkashi tunnel collapse: Follow live updates
There are no reports of any casualties, officials said, adding that oxygen and food packets are being provided to the workers through pipes along with compressed air, and contact has been established with the men using walkie-talkies. Anshu Manish Khalko, director (administration and finance), National Highways & Infrastructure Development Corporation Limited (NHIDCL), the central government PSU which is nodal agency for the project, said loose debris is hampering the rescuers who are using shotcrete – a process involving spraying concrete on the debris to stabilise it.
Also read: Every hour crucial, say Medical experts on Uttarkashi tunnel rescue operation
Atul Kumar, director (technical), NHIDCL, added, "Two options are on the table: removing loose debris with shotcrete or using a 900mm (three feet) diameter steel pipe with a hydraulic jack for evacuation." These pipes are being transported from Haridwar and Dehradun and are expected to reach the site by Monday night, he added.
Uttarkashi tunnel collapse: Contact established with trapped workers, all are safe, say rescuers
Chief minister Pushkar Singh Dhami visited the site on Monday morning to oversee the rescue operations and emphasised the government's commitment to prioritise the swift rescue of the labourers. "If needed, we will bring in all the resources and technical assistance for the operation from outside the state," he said.
The 4.5 km-long tunnel is being built on the stretch between Silkayara and Polgaon villages of Yamunotri in Uttarkashi district. Once completed, it is expected to reduce the travel distance between Uttarkashi and Yamunotri by 26 km.
(Inputs by Kautilya Singh)
Watch Uttarkashi tunnel collapse: Contact established with trapped workers, all are safe, say rescuers